Comic Con Wars – Columbus, Kansas City And San Francisco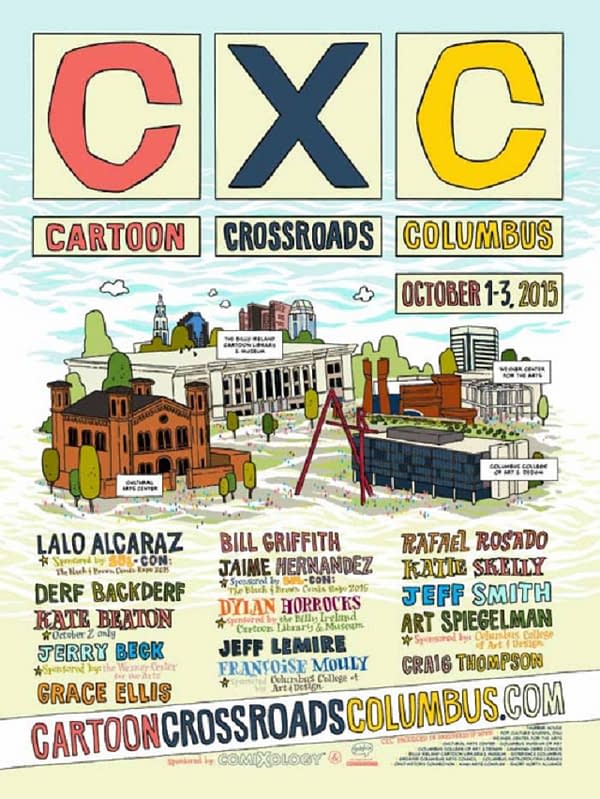 CXC – don't call it a comic con. it's a comics festival. Big difference, honest. As Forbes reports, Festival director Tom Spurgeon says,
"Our focus is different [from commercial conventions]," explains Spurgeon. "It's on reading comics as opposed [what] some of comics' best creations share with TV and movies and [merchandise]. Our focus is on authors and creations as opposed to corporations and product. Our focus is on [providing] a wide variety of ways to cartoon and comics works instead of a few being dominant and the rest finding a place anywhere they can. I look forward to giving a wide variety of comics their time on stage."
Handbag!
Meanwhile, looking at shows that are most definitely Comic Cons, for the last four years, Spectrum Fantastic Art Live has existed alongside a number of shows in Kansas City, attracting artists from all over the world to the city.
But starting next year, they will be moving from Kansas City to San Francisco, as another local show, Planet Comicon has launched on the same weekend that Spectrum has exhibited at for the last four years.
Spectrum organisers Cathy & Arnie put the word out.
When we learned just before SFAL4 that the organizer of the local Planet Comicon had decided on the sly to move his 2016 show dates from March and secured our traditional dates for the convention center in May, the decision was sort of made for us. Competing for essentially much of the same audience in the same narrow time frame doesn't make any sense: moving to March in THEIR original spot wasn't an option for us because of a lack of hotel rooms (the Big 12 Basketball Tournement happens at that time; it didn't affect the comicon because they draw very few overnight attendees whereas SFAL accounts for over 1000 hotel room nights). Moving to Fall in KC would have brought higher rental prices for a theater and fewer date options (the convention center is a busy place). Because of Planet Comicon's tactic, the negative financial impact on the city, downtown hotels, restaurants, and businesses will be significant, but…that's the way things are.