Brian Hibbs started a Graphic Novel Book Group at his Comic Experience stores in San Francisco, as a way to increase sales in the wake of the San Francisco minimum wage increase in a market where he was unable to increase prices to cover the extra costs. And it worked.
He wrote in his end-of-year review that when putting together the sales chart of the year:
One important consideration here is that these numbers DO NOT include the Graphic-Novel-Of-The-Month Club numbers, every one of which would top the #1 in-store book! In fact, we've been told that, for at least some of the titles we selected the book club order is a meaningful percentage of sales.
It's rather an incredible claim to make, but also shows the power and popularity of such events, the next of which focuses on Black Bolt: Hard Time happening directly before a signing with author Saladin Ahmed at the store. But Comix Experience is not alone in this, a number of other stores run similar events.
The Amazing Comic Shop in Fairfax Virginia is starting the Amazing Comic Book Club at the end of the month, kicking off with Ms Marvel Vol 1.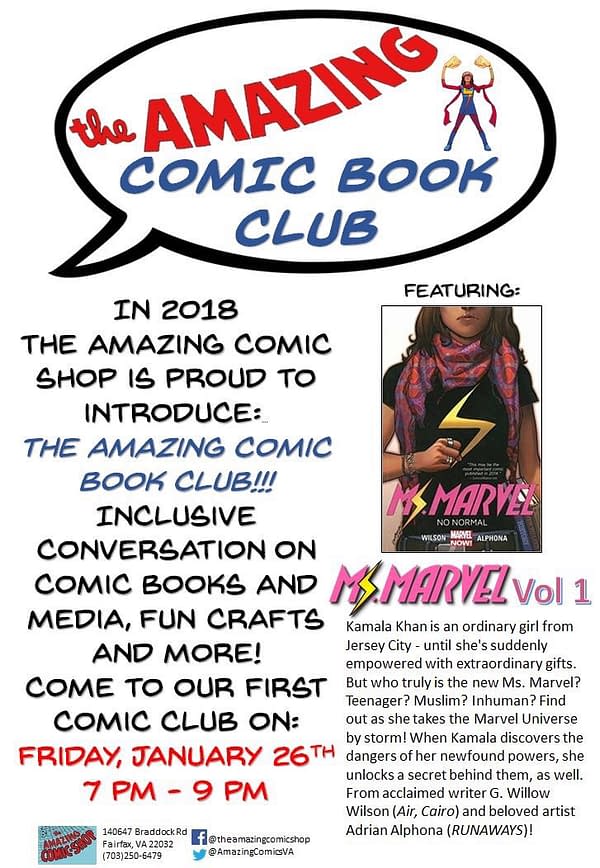 There's an established Utah's Graphic Novel Book Club, operating out of Dr Volt's Comics in Salt Late City, with Pretty Deadly being discussed in their next meeting next week, on Sunday 14th.
Death's daughter rides the wind on a horse made of smoke and her face bears the skull marks of her father. Her origin story is a tale of retribution as beautifully lush as it is unflinchingly savage, from the Eisner Award-nominated team of Kelly Sue DeConnick and Spanish artist Emma Ríos, join us as we dive into this refreshingly new Western adventure.
Destiny City Comics of Tacoma, Washington, host a comic book discussion at the nearby Zodia Supper Club, recently focusing on The Boys Vol 1.
Collecting the first six issues of the controversial new series from Preacher writer Garth Ennis and artist Darick Robertson (Transmetropolitan)! Don't miss this dark, twisted look at superpowers, super-people, and the men and women who make sure the world's "heroes" never go too far.

We'll be meeting at the shop after hours on St. Helens Ave. You can get the book at Destiny City Comics for 15% off with the book club discount. Stadium District's comic shop also sells many other fine graphic novels.
While bookstores are also getting in on the act, such as Barnes & Noble in Coralville, Iowa, who will have such a gathering this Thursday looking at The Mighty Thor Vol 1.
Did you know we have a Graphic Novel discussion group?! Try something new in 2018 & join us. We meet in the cafe – new members are always welcome. We have copies of this month's selection, "Thor: Goddess of Thunder" available for purchase. All DC & Marvel Graphic Novels are currently on sale until 1/15; Buy 2 Get 1 Free! Call or ask a bookseller if you have questions.
While I have discovered in London — including one near me — there are libraries with graphic novel reading groups.
New Malden Library's next meeting on January 20th will be looking at cooking in comic books.
New Malden Library is launching a new Reading Group!

Focused on Graphic Novels, Comics and Mangas, it will be a monthly group for adults and 16+ teenagers.

Want to share your love of reading? Join us for the next session on the 20th January at 11 am.

The next month's theme will be cooking in comics and you can choose to read as many books as you want from a 4 books list.
While the Graphic Novel Reading Group at Brompton Library, with books supplied by Gosh Comics in London, will be discussing the book Fun Home by Alison Bechdel… tonight!
There are as many different approaches to choose from as there are graphic novels to choose from. But, if comic book shops are to set themselves up as a community service, separate from online ordering, this may be a way to focus such attention and make a difference.
Enjoyed this article? Share it!