Is The DC Comics Timeline Already Screwed? Doom Signals Suggest So (Spoilers)
Another week, another bevvy of Doom Signals fill the air. As we learned in last week's Justice League, these indicate that in the public vote on whether Justice or Doom should win the day, has fallen to Doom. And everything is about to kick off with Hostile Takeover. But there's a problem. First, let's check the sigils…
Batgirl gets hers in mid-battle, fair enough, so issues there.
Over in Justice League Dark, the individual heroes spread out all see it in the sky.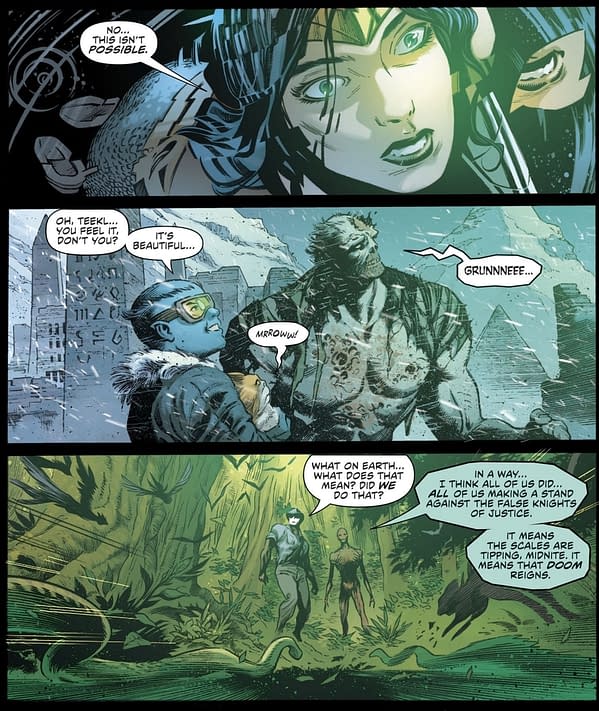 Which indicates that everyone everywhere is seeing the Doom sigil simultaneously, right? With Wonder Woman looking up…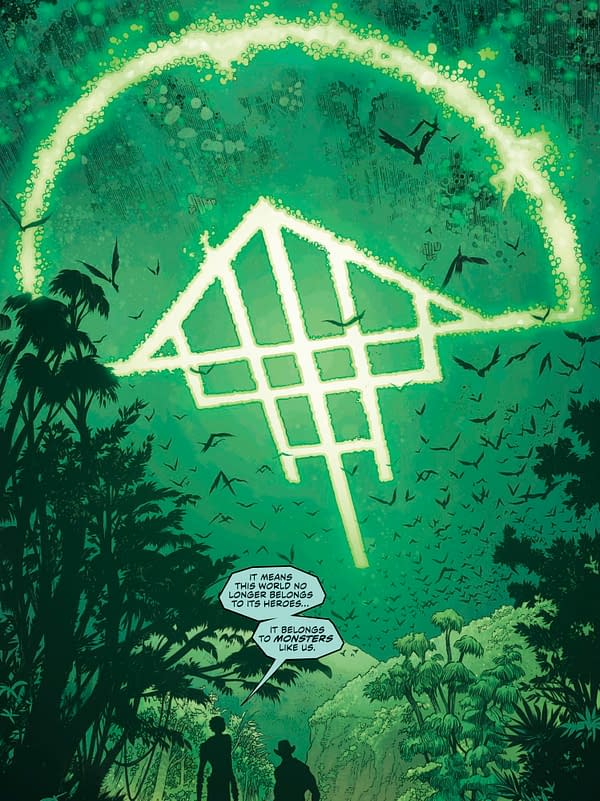 Even though Wonder Woman is doing the same thing, in a different place and position, in her own series, also published today.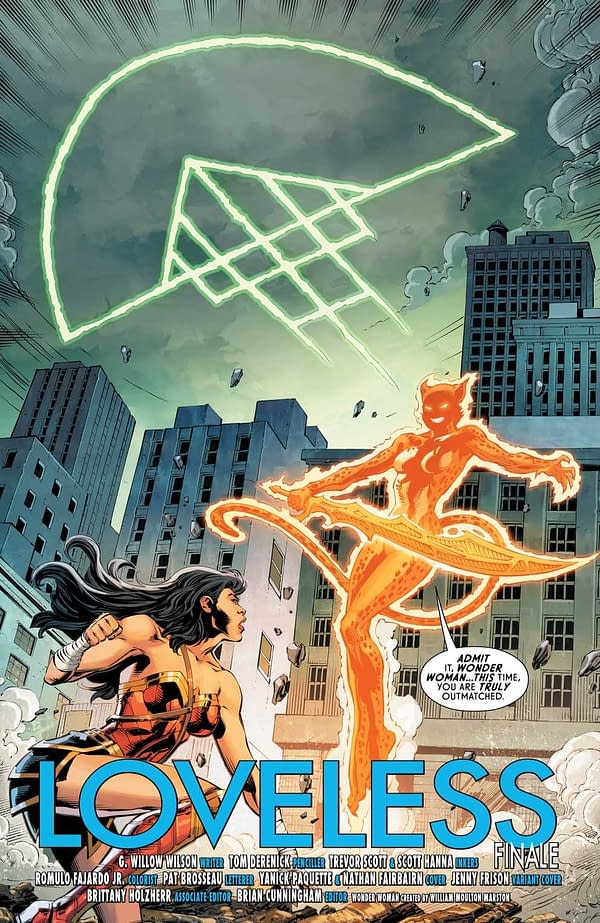 In Red Hood And The Outlaws, it is even seen…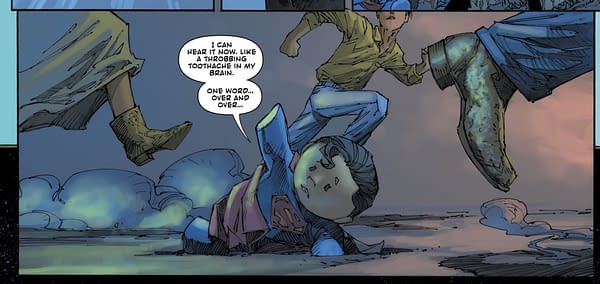 …well, wherever it is that Bizarro and Artemis have ended up, with their talking Superman plushie.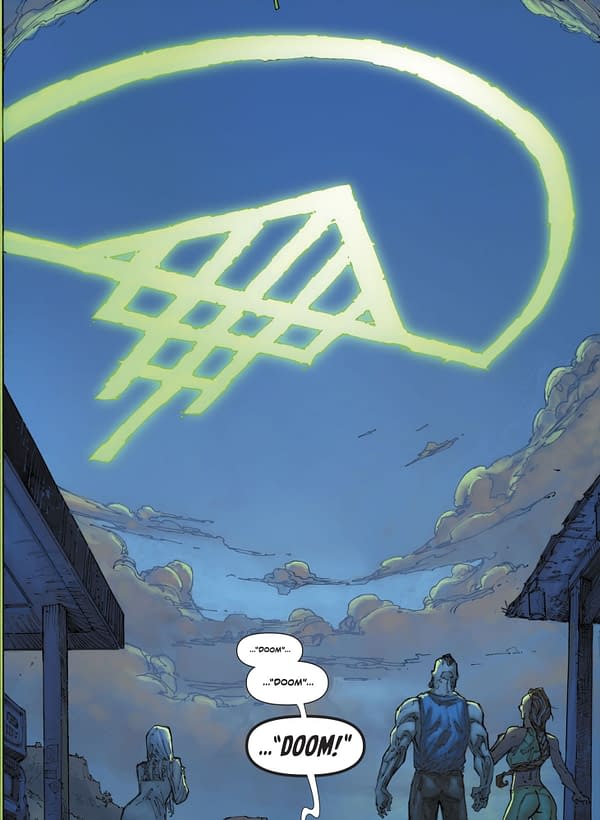 Okay, so. Over in Detective Comics #1014… as Mr & Mrs Freeze make their debut together… finally reunited and changing the game for Victor Freis. As they leave Bruce Wayne behind in WayneTech,…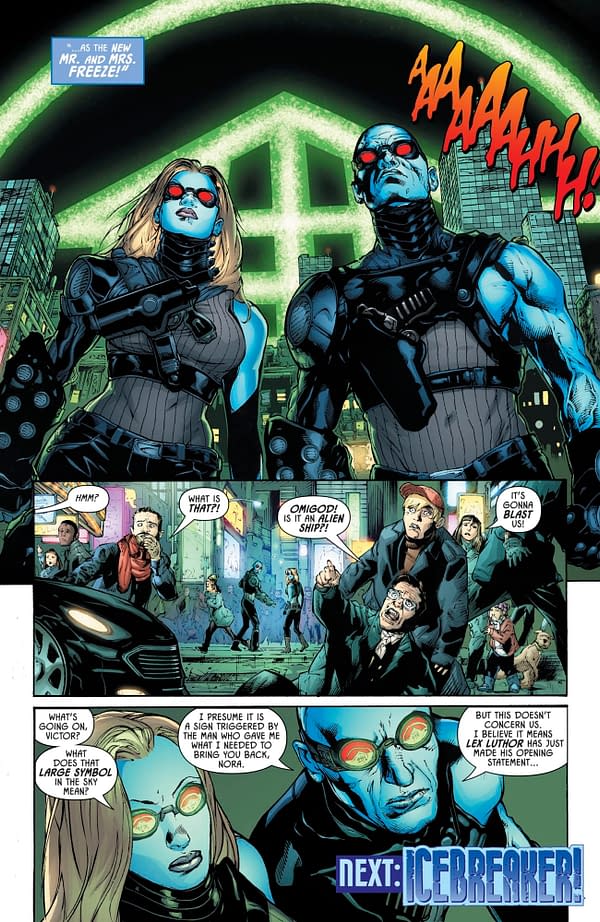 But somehow simultaneiulsy, Batman is captured alongside Superman in Batman/Superman #3… as this happens with the Batman Who Laughs…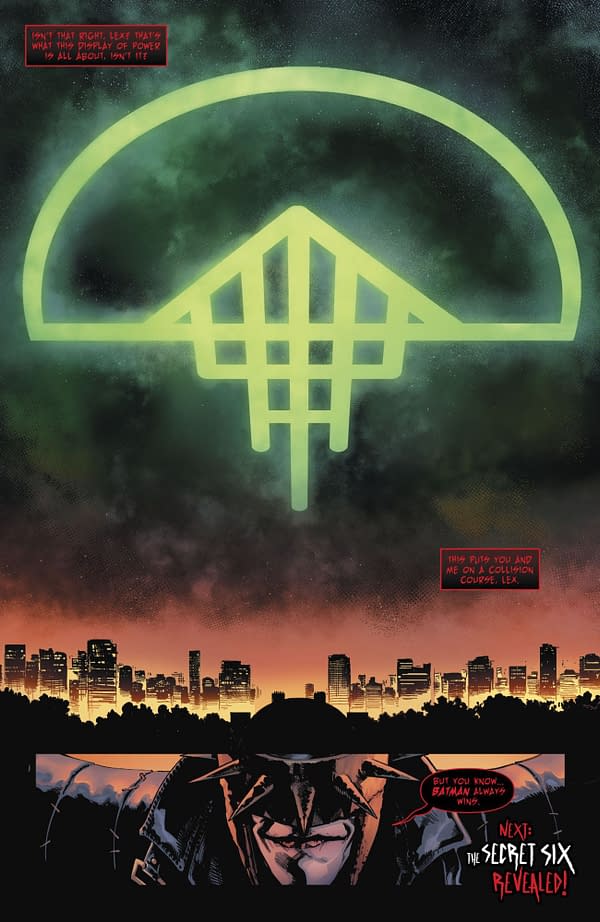 How does Batman do that? Maybe Batman and Bruce Wayne are different people? But it gets worse when you consider today's Batman/Superman and Detective Comics have these editorial notes.
Taking place before Batman #77 in which Alfred was seen to die. But last week's Batman #81, by its nature, takes place a while after Batman #77. Indeed, showing a freed Alfred, and an active Batman, they had to have taken place long before Batman #77, maybe before Knightmares. But in Batman #81, you get this scene below. So how could today's Detective Comics and Batman/Superman have taken place before Batman #77?
If you have any answer send then on a postcard to Paul Kaminski at DC Comics.
That new DC timeline is looking ropier and ropier…
BATGIRL #40 YOTV
(W) Cecil Castellucci (A/CA) Carmine Di Giandomenico
Oracle makes her move to confront the creator who abandoned her… Batgirl! But first she must get our hero's attention, and she's got her sights set on Burnside. With the help of her new minions, the Terrible Trio, Oracle's plans for revenge could mean the end for this hip Gotham neighborhood!In Shops: Oct 23, 2019
SRP: $3.99

BATMAN SUPERMAN #3
(W) Joshua Williamson (A/CA) David Marquez
"Who are the Secret Six?" part three! Is Superman the newest member of the Batman Who Laughs' Secret Six? It certainly looks that way, and Batman may be powerless to stop the Man of Steel and his own demented doppelgänger. The Dark Multiverse's most dangerous Bruce Wayne is loose in our world, and he has our world's greatest superhero at his side. Who do you turn to when there's no one to trust?In Shops: Oct 23, 2019
SRP: $3.99

DETECTIVE COMICS #1014 YOTV
(W) Peter J. Tomasi (A/CA) Doug Mahnke, Jaime Mendoza
Nora Fries has been the apple of Mr. Freeze's eye for a long time. For years he has toiled and suffered to try and cure her of her ailments, and bring back the life they had together. He has finally done it, but will Nora Fries be the same person she was when she was frozen? Or is there something broken that can't be fixed?In Shops: Oct 23, 2019
SRP: $3.99

JUSTICE LEAGUE DARK #16 YOTV
(W) James TynionIV (A) Alvaro Martinez, Raul Fernandez (CA) Yanick Paquette
Deep in the basement archives of the Hall of Justice, home to the most dangerous magic the Justice League has ever encountered, there is an artifact so powerful it could rip the world in half. Circe knows it's there, and with the Injustice League Dark at her side, nobody can stop her from obtaining it. The Witching War strikes close to home in its deadliest chapter yet!In Shops: Oct 23, 2019
SRP: $3.99

RED HOOD OUTLAW #39 YOTV
(W) Scott Lobdell (A/CA) Kenneth Rocafort
"Generation Outlaw" continues! Class is in session, and Red Hood's students still have a lot to learn. With Doomed running amok, each villain-in-training decides to use the chaos in order to stake their claim as the one to beat. But while Red Hood tries to teach them a valuable lesson about power and responsibility, Doomed's actions could, well, literally doom them all!In Shops: Oct 23, 2019
SRP: $3.99

WONDER WOMAN #81 YOTV
(W) G. Willow Wilson (A) Xermanico (CA) Yanick Paquette
Olympus has been returned to the gods! Now that the deities of Diana's world are back in power, all of her troubles are over. Or are they? Using the welcome distraction, Cheetah has finally made her way to her final destination for destruction: Themyscira!In Shops: Oct 23, 2019
SRP: $3.99
And while we are waiting for an answer, some more sigil looks from Wonder Woman #81…