A month ago, Bleeding Cool pointed out that Batman #81 was to lose its Year Of The Villain branding. Which it has. Consider that Year Of The Villain branding was the excuse that DC Comics gave to pulp an issue of Superman and Supergirl (and then reprinted with different ethnicity-based colouring of certain characters), it then seems peculiar for Batman #81 to have one of the bigger tie-ins to Year of The Villain with a multi-page sequence by Tom King and a previously-uncredited Mitch Gerads featuring Harvey, last seen hog-tied and naked with a target painted on his stomach by the Batman Villain gallery, breaking into song as a certain symbol fills the sky.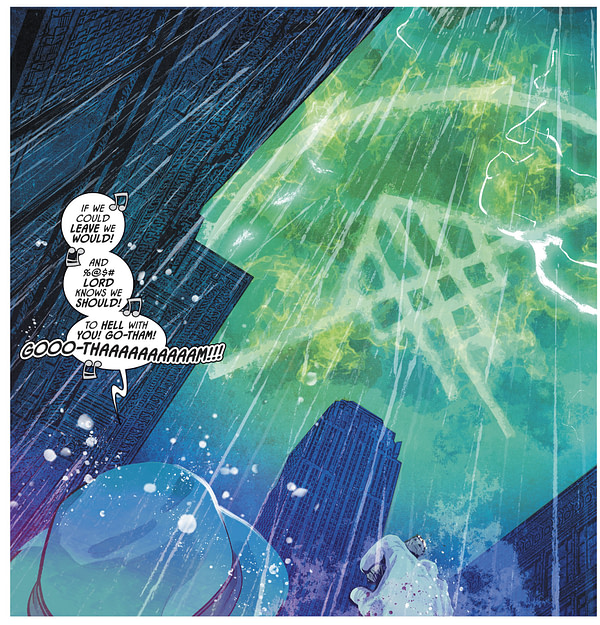 The symbol, appearing over the last two weeks in the sky of DC Comics titles, also pops up in Teen Titans #35…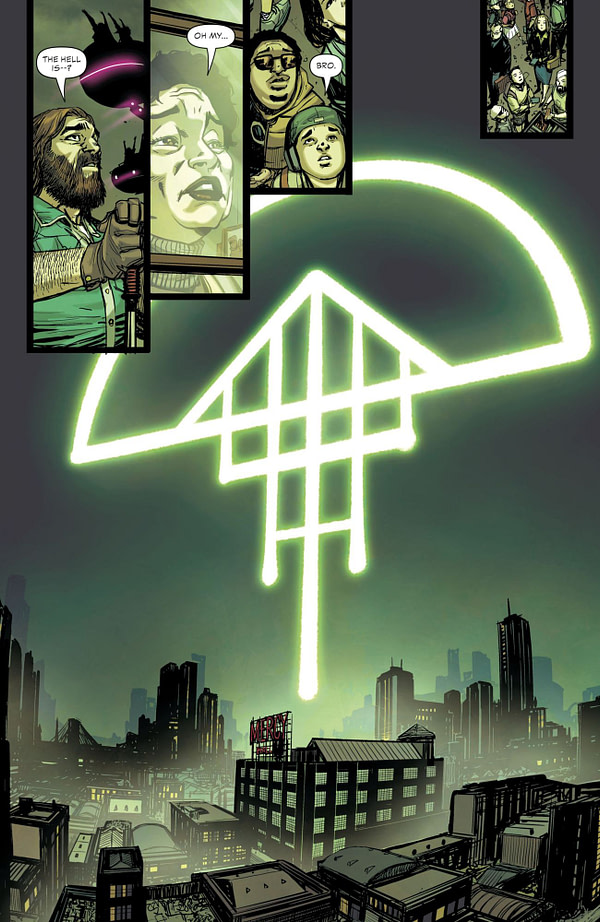 And in Nightwing #65…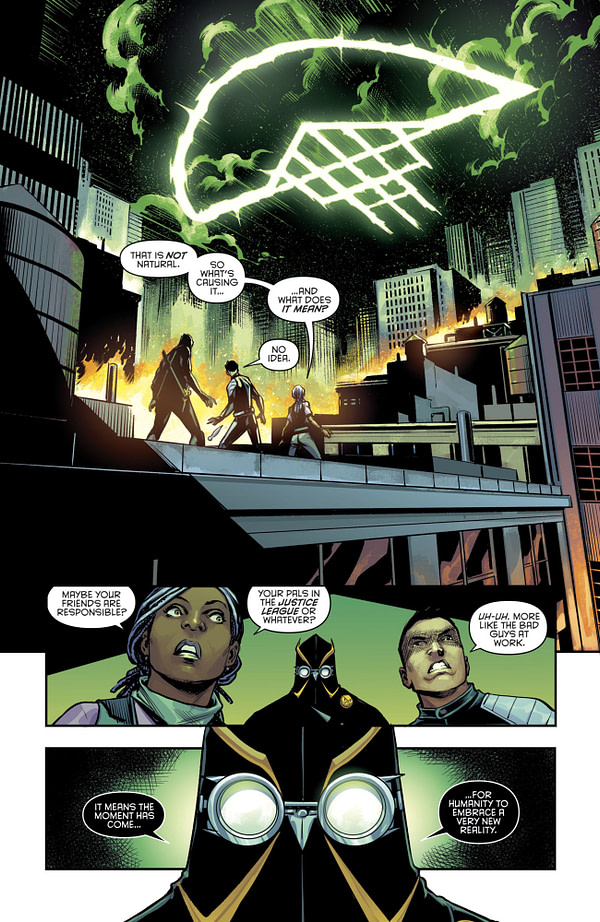 And Aquaman #54…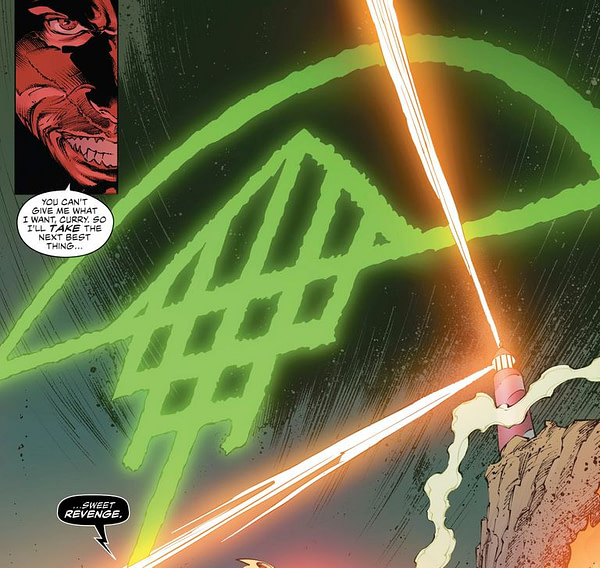 It's been prophesied in recent issues of Justice League, coming from Apex Lex.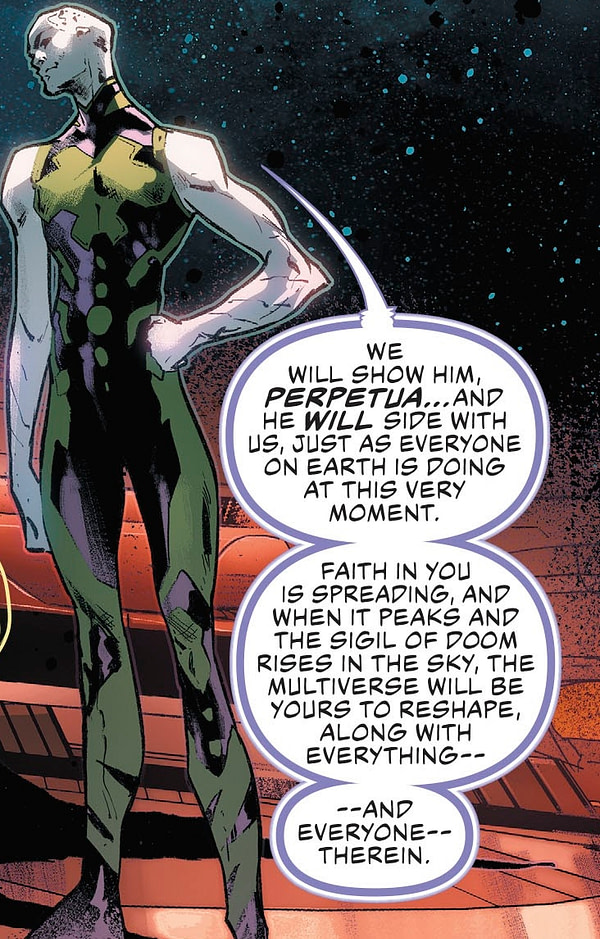 And from Starman…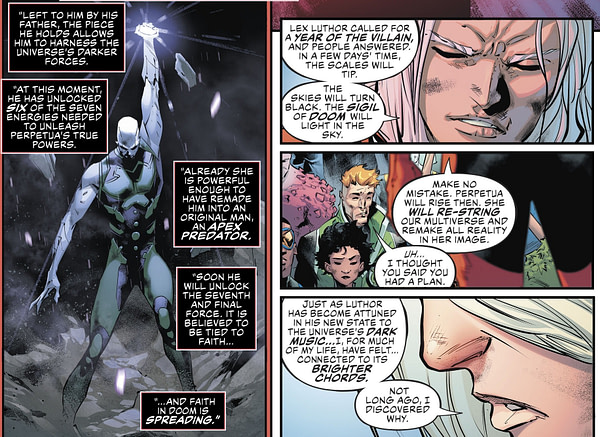 And in today's Justice League #34, Jarro has had an eyeful it seems.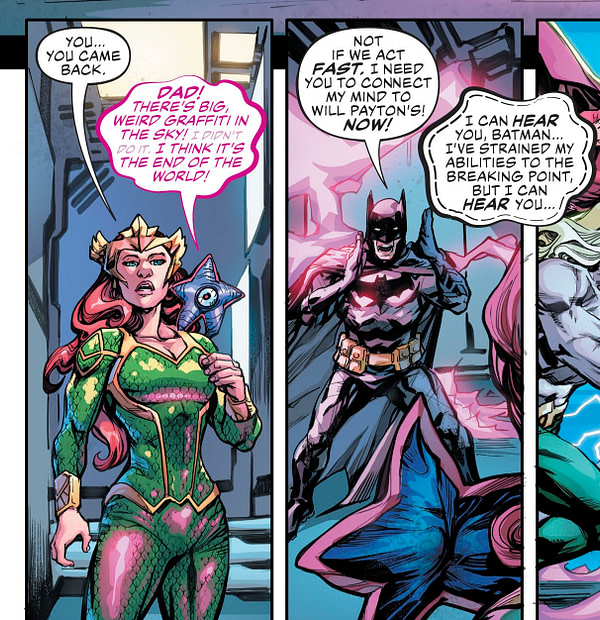 But the Luthor spills the beans. Back in Justice League #25, he made an offer to the world…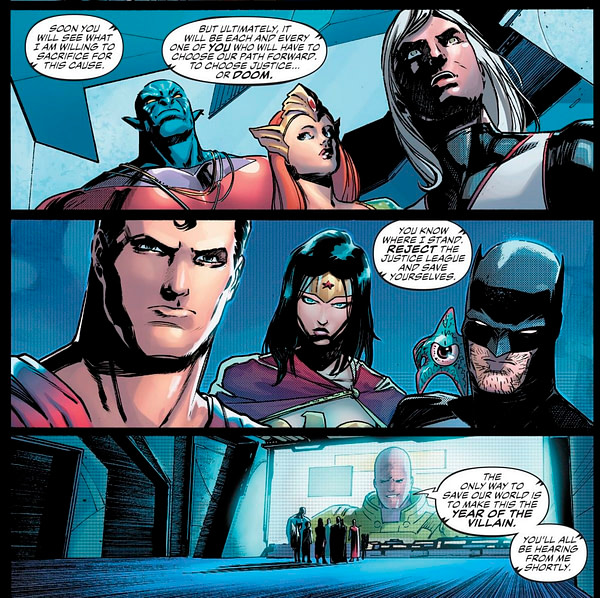 Well today, either the sigil of Doom signified the vote or the result. And Luthor acts as election night commentator.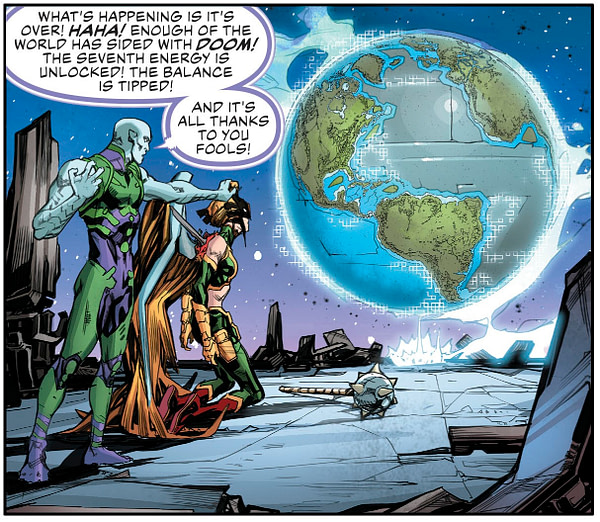 We have another two weeks of Doom sigils and a month of Hostile Takeover repercussions – but Luthor has let everyone know what's up. Doom is the seventh force, everyone has voted for it… and it's all that Perpetua needed.
JUSTICE LEAGUE #34 YOTV
(W) James Tynion IV, Scott Snyder (A) Jim Cheung (CA) Francis Manapul
"The Justice Doom War" part five! All Hypertime is breaking! If it blows, all of reality will follow after-which would be just fine for Lex Luthor, who is ready to prove to the evil goddess Perpetua that he's the bad man for her. The Justice League is attempting to do what they can, chasing the Legion of Doom across the time-sphere. If the Totality is put back together, the whole Multiverse will tip toward Doom…and have consequences that reverberate throughout the DC Universe-assuming it's not destroyed in the process.In Shops: Oct 16, 2019 SRP: $3.99

NIGHTWING #65 YOTV
(W) Dan Jurgens (A) Ronan Cliquet (CA) Bruno Redondo
While the Nightwings do their best to contain the situation in Blüdhaven, Ric faces off against Talon! But the battle is one not just of brawn, as Ric's psyche is taken to its limits when he learns about his family history for the first time since his memory was wiped. Will Ric Grayson at last become the Gray Son of Gotham he was destined to be, or will he choose the life he's been trying to establish for himself in Blüdhaven?In Shops: Oct 16, 2019
SRP: $3.99

TEEN TITANS #35 YOTV
(W) Adam Glass (A/CA) Bernard Chang
The Teen Titans' traitor is finally revealed as all their scheming finally comes to a head! How will the team deal with the betrayal, and to what end are the traitor's plans? Worse, will the previously secret Teen Titans team finally be exposed to the world? This house of cards is about to come crashing down…and one of the Teen Titans will pay the ultimate price!In Shops: Oct 16, 2019 SRP: $3.99

BATMAN #81
(W) Tom King (A/CA) John Romita, Klaus Janson
It's time for the big showdown. Batman is calling Bane out. But is the Dark Knight Detective ready to take on the foe who broke him worse than any other that came before? And what else stands in Batman's way, to put an obstacle between him and his enemy? Tread lightly, Batman, because not only do the lives of your son and trusted friends hang in the balance, but your entire home could collapse on top of you!In Shops: Oct 16, 2019 SRP: $3.99

AQUAMAN #53 YOTV
(W) Kelly Sue DeConnick (A) Daniel Henriques (CA) Jason Paz (A/CA) Robson Rocha
It's the reunion everyone will be talking about as Aquaman and Mera finally come face to face! Meanwhile, Aqualad and the Old Gods put the murder charges to rest when the true culprit is revealed… and Black Manta makes his move on Aquaman!In Shops: Oct 16, 2019 SRP: $3.99