ComicsPRO Leak: The (Power) Ranger Slayer Returns With "Shocking First Appearance" – To Set Up HOXPOX-Style Event at Boom?
Boom Studios just kicked off their ComicsPRO presentation – straight into Bleeding Cool's inbox, by going back to their biggest book – Power Rangers. Yes, the series where Boom sold 800 copies in 15 minutes at one store of issue #25.
With those same Power Rangers still driving buzz amongst readers and collectors, retailers' ears perked up.
Boom's Filip Sablik and Morgan Perry just announced at ComicsPRO that the Ranger Slayer – the Kimberly Hart (Pink Ranger) from Lord Drakkon's universe – will return in an all new one-shot that debuts this June and has the first appearance of a major new identity, setting the stage for a prestige limited series beginning in July set on Drakkon's world and leading up to what sounds like it might be a HoXPoX style shakeup of Power Rangers in October.
Go Go Power Rangers #8, the first appearance of Ranger Slayer, has been talked up recently by some of the top speculators like Mr. Bolo and is now still selling up for up to $10, with the second print also going for $10. Keep your eyes on the CGC 9.8s, which are still holding at $100 and will only go up.
And apparently the big return at the end of April's Mighty Morphin Power Rangers #50 will occur on a triple gatefold page, which should make for some quite great fan reactions on social media.
The Power Rangers franchise has been one of the best selling ongoing independent comics series since it launched over 100,000 copies in 2016 and outsold everything else from Marvel that month – so while it might be tough to match those numbers, it seems like Boom may be aiming to do just that.
Writer Ryan Parrott will be at ComicsPRO later today, so perhaps some retailers can get more details out of him and report back to us. Don't worry, we won't share the news with anyone but our readers…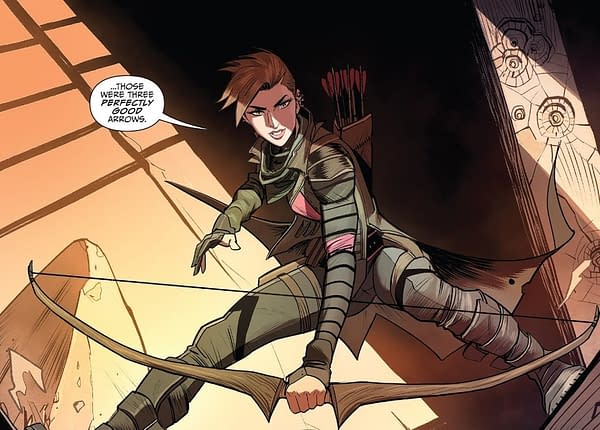 Catch up with more #ComicsPRO coverage with this handy tag.