Commanders In Crisis #9 Review: A New Storyline
One of the industry's most creative superhero titles is back with a new storyline and an uphill climb. They set themselves on a fantastic, innovative path … only to end the issue with the same kinds of cliches that plague the majority of the market.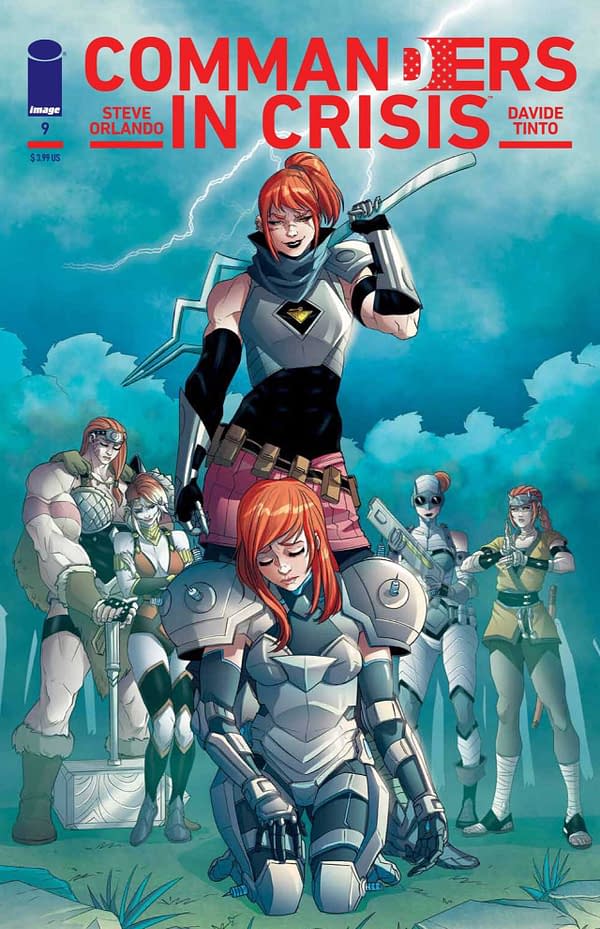 The five heroes of Crisis Command have a lot in common. Each one was a groundbreaking president of the United States on parallel earth's. Each one is the last survivor of their universe, which was destroyed by a threat they fear may follow them to their new adopted home. Each one has an amazing superpower. However, four of them were deceived by the fifth, Frontier, who hid the fact that this final earth is predisposed to being bad and that Frontier has a supervillain doppelgänger working to destroy everything they're working for. Yikes!
This time, they're all coming around to the idea of working together with Frontier again, some more begrudgingly than others. This time, they're dedicated to literally doing things that haven't even been considered. Unfortunately, this time they face a set of cliches pressed into service to enforce the patterns of pugilism.
The Steve Orlando script starts out telling you what you want to hear, and the artwork from Davide Tinto, Francesca Carotenuta, and Fabio Amelia maintains the top-notch visual excellence this series has maintained since its inception. The ideas here (Doctor Dracula?) are just not as fresh, taking this book from "dazzling" to just "very good." By comparison, that's a dip in quality but only compared to itself, as this issue is still superior to most of the week's output.
Everyone can't be a home run, so this line drive is still worth checking out. RATING: BUY.
Commanders In Crisis #9
By Steve Orlando, Davide Tinto
NEW STORY ARC Frontier has journeyed from the birthplace of ideas to the dawn of civilization, all to find a way to resurrect empathy but what if resurrection was never what we needed? Frontier and Originator dive right into that question in a face off with Doctor Dracula as the Extinction Society begins its final push to kick us all off the edge and into destruction – the Revenge Regiment strikes!