 Today's category is for Best Writer, one of the major categories of the Eisners. Stories and series start with an idea, and a talented writer is capable of taking something simple and running with it, expanding upon it and making it something earth-shattering and memorable. It's not just the story that's important, it's the collaboration with the artist for the story, making sure that an original vision is well on its way to being shared with the masses. All of this is hard enough for just writing one series. But multiple ones? At the same time? One must tread carefully, for taking on several projects always risks a drop in quality, and can possibly lead to missed deadlines for more than one series. And yet, each of the nominees below are more than capable of bringing their best, no matter the series, and no matter the number.
Keep in mind I cannot vote for who wins (nor can you, probably), as per the rules. Plus voting ended June 1st. However, that's not keeping me from being vocal regardless!
Who is eligible to vote?
Comic book/graphic novel/webcomic creators (writers, artists, cartoonists, pencillers, inkers, letterers, colorists
All nominees in any category
Comic book/graphic novel publishers and editors
Comics historians and educators
Graphic novel librarians
Owners and managers of comic book specialty retail stores
Who is not eligible to vote?
Comics press or reviewers (unless they are nominees)
Non-creative publisher staff members (PR, marketing, assistants, etc.)
Fans
Before I get back to revealing Superman's secret identity so I can be eligible for next year, let the games begin!
Best Writer
Jason Aaron, Original Sin, Thor, Men of Wrath (Marvel); Southern Bastards (Image)
Kelly Sue DeConnick, Captain Marvel (Marvel); Pretty Deadly (Image)
Grant Morrison, The Multiversity (DC); Annihilator (Legendary Comics)
Brian K. Vaughan, Saga (Image); Private Eye (Panel Syndicate)
Willow Wilson, Ms. Marvel (Marvel)
Gene Luen Yang, Avatar: The Last Airbender (Dark Horse); The Shadow Hero (First Second)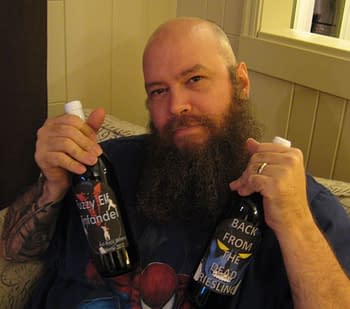 Who I think should win:
Jason Aaron, Original Sin, Thor, Men of Wrath (Marvel); Southern Bastards (Image)
A constant workhorse, Aaron's had quite the year writing both epic superhero runs (Original Sin, Thor) as well as gritty crime stories taking place in the South (Men of Wrath, Southern Bastards). While other writers would crumble under the pressure of maintaining the quality writing multiple titles around the same time, Aaron make it look easy. I'm of the mindset that Southern Bastards will win the Best Continuing Series category this year, in big part to the story Aaron's been crafting. No matter if you like spandex & capes or a little crime noir, Aaron's got you covered for the past year.
Who I think will win:
G. Willow Wilson, Ms. Marvel (Marvel)
Right from the get-go, the Ms. Marvel series was revolutionized with Wilson's storytelling. Keeping things fun and exciting for both new and regular readers, Kamala Khan is now a household name, a strong female character, and a bonafide kickass superhero. Never getting the Eisner I thought she deserved for her fantastic Vertigo series Air, I feel that it's Wilson's year this time around.
Who I think should have been nominated:
Kieron Gillen, Wolverine: Origin II, Young Avengers (Marvel); Über (Avatar); The Wicked + The Divine (Image)
Gillen & McKelvie's The Wicked + The Divine was one of my favorite series of the last year, and I feel it's a huge disservice for him not to be nominated in this category. Being able to transition from deities, Avengers, and Nazi superhumans is a bold task, one which Gillen marvelously masters.
Who do you think should win / been nominated?
Cameron Hatheway is a reviewer and the host of Cammy's Comic Corner, an audio podcast. You can write him a story about how he loses his mind and goes insane on Twitter @CamComicCorner.
Enjoyed this article? Share it!