Damned #8 Review: Major Confrontation and Revelations in the Occult Crime
[rwp-review-recap id="0"]
Eddie, who killed himself in the hopes of bringing back his mother, is dragged through the underworld by an angry creature whom thinks Eddie is intending to help a different being. Meanwhile, Eddie's brother, Morgan, uses a demon member of an unholy gang to infiltrate the headquarters of said gang to get back his brother's body and, hopefully, bring him back to the land of the living.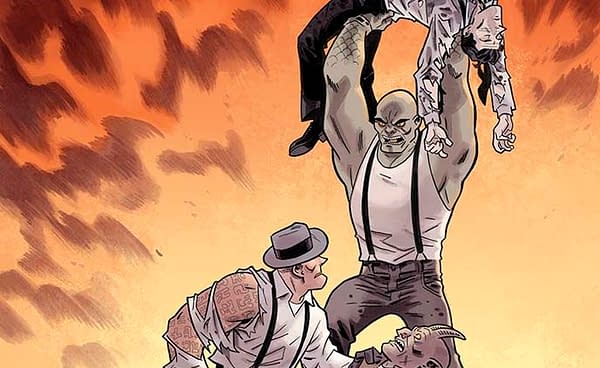 Damned's continued mixture of Prohibition-era gang story structure and occult qualities remains quite fresh and interesting. The familial ties and mysteries at the heart of it all are still great boons to the book.
This issue brings a climactic showdown between Morgan and Roarke's gang, who holds the body of Eddie. This proves Morgan both resourceful in his own right and reluctantly devoted to the well-being of Eddie.
Roarke himself gets some interesting character development too, and he will certainly play a larger part in the comic's broader story.
Damned's negotiation and subversion of plot structure of the genres it borrows from continues to be among the greatest strengths it contains. Plus, it's characters are both unique and interesting, which allows it to be continuously engaging when it's not throwing plot twists at you.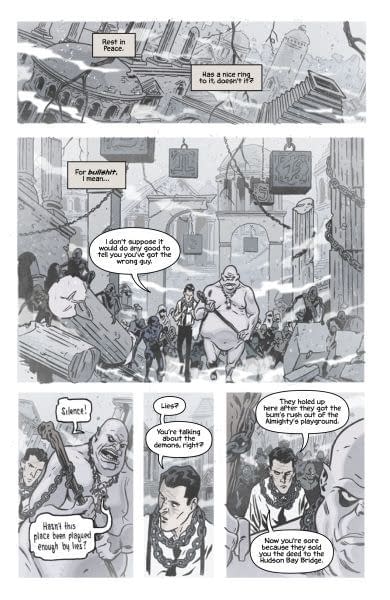 Brian Hurtt and Bill Crabtree's artwork plays to the expectations of the genres too. Hurtt constructs a world that feels none too different to the likes of classic crime and occult narratives. Meanwhile, Crabtree plays with a color palette that would feel truly fitting in these types of stories. The overall comic looks good, and it plays to the overall story's strengths.
Damned #8 continues its compelling story in an exciting way. This issue brings something of a climax with Morgan confronting Roarke's gang, and Eddie gets some insight into their family's dealings. Plus, Hurtt and Crabtree make the overall comic visually appealing. This one gets a recommendation. Give it a read.
[rwp-review-ratings id="0"]
[rwp-review-form id="0"]