Dark Knight III: The Master Race #2 Gives Us Donald Trump Kandorians (SPOILERS)
Donald Trump believes that the US should stop all Muslims from entering the USA, until they can work out what's going. He may not be President (yet) but some people think hat's already happening. He also accuses Mexico of sending their rapists and murderers.
Donald Trump is going to love the second issue of Dark Knight III: The Master Race
At the end of the first issue we were confronted with a Batman who was no Batman but Carrie Kelly. A Superman in ice, watched over by his daughter. Whose mother, Wonder Woman had her own battles to fight. Every major character in the comic was a woman, save for The Atom in his own little mini-comic, setting up the battle to save Kandor.
That's the job of Dark Knight comics, it seems, to take the standard versions of the characters and flip them up in the air. 'Twas ever thus, Catwoman is a prostitute, Green Arrow has lost his arm, Robin is a girl, Superman is a governmental lackey and most importantly, Batman had given up. What is probably most disappointing in that regard, for the second issue, is an attempt to do what The Force Awakens repeatedly did, bring something back from the original Dark Knight story in an attempt to tug at the nostalgic heartstrings of those who remember reading the first book back in the eighties. It feels very anti-Dark Knight, we should be getting something new, not a comforting reference to something old. This is a Batman who hasn't given up, even when she is bound and imprisoned, being interrogated by a GYPD who have scant concern for the rules. Another of those nods is to Frank Miller, but not of the Dark Knight. This is instead more how Sin City looks, from the tipped in colour character on the front cover surrounded in black-and-white, to the light from the prison frames criss-crossing across the characters, dividing their features on the panel, as if each one is showing their internal scars. And, okay, okay, it looks hella cool.
But those looking for signs of the right-wing reactionary Frank Miller, the Miller of Holy Terror, you will find it here in allegory. Because the Kandorians who are rescued from the Bottle, are not your average, everyday Kandorians. These are those who adhere to a certain violent religion and led by a man called Quar – who have now emigrated past any border controls from Kandor to America, intent on death and destruction. These are the Kandorians that Donald Trump would make you afraid of. And The Atom is the lily-livered wishy-washy liberal dogooder whose naive goodwill they have abused to get past the system.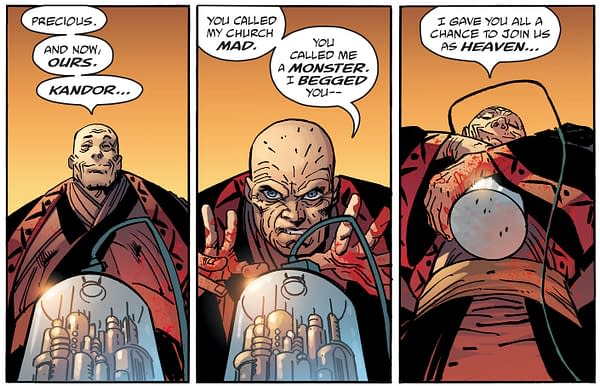 And now, clearly, somehow, Batman is going to have to sort it all out, Fixer style.
Of course, she can rely on Supergirl and Wonder Woman – but they are having their own very elegant mother and daughter spat over identity and war in the Eduardo Risso drawn mini-comic.
The book also details the death of Bruce Wayne, a cruel one for such a warrior, denied his death in battle, lingering on for months after such a confrontation. It could be read as a parallel for this book, which could have been put out of its misery after DK2. But that is unfair – and it does come from an unreliable narrator. And a great callback to the original series, tricking you the same way the first did. Oh, okay, okay, I do like those references, clearly…
Comics courtesy of Orbital Comics, London, currently showcasing the work of the artists involved with Avery Hill, a publishing company based in South London.