DC Comics August 2020 Solicitations Frankensteined (UPDATE)
DC Comics will announce their August 2020 solicitations late today (along with whatever else need resolicitation or rescheduling). Here are the few, these happy few, that have already been solicited in some form or other.
Batman #96
In Batman #96, reeling from the effects of the worst Joker toxin attack ever, Batman is on the run through Gotham City, pursued by the dark shadows and voices that haunt his past and present! As The Joker's plan materializes, the only person who can save Batman from the brink of true madness…is Harley Quinn?! Plus, who is the mysterious new figure known as Clownhunter? Written by James Tynion IV with art by Jorge Jiménez, a cover by Guillem March and a variant cover by Francesco Mattina, plus a new Clownhunter card stock variant cover by Jorge Jiménez, hits shelves August 4.
Batman #97
The Joker's army is growing hour by hour, with weapons beyond anything the Clown Prince of Crime has ever used before. Batman must hold his mind together so he can strike the final blow and take back his city—but how can he heal the rifts he's created in his life to get the help he needs? And while all this is happening, the villains of Gotham City are waiting out the carnage Joker has unleashed—and Catwoman assembles an army of her own! Batman #97, written by James Tynion IV with art by Jorge Jiménez, a cover by Guillem March and a variant cover by Francesco Mattina, plus a new Harley Quinn card stock variant cover by Jorge Jiménez, hits shelves August 18.
The Dreaming: Waking Hours #1
One of Dream's heaviest responsibilities is the creation of nightmares—the beings that haunt our sleep and turn our thoughts toward darkness. In the form of Ruin, the nightmare of catastrophic failure, Dream was certain he'd built his next masterpiece…but Ruin can't help but live up to his name, sending every situation into a spiral of unexpected consequences. Unfortunately, Shakespearean scholar (and exhausted new mother) Lindy has dreamed of Ruin…and in the process, she's delivered him unto the waking world. The Sandman Universe is changing—and Hugo and World Fantasy award-winning writer G. Willow Wilson (Wonder Woman, Ms. Marvel, The Bird King) and breakout artist Nick Robles (Euthanauts) are here to welcome you! The Dreaming: Waking Hours #1, by G. Willow Wilson, Nick Robles and Mat Lopes hits shelves August 4 with a main cover by Nick Robles and a variant cover by Bill Sienkiewicz. The Dreaming: Waking Hours will carry DC's Black Label descriptor, identifying the content as appropriate for readers ages 17+.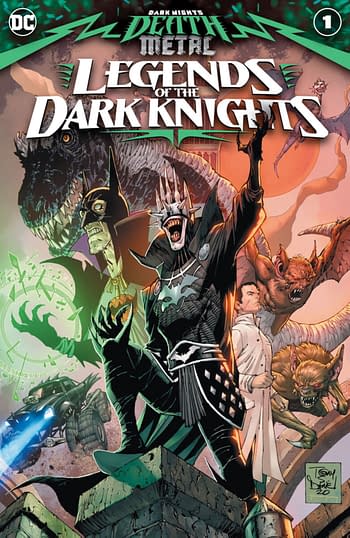 Dark Nights: Death Metal Legends of the Dark Knights #1.
Scott Snyder, James Tynion IV, Joshua Williamson, Peter J. Tomasi, Warren Ellis, Garth Ennis, Daniel Warren Johnson, Frank Tieri, Tony S. Daniel, Jim Cheung, Joëlle Jones, Riley Rossmo, and Francesco Francavilla.
In this collection of short tales where demons dwell and reality is overrun by monstrous versions of the Dark Knight, learn the terrifying secrets of the new Bats Out of Hell and other creatures of the night like Robin King, whose origin is unimaginable! Plus, read about the secret buried beneath Castle Bat, the sentient Batmobile, and…how did Batman turn into a killer robot dinosaur?
ON SALE 08.04.20
Dark Nights: Death Metal #3 (of 7)
By Scott Snyder, Greg Capullo and Jonathan Glapion.
ON SALE 08.11.20
Dark Nights: Death Metal Guidebook #1
by Scott Snyder, James Tynion IV, Joshua Williamson, Becky Cloonan, Vita Ayala, Chip Zdarsky, Christopher Priest, Doug Mahnke, Dan Panosian, Eduardo Risso, and Khary Randolph! Collected in Dark Nights: Death Metal Guidebook #1 on August 18 with a cover by Yasmine Putri, the stories in this one-shot showcase the new factions of Earth and explore the mystery of what happened to the Justice League after their battle with Perpetua. As Wonder Woman, Superman, Batman, and other heroes fight to survive in the strange new landscape of an Earth turned upside down and shrouded in a realm of darkness, one cloaked figure has been observing from the sidelines, creating a guidebook to this new world and its evil leaders. Find out how Wonder Woman became the queen of Hell! Discover how Batman finds the Black Lantern ring! And see what happens when Harley Quinn takes charge of the Wasteland, finding love in the process! All this and more in this jam-packed issue exploring the new world order.
ON SALE 08.18.20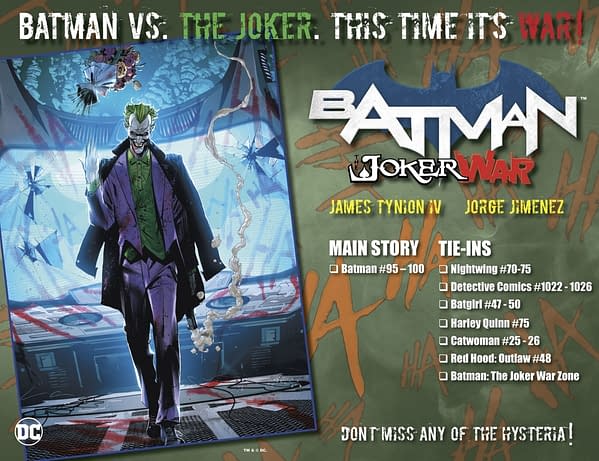 Batman: The Joker War Zone
By James Tyinon IV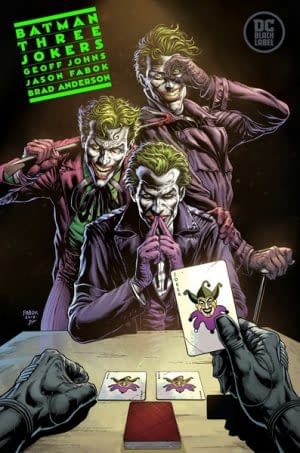 Batman: Three Jokers #1
written by GEOFF JOHNS art by JASON FABOK cover by JASON FABOK
variant cover by JASON FABOK 1:25 variant cover by TBD 1:50 variant cover by TBD
Thirty years after Batman: The Killing Joke changed comics forever, Three Jokers reexamines the myth of who, or what, The Joker is and what is at the heart of his eternal battle with Batman. New York Times bestselling writer Geoff Johns and Jason Fabok, the writer/artist team that waged the "Darkseid War" in the pages of Justice League, reunite to tell the ultimate story of Batman and The Joker! After years of anticipation starting in DC Universe: Rebirth #1, the epic miniseries you've been waiting for is here: find out why there are three Jokers, and what that means for the Dark Knight and the Clown Prince of Crime. It's a mystery unlike any Batman has ever faced!
PRESTIGE FORMAT | ON SALE 08.25.20 $6.99 US | 1 OF 3 | 48 PAGES FC | DC BLACK LABEL AGES 17+ This issue will ship with four covers.