Is everyone familiar with the Hanna-Barbera cartoon Top Cat? Aired in the UK as Boss Cat, as Top Cat was an existing brand of cat food…
Based on The Phil Silvers Show and his Bilko character, with Maurice Gosfield who played Private Doberman as the voice for Benny the Ball, Top Cat was about a con-man and his gang trying to eke a living in a street alley, often in confrontation with Officer Dibble – making "dibble" street slang for police.
But, just as DC Comics is remaking Hanna-Barbera comics as post-apocalyptic post-modern comics, so the co-publisher of DC Comics, Dan DiDio, is doing the same to Top Cat with British artist Phil Winslade.
In next week's Adam Strange/Future Quest annual, a back-up strip sees Top Cat having made the break of his life, to the DC Comics universe, and up against Batman.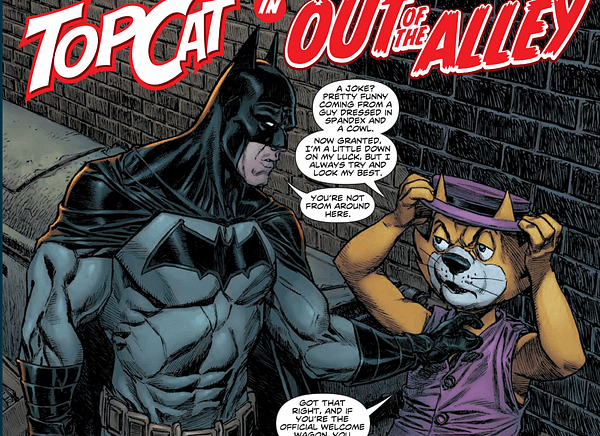 As we learn a little about Top Cat's old world. An anthropomorphic non-human world, where even Officer Dibble is a cat.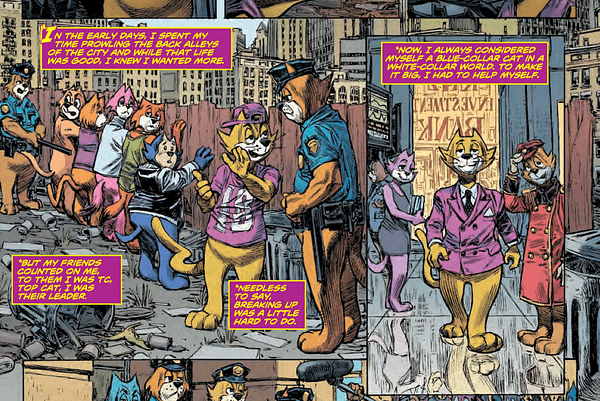 And Top Cat is arrested and incarcerated for his crimes. Along with Benny The Ball.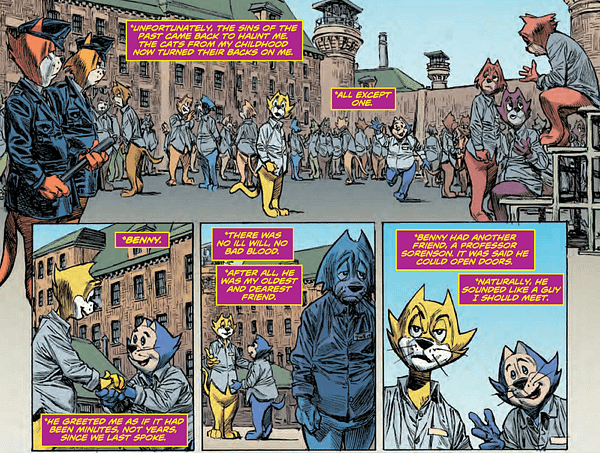 And we are promised that his new adventures in the DC Universe will continue in a new Top Cat comic book series from DC Comics later in the year. And, yes, we already get the obvious team-up… The Adam Strange/Future Quest Annual is published next Wednesday by DC Comics.
Enjoyed this article? Share it!