Posted in: Comics | Tagged: 5g, brian bendis, comcis, Comics, dc, dc comics, event leviathan, leviathan
---
How DC Comics' 85 Year History May Reveal Leviathan in Event Leviathan #5 – and Even Doomsday Clock (Spoilers)
DC Comics was founded as National Alliance Publications in 1934. And just as Marvel Comics has been rewriting and reconsolidating its past, present and future with Marvel Comics #1000, the History Of The Marvel Universe and House/Powers Of X, we have seen in recent days that DC Comics is doing something similar as well as looking to the future. And now, after reading today's penultimate issue Event Leviathan #5, some readers may be asking, not 'who is Leviathan'…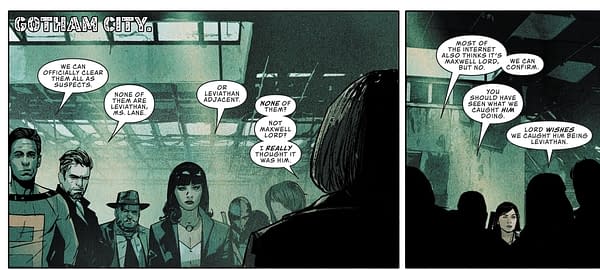 …but who is Manhunter?

The comic book sees Damian Wayne, fresh from accusing Superboy of being Leviathan over in today's Superman #18…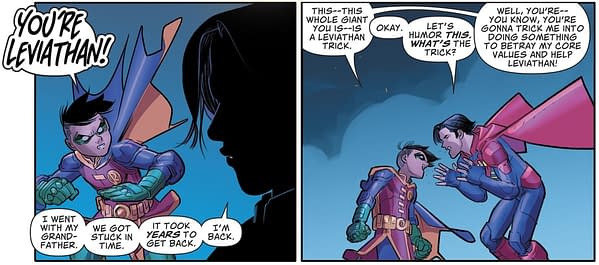 …to looking further afield. Or infield. First Lois Lane…

… and then looking further inside the Batmobile. And how might one get access to such intel? Damian Wayne has an idea.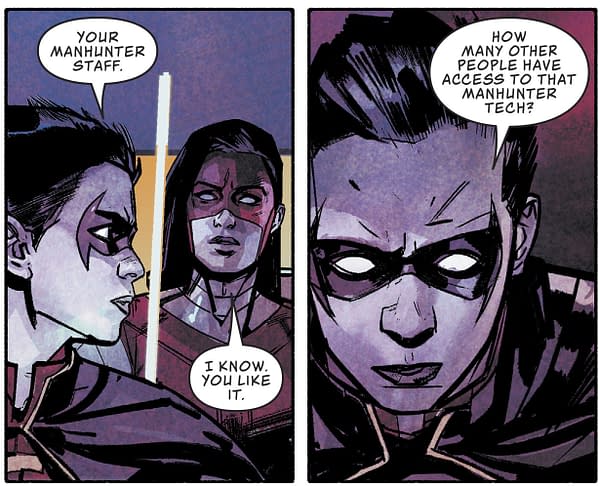 Stated repeatedly. Well, this is a Bendis book after all. I said this is a Bendis book after all.

Suggesting that Leviathan may have been a former holder of that title.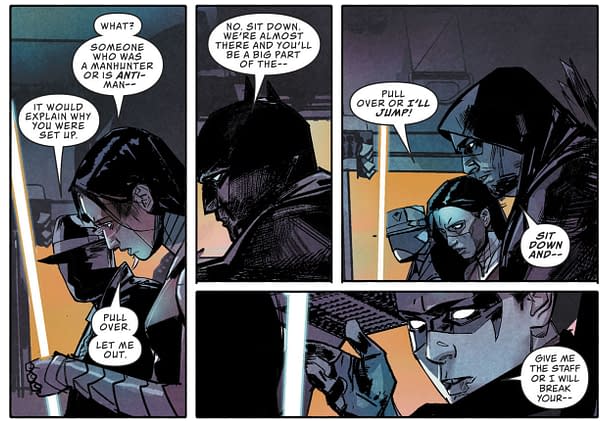 Of which there are a number of suspects at DC Comics of course. Who watches the Manhunters?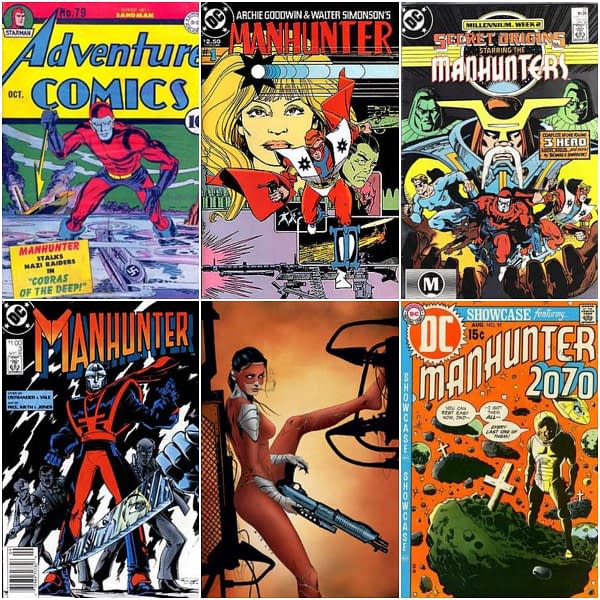 The first of DC Comics' characters named Manhunter was a non-costumed independent investigator, Paul Kirk, who helped police solve crimes during the early 1940s. Though the series was titled "Paul Kirk, Manhunter", Kirk didn't use the Manhunter name as an alias. He appeared in Adventure Comics #58–72.
Beginning with Adventure Comics #73, Joe Simon and Jack Kirby established a new Manhunter, Rick Nelson, big game hunter turned crimefighter, who decides to become a crimefighter when his friend, Empire City police inspector Donovan, was murdered by the supervillain known as the Buzzard. He wore a superhero-like red costume with a blue mask. Though he was obviously a different character than the first DC Manhunter, the name Rick Nelson was quickly changed to Paul Kirk in Adventure Comics #74 by an unknown editor. The Simon/Kirby team left in 1942, although Kirby wrote a few more scripts. The Paul Kirk Manhunter appeared in Adventure Comics until #92 in June 1944. This version of the character reappeared as reprint in back-up stories of New Gods, a series also penciled by Kirby.
The second Manhunter's first appearance was in the Quality Comics title Police Comics #8 from 1942 and his solo stories ended in issue #101. The Quality Comics characters were purchased by DC Comics when Quality went out of business in 1956. Dan Richards would eventually be featured in Young All-Stars and All-Star Squadron. Donald "Dan" Richards attended the police academy with his girlfriend's brother, Jim, who was at the top of the class, while Dan was at the very bottom. After Jim was framed for a crime he didn't commit, Dan took up the identity of Manhunter to track down the actual killer. He caught the perpetrator and cleared Jim's name. His sidekick was a dog named Thor, who was later retconned to be a robotic sentry operating under the auspices of the Manhunter cult.
In later continuity, Dan Richards and Paul Kirk were established as co-existing, Dan Richards became a member of the Freedom Fighters, while Paul Kirk stayed as a member of the All-Star Squadron.
Many years later, in 1973, the names of Manhunter and Paul Kirk were resurrected in a story by Archie Goodwin and Walt Simonson in Detective Comics #437. It was not the original intent of the creators for this to be the same character, but that's where the story went. Paul Kirk was established as having been killed by an elephant on safari in the 1940s, but his body was cryogenically preserved and eventually resurrected by the Council, a secret society dedicated to saving the human race from dangers such as nuclear war, pollution and overpopulation. After his return from death, Kirk is given a healing factor devised by a geneticist-member of the Council. Realizing that the Council have been corrupted by power, gradually warped from idealists into ruthless fanatics, and cloning him a lot, Kirk begins to hunt down them and their agents, killing the members of the council.
In 1975 DC published a second, completely independent Manhunter revival in 1st Issue Special #5, written and pencilled by Kirby. In this story an elder Manhunter retires and passes on the mantle to Mark Shaw. Though it is usually presumed that Kirby meant the elder Manhunter to be Paul Kirk, the character is never explicitly identified, allowing the reader to suppose him to be someone other than Kirk and thus avoid the resulting contradiction (in the Goodwin/Simonson revival, Kirk retired so that he could serve in World War II, i.e. during the 1940s).
Then, in the eighties, we got yet another Manhunter. Mark Shaw was a public defender, unhappy about how easily criminals manipulated the system and got off without punishment. Shaw's uncle Desmond introduced him to an ancient sect of crime fighters called the Manhunters. Shaw contacted the Grand Master, the sect's leader, through a magical lion medallion. Shortly, he assumed the Manhunter name and costume from a previous Manhunter. The Manhunter sect was composed of androids, created billions of years before by the Guardians of Oa to police the galaxy. For millennia, they served the Guardians well. The Manhunters became obsessed with the act of "hunting" criminals. Their code, "No Man Escapes the Manhunters", became more important to them than seeing justice done. Eventually, the androids rebelled against the Guardians, but were swiftly defeated by their creators. Those that survived went into hiding.
The latter-day Manhunters attempted to disgrace the Guardians with Mark Shaw at their side. They were opposed by the JLA, especially by League member Green Lantern. Shaw realized that he had been duped by the Manhunters and turned on them, killing the Grand Master, who was revealed to be a robot. Mark Shaw quickly returned as a new hero called the Privateer, but it was soon revealed that he was also working as a villain called the Star-Tsar, in league with the Key. The Red Tornado discovered this deception and Shaw went to prison.
While in the midst of serving his sentence, Shaw was offered the chance to accompany the Suicide Squad on a mission as the Privateer, and was released when the mission was completed. He donned a new costume to distance himself from the Manhunter cult, and now hunted costumed criminals for the bounty.
During this time, he and his family were threatened by two shape-shifters named Dumas. Shaw killed the first Dumas and his battle with the second led him to give up the Manhunter identity at the end of his series. It was later revealed that Mark Shaw was actually himself Dumas and much of his history was actually the result of mental programming by the US Government. Facing Eclipso, and dying, it was revealed that Mark Shaw was undercover, masquerading as his old enemy Dumas at the behest of Sarge Steel. When the call went out for heroes to fight Eclipso, Sarge Steel believed that it would raise too many questions as to where Mark Shaw was if he did not answer the call, and Sarge Steel sent along a duplicate in Mark's place.
There's more to come. Chase Lawler was the lead in a a new Manhunter title by Steven Grant and Vince Giarrano from 1994, unrelated to any of the previous Manhunters. A musician who summoned the Wild Huntsman to save himself and his girlfriend from harm, he did not understand the commitment he was making and found himself compelled to hunt the lonely. He tried to resist the urge by hunting villains, with limited success. Lawler suffered a heart attack and Mark Shaw attempted to resuscitate him. This transferred the bond with the Wild Huntsman and the compulsion to hunt to Shaw. It was later revealed that Lawler had undergone the same mental programming as Mark Shaw and that the Wild Huntsman was actually an illusion created as a side effect. Lawler was drugged and then murdered by Shaw, who had fallen back into his Dumas persona.
More? Kirk DePaul, created by Kurt Busiek and Tom Grummett, was the last surviving Council-created clone of Paul Kirk and wore a variation of that Manhunter uniform and a partner in the superhero-for-hire firm known as the Power Company. DePaul was later murdered and decapitated by Mark Shaw who had suffered a breakdown and resumed his Dumas persona.
It is strongly implied that DePaul was later resurrected by Morgaine le Fey as the character "Swashbuckler" in the comic book Trinity, a mercenary who shows all the skills of a Manhunter, by writer Busiek.
And now we have Kate Spencer as Manhunter, after Mark Shaw was approached by the Order of Saint Dumas to take up the mantle of Azrael. Like Mark Shaw, she is a lawyer, but instead works as a prosecutor. Outraged by the ability of supercriminals to escape justice, Spencer assembled a costume from a variety of devices left over from various heroes and villains. A Darkstar costume and Azrael's Batman gloves give Spencer enhanced strength, agility and resistance to injury while Mark Shaw's power staff allows her to fire bolts of energy.
Most recently Kate Spencer, in her heroic identity as Manhunter, began working with the US government's Department of Extranormal Operations, headed by the former criminal Mister Bones. Her comic has featured appearances by Dan Richards, Mark Shaw, Chase Lawler, and Kirk DePaul.
Any more? Well yes. courtesy of the future. Ramsey Robinson is the son of Kate Spencer and her ex-husband, Peter Robinson. He is revealed to have super powers in Manhunter #33 when the seven-year-old smashed a semi-truck while rescuing his dog. A future-set story detailed Ramsey's college graduation and introduces his super-powered boyfriend, Justin, as well as Jade, the super-powered daughter of Obsidian. The story describes Ramsey, Justin, and Jade training to become the next generation of superheroes and ends with an older Kate presenting Ramsey with a man-made replica of her Darkstar exo-mantle as a graduation gift, hinting he's destined to be the next Manhunter.
And then there's Manhunter 2070. With Starker, a bounty hunter in the future created by writer and artist Mike Sekowsky and one of six DC heroes featured in Walter Simonson's 2012 graphic novel, The Judas Coin.
It may be worth noting that in the latest issue of the unauthorised sequel to Watchmen, Doomsday Clock, Mark Shaw accompanied Black Adam in his attack on the White House. So he's still around. or will be around in the near future.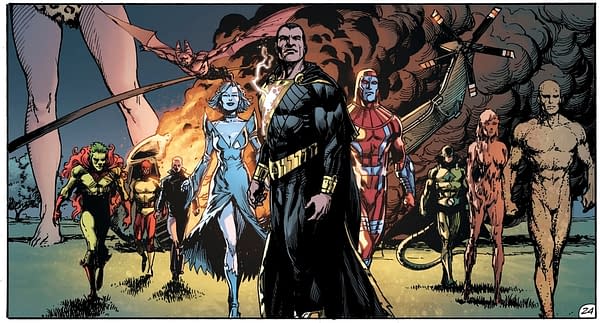 So is Leviathan Mark Shaw? Is it a Paul Kirk clone? Is it another Manhunter? There are plenty to choose from… and will Event Leviathan tie in with Doomsday Clock?
EVENT LEVIATHAN #5 (OF 6)
(W) Brian Michael Bendis (A/CA) Alex Maleev
From the Eisner Award-winning team of writer Brian Michael Bendis and artist Alex Maleev, it's the reveal of the biggest mystery of the summer. Who is Leviathan? And what is their true goal? You're going to find out here! Plus, Lois Lane had a whole other team working this story the entire time, and-oh man!-someone found something!In Shops: Oct 09, 2019
SRP: $3.99

SUPERMAN #16
(W) Brian Michael Bendis (A) David Lafuente (CA) Jason Masters
The Super Sons are back! But now Jon is five years older, and he's sitting on the biggest decision of his young life. Damian and Jon team up again for a rip-roaring adventure and a huge catch-up! These two best buds have really needed each other, and now they are back!In Shops: Oct 09, 2019
SRP: $3.99
---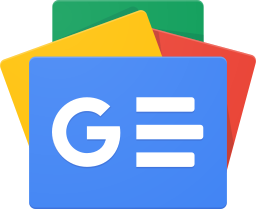 Stay up-to-date and support the site by following Bleeding Cool on Google News today!