DC Comics Don't Mention Doomsday Clock at Diamond Retail Summit Presentation – Or Did They?
DC Comics had lots to talk about at the Diamond Retail Summit Presentation in Las Vegas today. Year Of The Villain, Batman/Superman, Last Knight On Earth, Batman Day, Swamp Kid, new returnability deals, and address from Brian Bendis about Event Leviathan as well as new plans to promote and push Watchmen in the light of the HBO series and so much more. But one very prominent missing item was one of DC's bestselling titles, currently running a little late and going through some collection changes for the end of the year. But no mention at the presentation of Doomsday Clock, the unauthorised sequel to Watchmen by Geoff Johns and Gary Frank, published by DC except for… well… one slide.
This one.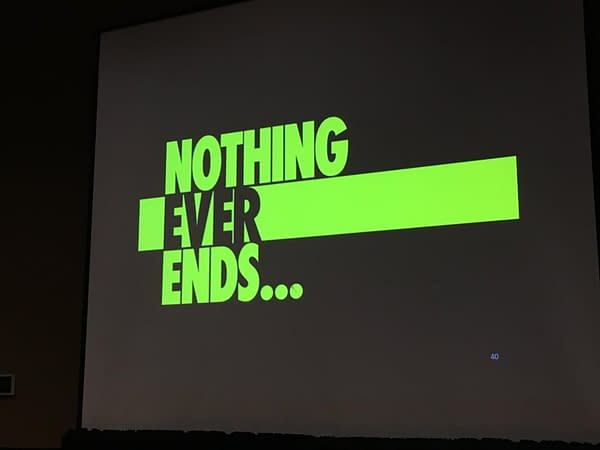 Could that be a sly dig? Or a suggestion as to how DC Comics will use the Watchmen property after the eventual conclusion of Doomsday Clock. Could a Beyond Watchmen be on the cards?
Sadly DC had no Q&A to address this. Maybe later at the event… at the Diamond Retail Summit in Las Vegas, check out the rest of our coverage with this tag. And courtesy of Dennis Barger of Wonderworld Comics, Michigan.
Doomsday Clock #10 is published at the end of the month, No, seriously it looks like it actually might be now.
DOOMSDAY CLOCK #10 (OF 12)
(W) Geoff Johns (A/CA) Gary Frank
This stunning issue of the critically acclaimed hit maxiseries reveals the secrets behind Dr. Manhattan and his connection to the DC Universe. In Shops: May 29, 2019 SRP: $4.99