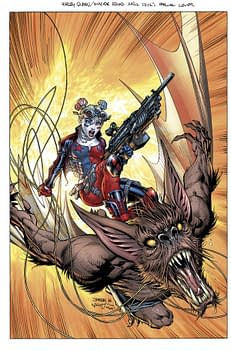 Okay, I know yesterday's debacle with The Super Man and Superworman news-that-wasn't may throw some doubt in some people's minds over this piece.
But I am told by a retailer (who is actually there this time) that DC Comics announced at ComicsPRO that Jim Lee would be one of the three creators working on the new DC Comics Rebirth Suicide Squad bi-weekly series.
The extent of his involvement was not named. He is co-publisher of DC Comics after all. He is also creatively involved in the launch of the scheduled Milestone 2.0 for DC Comics. He is doing the cover to Harley Quinn & The Suicide Squad April Fool issue.
Suicide Squad will get a major boost to its profile with the upcoming movie….
Enjoyed this article? Share it!