Writer's Commentary: Declan Shalvey Talks James Bond: M
Dynamite has sent us a writer's commentary from Declan Shalvey on James Bond: M, a one-shot that is on shelves now. It has a cover by Shalvey and Jordie Bellaire and interiors by PJ Holden & Dearbhla Kelly.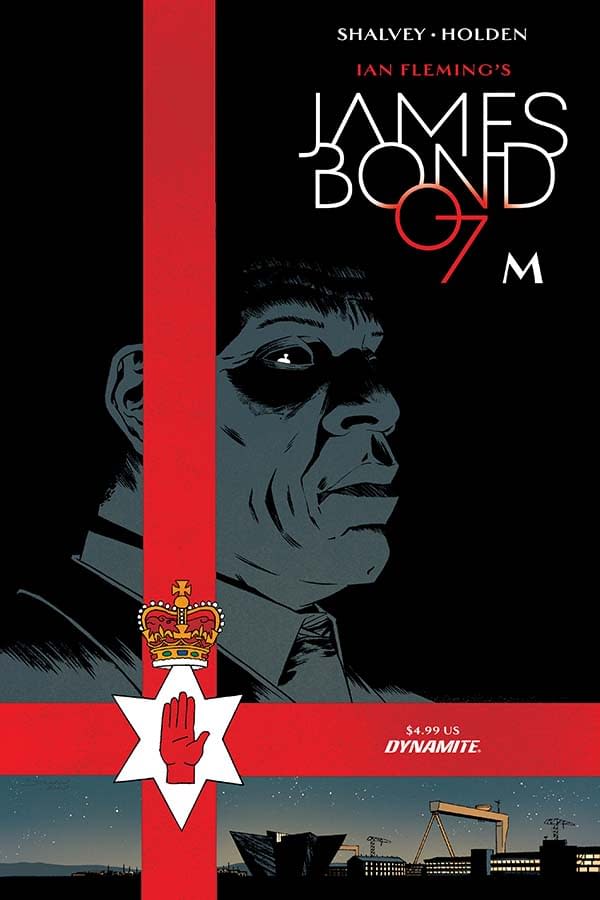 PAGE 1:
Hey, this is a James Bond comic, I should open this up with a bombastic action sequence, right? Wrong. This story concentrates on M, and M is a very different character than James Bond, which is a very important part of this story. So, we open our story with M looking at a botched mission. The repercussions of the work they do. He's chewing out a 00 agent who is…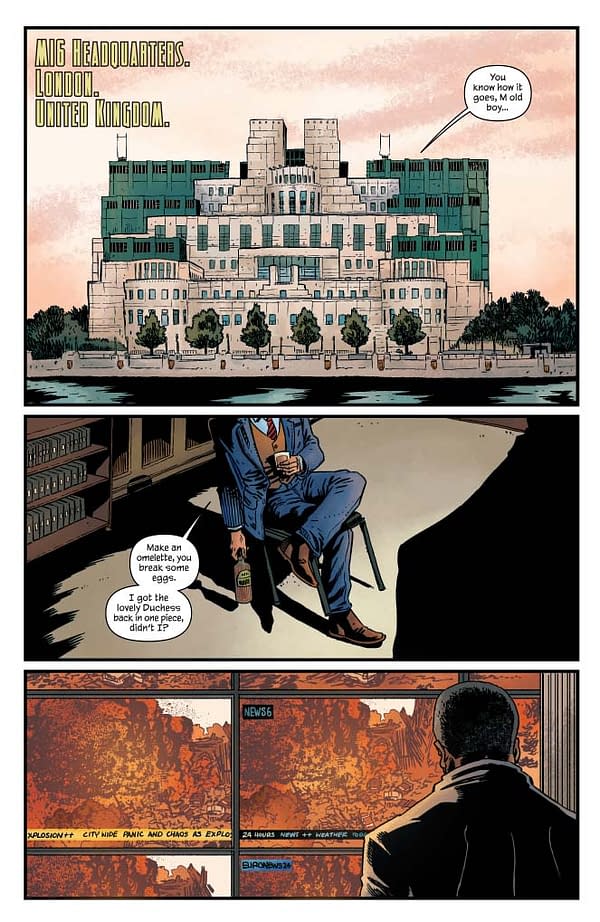 PAGE 2:
…NOT James Bond. PJ did a great job of misleading us in the first page, so that we think this is a much more arrogant Bond. James Bond has been described as a blunt instrument, but he gets the job done. This agent M is dealing with is someone who is reckless to the point of disaster. We know M and Bond clash, but it was important we understand why M is the way he is… he demands control. Over the course of this story, we will find out why that is so.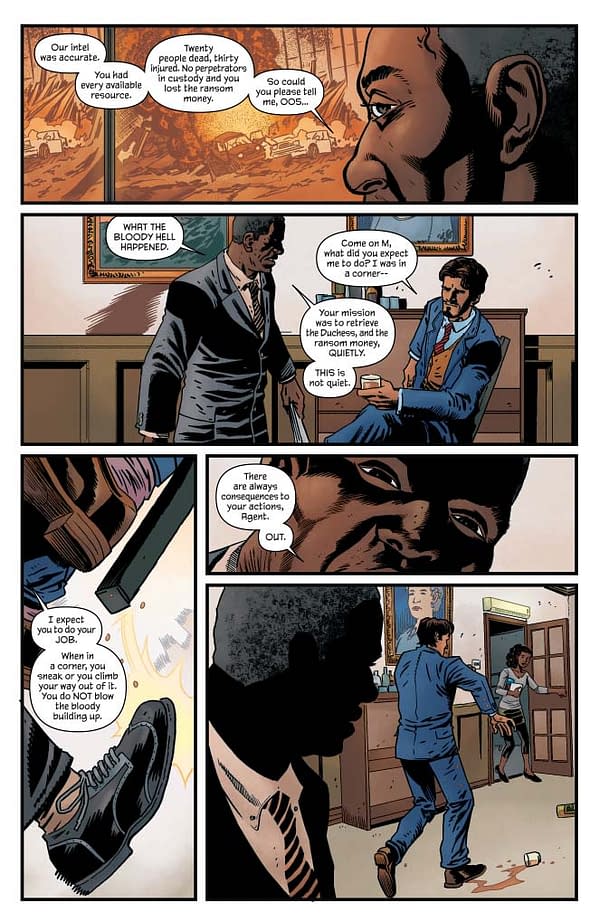 PAGE 3:
This is where we call back to Belfast. The Unionist/Union Jack color of the package reminds M of Ulster, and the botched mission footage suddenly are in a different context, and are reminiscent of the footage we remember from Troubles-era Belfast.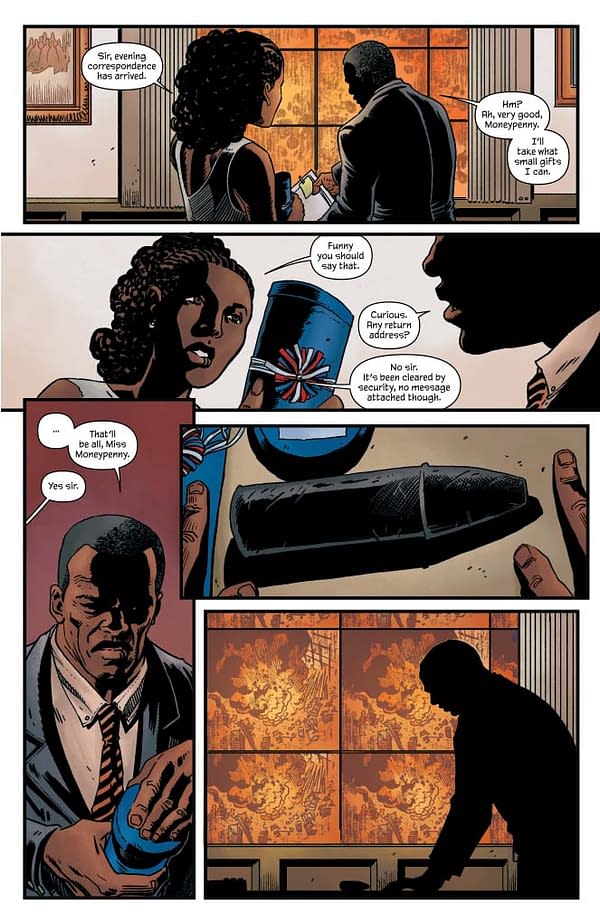 PAGE 4:
Arguably, this is a very basic page that doesn't show us much (though it will ultimately set up a plot point for later), but I wanted to show the simplicity it would take to get to Belfast. No fancy private planes or yachts. Just a train and a ferry. Belfast is right under London's nose, I wanted to show that this IS still part of the United Kingdom, even though it is another land entirely.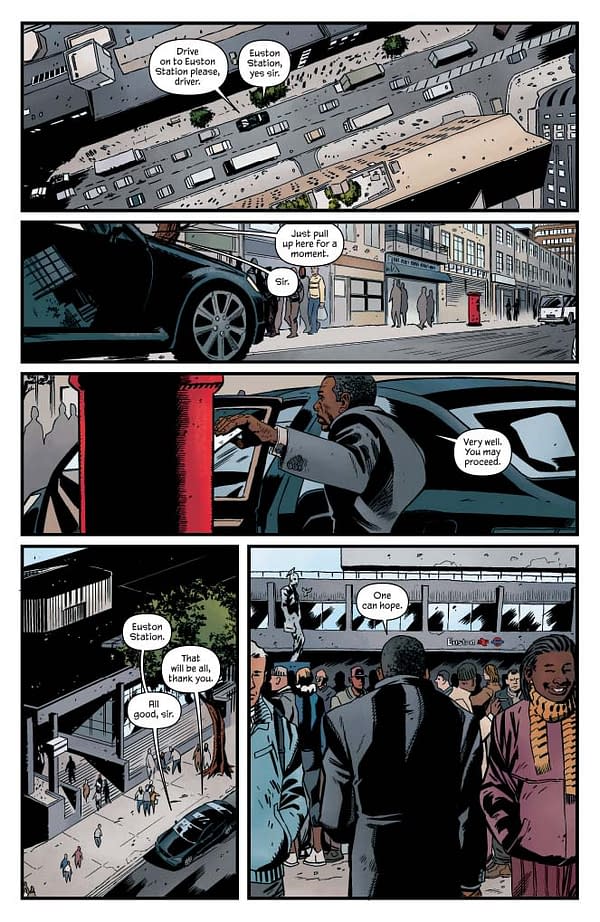 PAGE 5:
BELFAST. I felt it was important for the reader to see contemporary Belfast here, to fly in the face of any preconceptions the they might have. It's not all soldiers on the streets any more, no army checkpoints, etc. From the conversation PJ and I had, he wanted to get Victoria Square in to the story – it's such a big impressive, futuristic looking building, the Dome is the tip of the iceberg. It shows there's a thriving cosmopolitan element to the city now that many are probably unaware of. We will be cutting back to the Troubles from time to time, but we're a couple of decades into the Peace Process now, thing have changed. As has M.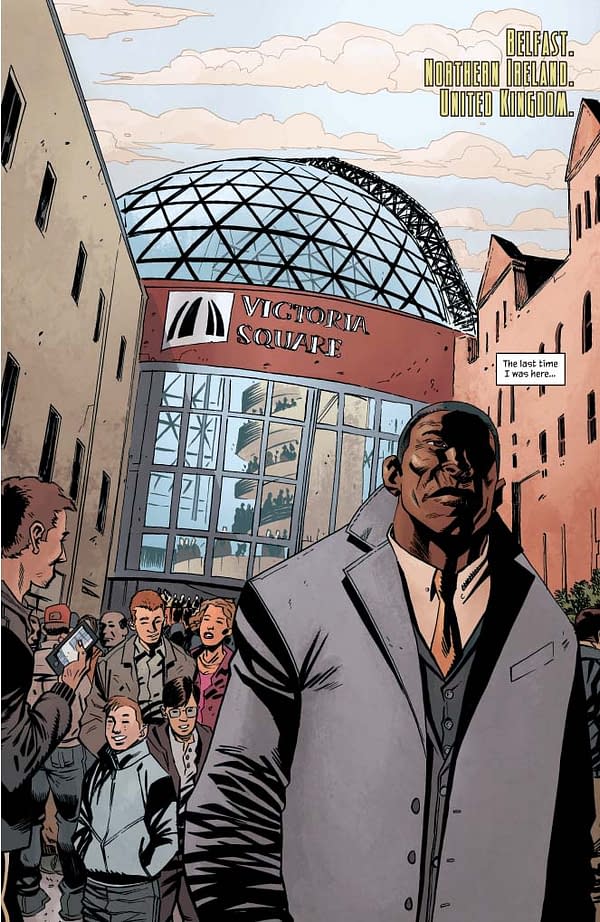 PAGE 6:
We flashback to the Troubles. I was really looking forward to seeing PJ draw all this stuff. PJ is from Belfast himself, so I knew he more than anyone else would be able to depict the old Belfast and the new. Though I've been to Belfast many times, I made the time to have a proper chat with PJ about how things have changed, and it informed a lot of the locations and content of the story. I love seeing PJ draw all the soldiers and army gear, he's so great at it. Also, these scenes nicely punctuate the visuals of the book overall, which is very much a restrained spy story. Dearbhla also did something really interesting with the colors here. There's a subtle color hold on the artwork, but it's all been graded in grey, with more important aspects like the young M, and the fire popping out.
The bar in the last two panels, The Mad Dog, is a name taken from an infamous UDA leader, is modelled on PJs memories of Belfast bars in the '80s.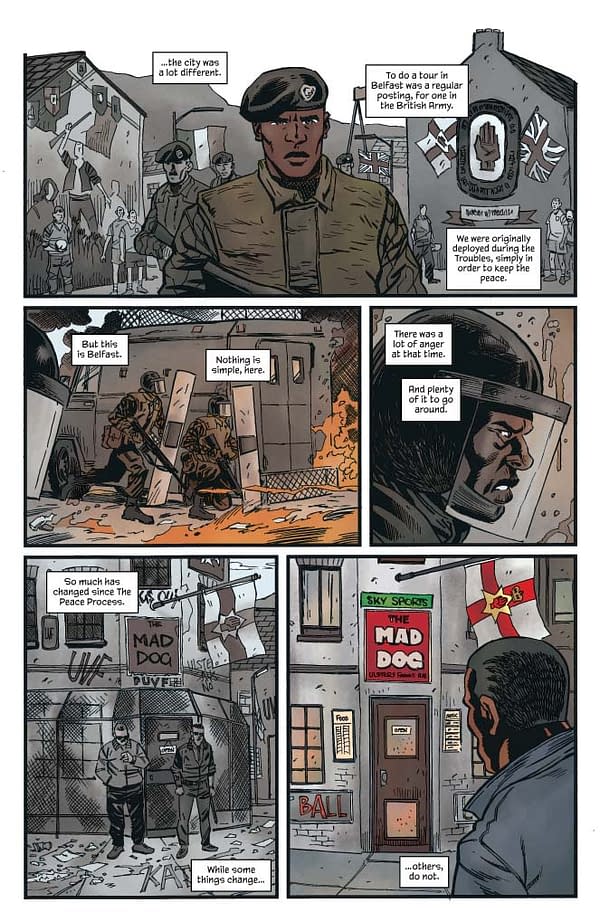 PAGE 7- 10:
Whenever a story is set in Belfast, it generally revolves around the IRA. I wanted to subvert that a little… there was a line in Skyfall about M having been held captive by the IRA, so I kind of accepted that into M's past, but didn't make it the central part of this story. I wanted to show the UVF more, which is another paramilitary organization, just as corrupt and culpable as the IRA, but were fighting on the other side. For those who don't know, the UVF were made up of Loyalists; those who consider themselves loyal to the British crown. And were willing to kill to prove it. While it would be clear that as a soldier M would have run-ins with the IRA, I wanted to show how interlinked Loyalists were working within British institutions (the army, police force, etc.) and also paramilitary organizations. Nothing was simple back then.
Here, we meet Sammy, the head of the Loyalist gang and clearly someone who has a history with M. He has something on M, something he wants to exploit in the name of "justice".
I like how visually interesting this scene is composed by PJ. What could arguably be a boring talking heads scene moves around the page with a healthy flow. I also love how much Dearbhla worked in the colors of the Union Jack in this scene. Lots of reds and whites and blues.
PAGE 11:
Another flashback. Again, love the limited color palette here, and I just love how PJ draws the big chunky army gear. I think his background in drawing Judge Dredd really comes across here. While we're telling one story in the present, I tried to make sure we're slowly chipping through the backstory. Everyone else seems to know what happened other than the reader, and I wanted to create some tension and build up to it, while also breaking up the main story with some bolder visual scenes.
PAGE 12- 13:
We cut from a shot of an Ulster flag with a crown on it, to The Crown Pub in the heart of Belfast. This is a real pub, PJ told me a story where one of the old owners put a crown in the tiles of the floor as a subtle way of walking on it. Here, M respectfully avoids that. I understand The Crown is even more baroque and fancy looking that the art here would suggest. I'm told if you were in there at any time in the early '90s you'd have probably stumbled across Garth Ennis and Steve Dillon having a drink.
Again, Belfast is a place with a murky past. We see that Abernathy, the Loyalist in Sammy's office was an old informant of M's from back in the day. They arranged this meet right under Sammy's nose. Abernathy confirms M's suspicions, Sammy is only working in self-interest. It was something I wanted to get across to readers who wouldn't know much about The North or the Troubles, in all the politics and extremism at the end of the day, both terrorist organizations were more interested in lining their pockets.
PAGE 14:
While M is the focus of this story, he wouldn't be able to get anything done without Moneypenny. While not the type to dole out praise, he clearly trusts her and it is really only her who can help him operate incognito on this personal mission. Moneypenny's living room is based on PJ's living room. He denies the teddy is his, but I don't believe him.
Also, I really miss phone booths! They're fast disappearing, I couldn't resist writing a scene in a phone booth, especially considering how they've been often used in the spy genre. This phone booth is referenced from the phone booth down the street from PJs house. PJ was entertained that the locations both these characters are in are really only about a hundred yards away from each other.
PAGE 15- 16:
Everyone's scared of the big bad IRA, but I wanted to show how the younger generation who find themselves attracted to republicanism, are just a bunch of fools. As I said before, this isn't an action story in any way but I wanted to show M could clearly handle himself if need be. He could bust some heads and get some answers if he had to… but he chooses not to.
I love how dopey PJ drew these lads too.
PAGE 17- 18:
Again, using the flashbacks to add more context to M's current motivations. We know it's not going to end well, but we're not exactly sure what's going to happen. That backstory is slowly being revealed bit by bit. I think these also worked so that every time the current plot develops, we're given more "time" between scenes.
PAGE 19- 20:
Writing a spy story, how could I resist writing a "two spies in the park" scene? PJ based this park on the Botanic Gardens in Belfast. I was trying to raise the stakes a little more at the end, and increase the intrigue with more questions, like making us ask what happened to Abernathy.
PAGE 21:
More danger, walls closing in. Abernathy's fate revealed; we're reminded of the repercussions in this line of work. Also, I felt that we need a change in weather, to break up the scenes a little, add a bit more miserableness and also, reflect our irritable climate patterns.
PAGE 22:
For the main end scene, I wanted a location that was different from all the city stuff we had before, something a lot more imposing and moody. I think it was PJ who suggested the Dark Hedges to me… they're more famous for being a location in Game Of Thrones, but just on their own, they're so visually appealing and make a great background location.
PAGE 23-24:
We cut to the phone booth as Moneypenny tries to reach M. Nothing like a ringing phone to raise tensions. The building in the background is Belfast City Hospital. I love that PJ did such a great job of setting this story in so many real locations. With a story like this that is rooted in serious real life politics, that sense of authenticity is very important.
PAGE 25:
We lead up to and reveal the moment that changed everything for M. He followed orders, but had he not lost control in the first place, he wouldn't have been in that position.
M shot the young woman with a Plastic Bullet, like the gift we saw in the opening scene. Designed to be "non-lethal", it was found, not long after their introduction, that improper use at close range could lead to fatalities. There were 17 people killed by plastic bullet rounds during the Troubles. Eight of them were children.
This is where M became trapped in Sammy's web. Why M has returned to Belfast today, to be free of this secret.
PAGE 26-28:
Or is it? The young woman is alive, having been sent a notice earlier (told you there was a reason for that scene in the car earlier). She, like many informants during the Troubles, was put into GHJGHJ. M would of course have access to that classified information and would have had the time and resources to track her down. So why has M returned? For justice, possibly revenge. He's cleaning up past messes for sure, and using the IRA to do so, keeping his hands clean.
I liked the idea of using the IRA sparingly, showing the new generation to be a shower of idiots, but still respecting the threat the old guard, letting them be the boogeymen of this story.
I really like how Dearbhla is still getting in reds and blues even in this scene. It's more subtle, but a wonderful storytelling device.
PAGE 29:
A gloriously terrifying page. ALL THE BLACK. Love it.
PAGE 30:
Back to work for both M and Moneypenny. It was important to retain that classic British stiff-upper-lip in the dialogue, but I think PJ did a fantastic job on showing the character's emotions… they're saying one thing, but they're communicating another. We get to end on a note of formality, but also hopefully a more tender moment between the two also.