As a comic book reader, you could be forgiven if you were under the impression that it was your responsibility to save comics from financial doom. After all, comic book professionals post frequently about the importance of pre-ordering monthly comics, the peril of failing to do so being certain cancellation. As Peter David said in 2014, with the cancellation of X-Factor:
All I did was write a book that got tons of positive write-ups. Which I guess is enough to encourage people to buy it when it comes out in trades, oblivious to the fact that books get cancelled when you do that. Whatever.
Or as "The Great One" Brian Bendis said in 2016:
almost every week a truly wonderful, promising or crackling comic gets ignored & cancelled. PREORDER your fave comics. support the form

— BRIAN MICHAEL BENDIS (@BRIANMBENDIS) August 28, 2016
the 'system' is set up for you to preorder your comics and let your local store and publisher know you want them to print one for you.

— BRIAN MICHAEL BENDIS (@BRIANMBENDIS) August 28, 2016
even mainstream comics that u r SURE r on solid ground need yr preorder support. u could b the deciding vote keeping your fave comics alive

— BRIAN MICHAEL BENDIS (@BRIANMBENDIS) August 28, 2016
Even the comic book media can't help but join in the chorus. The American superhero comic book industry is like a villain holding a gun to the head of your favorite comic book. "Pre-order now, or the comic dies!"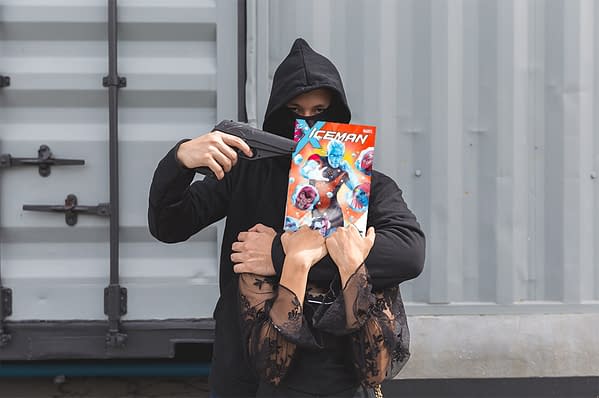 But if readers prefer to buy trade paperbacks so they don't need to wait six months to pay $4 an issue for 1/6th of a written-for-the-trade story, or if they prefer to wait until the comics are on sale digitally or available on Marvel's Unlimited subscription service, or even if they — *gasp* — would rather wait until they see a comic in a store before they make the decision to buy it, shouldn't that be their prerogative? Isn't it, in fact, the job of publishers and retailers to find a way to adjust the publishing and distribution model to allow books a chance to find a readership in whatever format that readership prefers? Whatever happened to "the customer is always right?!"
Well, one rebel deeply embedded in the comics-industrial complex has spoken up to shatter the industry lie that readers are obligated to keep comics afloat. Who could it be? Do we hear his theme song?
Don't be fooled by the contract he's got,
He's still, he's still, Matty from the Block!
Marvel EXCLUSIVE talent and soon-to-be Astonishing X-Men writer Matthew Rosenberg took to Twitter with a shocking piece of advice for readers:
Just want to put this out there because a few comic fans have mentioned this to me. It doesn't matter how you buy your books. Single issues. Trades. Digital. I know we drill "pre-order!!!" into people's heads. This is our fault.

— Matthew Rosenberg (@AshcanPress) April 19, 2018
I know it's undemocratic to say that your single issue purchase doesn't matter. It does. But if you are buying comics not in your preferred format to help "save" a book or creator, that's not on you. We need you sticking around and enjoying comics. Not worrying about them.

— Matthew Rosenberg (@AshcanPress) April 19, 2018
A novel idea. Could the industry actually sell more comics if it focused on making sure readers enjoyed the books, rather than tricking them into feeling they need to buy them, if not through cancellation guilt-trips, then through the illusion that the comics are "important" because they tie-in with a super-mega-crossover event, have been rebooted with a new #1 issue, or feature a holographic variant cover?
So if you like it do it, if you don't like it don't. I feel like I made this more confusing than it needs to be? Basically do stuff you like.

— Matthew Rosenberg (@AshcanPress) April 19, 2018
"Basically do stuff you like." Well, it's a better slogan than "selling comics, making memories." But what will the true leader of Marvel Comics, Vice President of Sales David Gabriel, think of Rosenberg's insolence? Especially when he learns that other Marvel writers have now stepped up to back Rosenberg's bold proclamation?
— DONNY⚡️CATES (@Doncates) April 19, 2018
Are Rosenberg and Cates trying to start a revolution?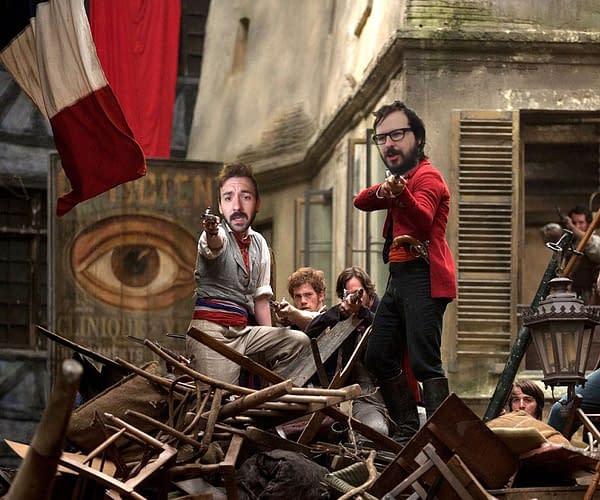 We'll be following this one closely, folks.
Enjoyed this article? Share it!