Detective Comics #981 Review: A Satisfying and Heartwarming Final Chapter
[rwp-review-recap id="0"]
Spoiler has hacked into Brother Eye's systems with the help of Orphan. Batman and Batwoman fight against the Omac army controlled by Ulysses and a possessed Red Robin, among whose number is Azrael and Batwing. Can Red Robin be saved? Can Gotham? If so, what does this mean for the Gotham Knights?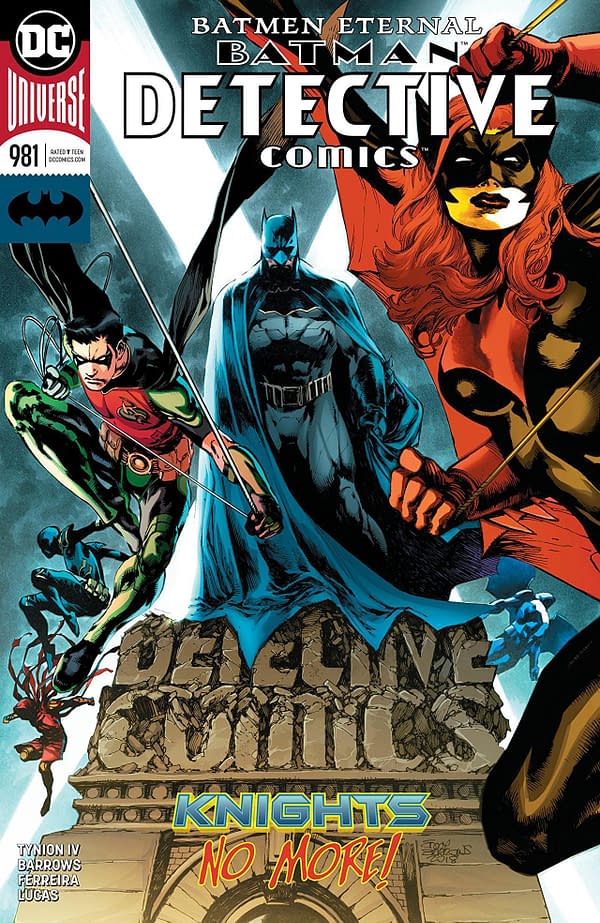 With Detective Comics #981, we reach the climactic finale to James Tynion IV's fantastic run on the classic title.
The fight between the Knights and Brother Eye actually only consists of about half the comic. The second half copes with the aftermath and where each character goes from here.
As such, the second half is where the book shines more brightly. Tynion has proven himself a master of writing character interplay, and that holds true in this book. While the epic struggle between our heroes and Brother Eye's forces is enjoyable, it doesn't go anywhere unexpected. The epilogue doesn't either, but it's more emotionally resonant and generally touching.
Bruce and Tim have the most satisfying conclusion, and we get to see Bruce Wayne as more the caring father figure than the tough-as-nails drill sergeant to which we are accustomed. It's a nice and well-earned moment in the book.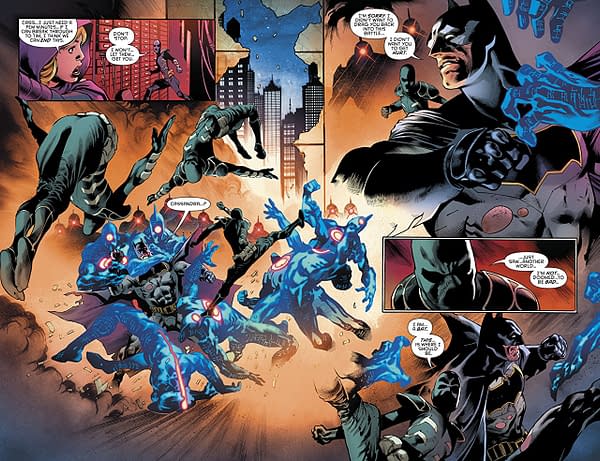 Eddy Barrows, Eber Ferreira, and Adriano Lucas succeed in making this final issue of Tynion's Detective Comics just as gorgeous as it deserves. Expression, texturing, and depth-of-field are each respected and made gorgeous by this artistic team. Barrows's penciling is top notch, Ferreira's inking is tight and appealing, and Lucas's color work is well balanced and catches the eye.
Detective Comics #981 brings a touching, satisfying, and visually stunning end to James Tynion's saga of the Gotham Knights and the Belfry. Each character gets a conclusion, and it's far more uplifting than one may expect from a Batman-centric title. This one earns a recommendation for sure. Give it a read.
[rwp-review-ratings id="0"]
[rwp-review-form id="0"]