The Devil Within, a Comic Based on a Real Story About Possession – in Black Mask September 2018 Solicits
September sees the launch of a new series from Black Mask Comics, The Devil Within, by Stephanie Phillips and Witchblade's Maan House. And, apparently, based on a real-life story of demonic possession. So there's that… alongside We Are Danger, Kim & Kim and the Breathless collection.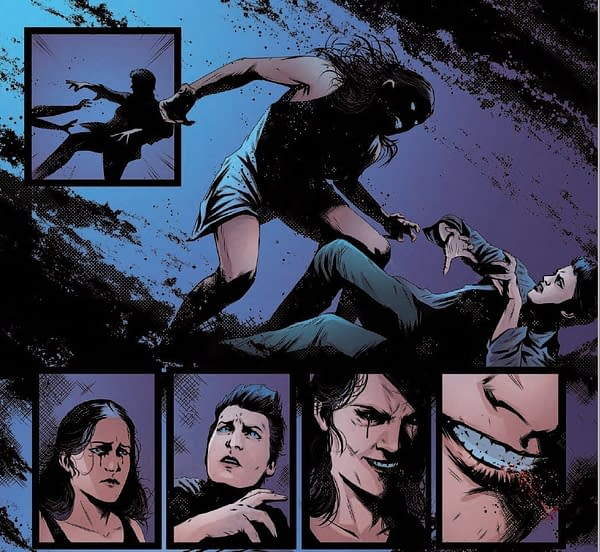 DEVIL WITHIN #1 (OF 4)
JUL181686
(W) Stephanie Phillips (CA) Meghan Hetrick (A/CA) Maan House
Paranormal entities. Demonic possessions. Or is it madness? When newly engaged Michelle and Samantha move into an old house, Michelle starts experiencing disturbing events… rogue reflections in mirrors, strange apparitions, and an errie voice only she can hear. Samantha doesn't believe in ghosts, but the alternative might be even more terrifying in this hauntingly paranoid thriller from new writer Stephanie Phillips and artist Mann House (Witchblade).
In Shops: Sep 26, 2018
SRP: $3.99
BREATHLESS TP
JUL181684
(W) Patrick Shand (A/CA) Renzo Rodriguez
It's Buffy the Vampire Slayer if the villains were big pharma.
"Brilliant." -Horror Talk
"Vibrant and visceral." -Black Nerd Problems
"Fresh and compelling." -Multiversity Comics
Scout Turner works as a cryptozoologist, examining and cataloguing supernatural creatures for scientific purposes. When she discovers the cure for asthma in the venom of a new breed of monster, she quickly finds herself on the run from Kenilworth Pharmaceuticals and the monsters that they've hired to kill her.
In Shops: Sep 26, 2018
SRP: $14.99
OH S#!T ITS KIM & KIM #4
JUL181685
(W) Magdalene Visaggio (A) Eva Cabrera (CA) Phillip Sevy
RIOOOOOOT! Kim Q's escape plan is in full swing, and they're on their way out the door — if they can manage to survive long enough!
In Shops: Sep 26, 2018
SRP: $3.99
WE ARE DANGER #5
JUL181688
(W) Fabian Lelay (A/CA) Fabian Lelay
When all her plans fail, Logan is forced to seek help from the last person she wants it from: her father. With Battle City coming to a close, can the gang keep up now that Logan has seemingly rigged the finals?
Catch the exciting conclusion of We Are The Danger from the creative team of Fabian Lelay (Jade Street Protection Services), Claudia Aguirre (Kim & Kim), Taylor Esposito, and Stephanie Cooke.
In Shops: Sep 26, 2018
SRP: $3.99