During the 2016 Civil War II storyline (as retold in Fearless Avengers), She-Hulk, Jennifer Walters, was mortally wounded by a direct attack from Thanos. She went into cardiac arrest and then later into a coma. Though it was suggested by the comic book that She-Hulk had actually died.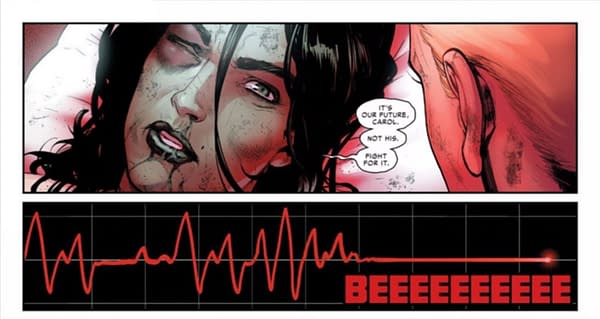 However, she came out of the coma shortly before Bruce Banner's funeral, as a Grey Hulk. Choosing to leave the superhero business, Jennifer Walters returned to work as a lawyer. Suffering from PTSD, she started turning uncontrollably into a Grey She-Hulk. Sometime later, classic Hulk supervillain The Leader kidnapped Jennifer and forced her to transform into the Hulk in order to force her to kill his new assistant, Robyn, who willingly went through a blood transfusion in order to become a Hulk-like monster herself. The Hulk nearly killed Robyn, but Jennifer managed to regain control, before defeating the Leader by electrocuting him. She was later able to overcome her Thanos-related trauma in a very literal fashion. Of late she has been seen in The Immortal Hulk as another gamma-irradiated individual who can't die, is resurrected with the moon.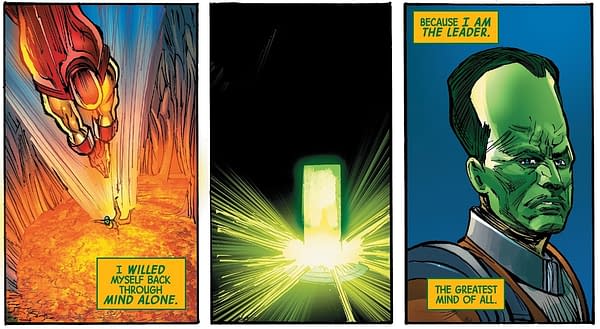 But according to today's Immortal Hulk #34, by Al Ewing, Butch Guice, Tom Palmer, Paul Mounts and Cory Petit, she may have a different history. Which, as is its wont, takes a deep dive through the history of the Hulk and of The Leader, last seen receiving messages, from the far far future, the next iteration of the multiverse, from a reality being destroyed by what the Hulk would become. And with a Leader who has been doing this death-and-return for a lot longer time.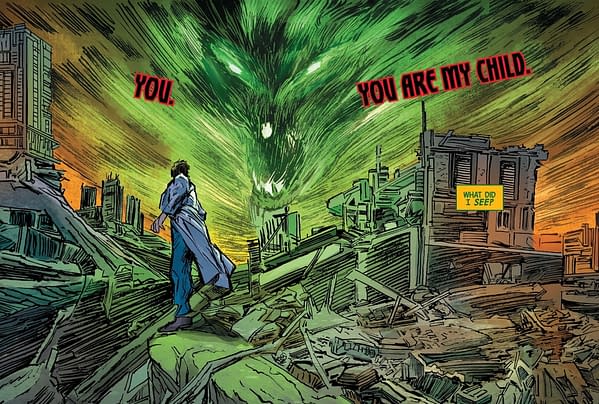 And recounting just what happened with the She-Hulk before. And that she definitely died at the hands of Thanos. And her return, and physical transformation was as a result of the supernatural retcon of gamma radiation in the Marvel Universe…

And with The Leader to lead the way…
IMMORTAL HULK #34
MARVEL COMICS
FEB200979
(W) Al Ewing (A) Butch Guice (CA) Alex Ross
• The Thoughtful Man is here – and his dreadful thoughts are vast and dark enough to swallow even the Devil.
• Samuel Sterns walked through the Green Door and gained knowledge. Follow him through the journey of his life – from his rebirth to his final experiment.
• Follow the LEADER.
Rated T+In Shops: Jun 24, 2020 SRP: $3.99
Enjoyed this article? Share it!