Did Tom King Just Kill Off Kite-Man in Batman #84? Hell Yeah…. (Spoilers)
Today sees Tom King's penultimate issue of Batman, with Mikel Janin. Batman #84. And it's not about Bruce Wayne – not directly. Instead, it's the story of Thomas Wayne, the Flashpoint Batman, a man who lost his son at the hands of Joe Chill, a gunman on the streets of Gotham, and became a Bat. A Batman happy to use guns in his own battles.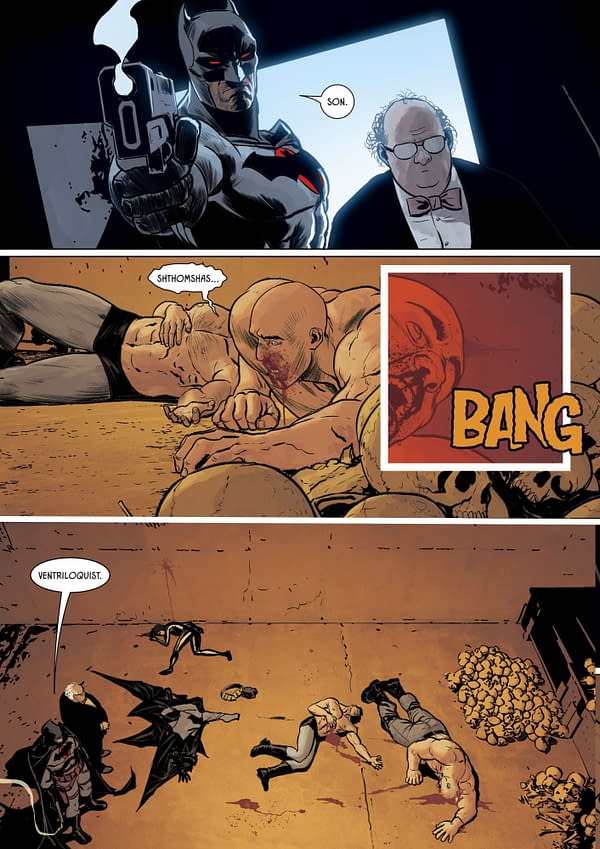 And just as we saw Thomas Wayne Batman kill Bane in Batman #82 (above), so we see him killing Bane in his own reality, in just the same way, and in the same environment, but it's not the only death at his hands, portrayed by Mikel Janin.
It's not the easiest to see but in that second panel? That can only be one villain, surely? We said that Tom King would be bringing him back before the end.
Hell yeah.

— Tom King (@TomKingTK) October 31, 2019
The character has become totemic for Tom King's Batman run. And while this is only a Flashpoint version of Kite-Man, it probably does more to define just what kind of Batman Thomas Wayne is than anything else…
Batman #84 is published by DC Comics today in all good comic shops. I bought mine from Piranha Comics in Kingston-Upon-Thames. Piranha Comics is a small south London comic store chain with a small south-east store in Kingston-Upon Thames's market centre, which runs Magic The Gathering nights on Fridays, and a larger south-west store in Bromley, which also runs Magic nights and has an extensive back issue collection and an online store. If you are in the neighbourhood, check them out.
BATMAN #84
(W) Tom King (A/CA) Mikel Janin
"City of Bane" chapter eleven! The end is near as one victory leads to another defeat. As Batman reclaims his city from Bane, can he regain his sense of family? More specifically, when a man who is your father from another dimension has torn everything down around you, what will it take to build it back up? Especially when that man is currently staring you in the face and threatening to punch it. The final battle for Gotham City…and the cowl of the Caped Crusader…starts here!In Shops: Dec 04, 2019
SRP: $3.99