Valiant is spinning another one-shot out of the Divinity III: Stalinverse series, this time focusing on a prison escape. Divinity III: Escape From Gulag 396 #1 is from Eliot Rahal (The Doorman) and Francis Portela (Faith). The story focuses on combines this version of Obadiah Archer with Aram Addi-Padda. This goes with the return of X-O Manowar and Bloodshot Reborn #0 as the big titles of the month.
This new issue leads Valiants March 2017 solicitations.
X-O MANOWAR #1
(W) Matt Kindt (A) Tomas Giorello (CA) Lewis LaRosa, Kenneth Rocafort, Mico Suayan, J.G. Jones and Monika Palosz
Born under the oppressive thumb of the Roman Empire, Aric of Dacia learned warfare at an early age. It was amid such violence that he was abducted by an alien race. Forced into slavery, he survived where others perished. His escape would come from bonding with a weapon of immeasurable power: the X-O Manowar armor. With it, he returned to Earth…only to find himself stranded in the modern day. But that was a lifetime ago. Now, far from home on a strange and primitive new world, Aric has begun a new life. Liberated from his past, he tends to his crops. Free from war. Free from violence. Free from the armor. But the machinery of death marches his way once again. Conscripted into an alien army and thrown into an unforgiving conflict, the fury inside him finds voice as he is forced to embrace the armor once more. With it, he will decimate armies, topple empires and incite interplanetary warfare as he rises from SOLDIER to GENERAL to EMPEROR to VISIGOTH. They wanted a weapon. He will give them war! (STL037088)
40pgs, FC SRP: $3.99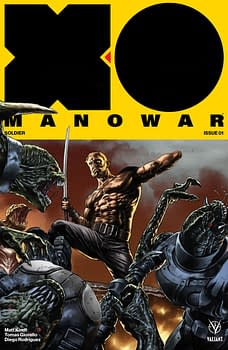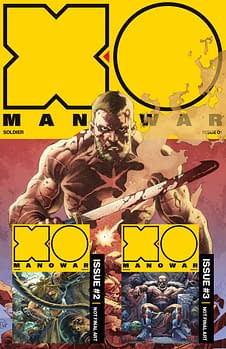 BLOODSHOT REBORN #0
(W) Jeff Lemire (A) Renato Guedes (CA) Juan Doe, Kano, Dave Johnson, Lesley-Anne Green, and Peter Bagge
Perhaps the most important issue in Jeff Lemire's continuing Bloodshot epic. Don't miss this very special story…as we unveil a shocking new revelation in the Bloodshot saga. The next chapter of Bloodshot starts here! (STL037153)
32pgs, FC SRP: $3.99 DIVINITY III STALINVERSE #4
(W) Matt Kindt (A) Trevor Hairsine (CA) Monika Palosz, Tom Muller Jeffrey Veregge, Greg Smallwood, and Adam Gorham
The Stalinverse endures! The world has gone red, and now the epic final confrontation begins as Divinity, Ninjak, Shadowman, Komandar Bloodshot, X-O Manowar, and the Red Brigade all choose their side on the lines of the coming battle… Wait, you think we'll tell you how this one ends? Nyet, comrade! The universe as we know it hinges on this, so make sure you read this one first, Valianteers! (STL036994)
32pgs, FC SRP: $3.99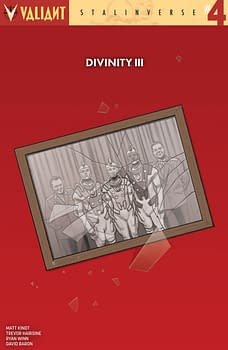 DIVINITY III: ESCAPE FROM GULAG 396 #1
(W) Elliot Rahal (A) Francis Portela (CA) Adam Gorham, Khari Evans, Andres Guinaldo, Ryan Lee, and Kano
Archer & Armstrong: Enemies of the State! In the Soviet-controlled world of the Stalinverse, there is a place where liberty is sentenced to die…and it's Gulag 396. A maximum-security prison where the only escape is through death, the gulag is the final stop for all enemies and detractors of the world's oppressive authority. But when public enemy Obadiah Archer is admitted as the latest inmate, could his gospel of goodwill and optimism be the spark that ignites a new faith in the prison's population…including the immortal undesirable known as Aram Addi-Padda? (STL037181)
32pgs, FC SRP: $3.99 NINJAK #25
(W) Matt Kindt (A) Marc Laming (CA) Ryan Bodenheim, Mark Laming, Sanya Anwar, Owen Freeman, and Jenny Frison
Darque destinies! Once sworn enemies, Ninjak and the Shadow Seven have forged an uneasy alliance to accomplish their singular goal: kill Master Darque! But why can't Colin King shake the feeling that he's leading a suicide mission, or that his mysterious benefactor, Sandria Darque, isn't giving him the whole story? Ninjak's about to confront a terrifying truth…and the answers just might destroy him! (STL037007)
32pgs, FC SRP: $3.99 FAITH #9
(W) Jody Houser (A) Pere Perez, Marguerite Sauvage (CA) Kano, Sanya Anwar, Kyle Smart, Jen St-Onge, and Franco
Friends in need! Sometimes saving the world entails a little help from your friends. When a suspicious new intern comes to Zipline, asking questions about celeb columnist Faith Herbert, it's up to her coworkers to help safeguard her secret identity as Summer Smith. Faith's greatest power has always been inspiring others – see just how much she's changed the lives of her new friends in this special one-shot story! (STL036999)
32pgs, FC SRP: $3.99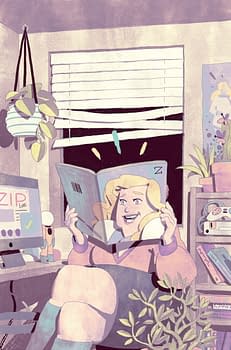 GENERATION ZERO #8
(W) Fred Van Lente (A) Diego Bernard (CA) Khari Evans, Leif Jones, and Pere Perez
A (literal) battle of the minds! Generation Zero are trapped inside the Heroscape – a twisted, extra-dimensional realm where they can explore the world as it looks through someone else's eyes… And, unfortunately, it seems that most of their friends and neighbors have some pretty messed up stuff going on up there! They led insurgencies and counter-strikes, but can anything in this team's precision military training prepare them for the darkness that lurks at the heart of Rook's collective unconscious? (STL037004)
32pgs, FC SRP: $3.99
FAITH VOLUME 1: HOLLYWOOD & VINE HC
(W) Jody Houser, Joshua Dysart (A) Francis Portela & Various (CA) Jelena Kevic-Djurdjevic
VALIANT'S MOST DEMANDED HERO STEPS OUT OF HARBINGER…AND INTO AN ALL-NEW ADVENTURE! Orphaned at a young age, Faith Herbert – a psionically gifted "psiot" discovered by the Harbinger Foundation – has always aspired to greatness. But now this once ordinary teenager is taking control of her destiny and becoming the hard-hitting hero she's always known she can be – complete with a mild mannered secret identity, unsuspecting colleagues, and a day job as a reporter that routinely throws into her harms way! Well, at least she thought it would… When she's not typing up listicles about cat videos, Faith makes a secret transformation to patrol the night as the City of Angels' own leading superhero – the skysoaring Zephyr! But flying solo is going to be tougher than she ever thought when Zephyr uncovers a deep-rooted alien conspiracy. Two-bit burglars and car thieves are one thing, but when the world needs a hero to stave off a full-blown extraterrestrial invasion, will Faith find herself in over her head…or ready for her biggest challenge yet? Rising star Jody Houser (Orphan Black) and explosive artists Francis Portela (Green Lantern) and Marguerite Sauvage (DC Comics Bombshells) pilot a new chapter for the high-flying hero that People Magazine calls "a superhero we can all admire."
Collecting FAITH (LIMITED SERIES) #1-4. (STL036423)
SC, 112pgs, FC SRP: $24.99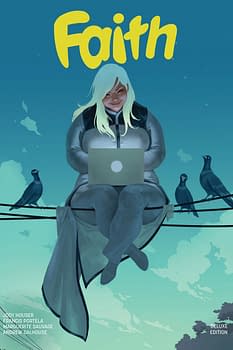 4001 AD DELUXE EDITION HC
(W) Matt Kindt & Various (A) Clayton Crain & Various (CA) Ryan Sook
At the dawn of the 41st century, the future of Earth will be decided in the stars… New York Times best-selling writers Matt Kindt (Mind MGMT), Robert Venditti (X-O MANOWAR), Jeff Lemire (Descender), and Fred Van Lente (IVAR, TIMEWALKER)
and powerhouse artists Clayton Crain (RAI), CAFU(Action Comics), Clayton Henry (HARBINGER WARS), and Doug Braithwaite (ARMOR HUNTERS) join a cast of comics' finest for Valiant's most ambitious crossover event yet – now in deluxe oversized hardcover format! A thousand years from today, Father will create the first Rai, founding a lineage of technologically enhanced heroes engineered to defend New Japan and sworn to protect it from all enemies. For hundreds of years into the future, the Rai will single-handedly enforce New Japan's justice well…and serve Father without question. Now, at the dawn of 4001 A.D., the latest Rai is about to inherit the dark truth behind the origin of his kind…and discover the sinister secret at the heart of Father's existence. For New Japan to live, Earth must die…and as Rai challenges his former master for the first time in more than a millennium, the lone guardian of New Japan will be cast out of his own Father's kingdom…
Collecting 4001 A.D. #1–4, RAI #13–16, 4001 A.D.: X-O MANOWAR #1, 4001
A.D.: BLOODSHOT #1, 4001 A.D.: SHADOWMAN #1, 4001 A.D.: WAR MOTHER #1. (STL031659)
HC, 320pgs, FC SRP: $39.99
WRATH OF THE ETERNAL WARRIOR VOLUME 3: DEAL WITH A DEVIL TP
(W) Robert Venditti (A) Robert Gill (CA) Al Barrionuevo
Out of the abyss…and into oblivion! Gilad Anni-Padda, the Eternal Warrior, has sacrificed his humanity for the betterment of the Earth. Empowered with the gift to recover from any wound – and even death itself – he has waged an endless crusade to guide the path of civilization through the ages. But as the centuries pass and his list of battlefield victories grows, he is fated to always reap the same sad reward: to see his families, his children, and all his loved ones…age, wither, and die… Now, the Eternal Warrior will be presented with a choice that could end his grief forever. An opportunity to resurrect the fallen sons and daughters that he believed forever lost. But this chance for peace and happiness will come at a terrible cost… and in service to an evil far greater than any Gilad has faced before…New York Times best-selling writer Robert Venditti (Hal Jordan & The Green Lantern Corps) and acclaimed artist Robert Gill (BOOK OF DEATH) push the Eternal Warrior to the fiery crossroads of guilt and redemption for a wicked series finale!
Collecting WRATH OF THE ETERNAL WARRIOR #11-14. (STL031665)
SC, 112pgs, FC SRP: $14.99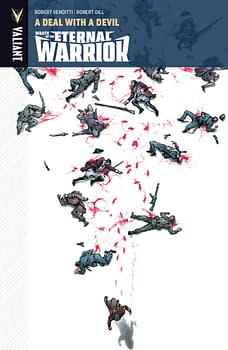 Enjoyed this article? Share it!