We've got a double shot of previews for next weeks new comic book day. Valiant has Quantum And Woody #10 and Bloodshot And H.A.R.D Corps #22 coming out the same day. I think Valiant is the home of the really long comic titles.
QUANTUM AND WOODY #10
Written by James Asmus Art by Kano Cover by Kano and Russell Dauterman
Quantum and Woody – against the world…or against each other?! Woody always had a weakness for the ladies…and when an old flame lures the goofus into a gang of mad-science super-crooks, Woody flips back to his old lawless ways! Where does this leave Woody's sweet clone girlfriend? And now it's up to his own brother Eric, who isn't that sure he even wants to be a superhero, to bring Woody in! Don't miss this bro-down for the ages!
$3.99/T+/32 pgs. On Sale 5/14/14 (FOC – 4/21/14)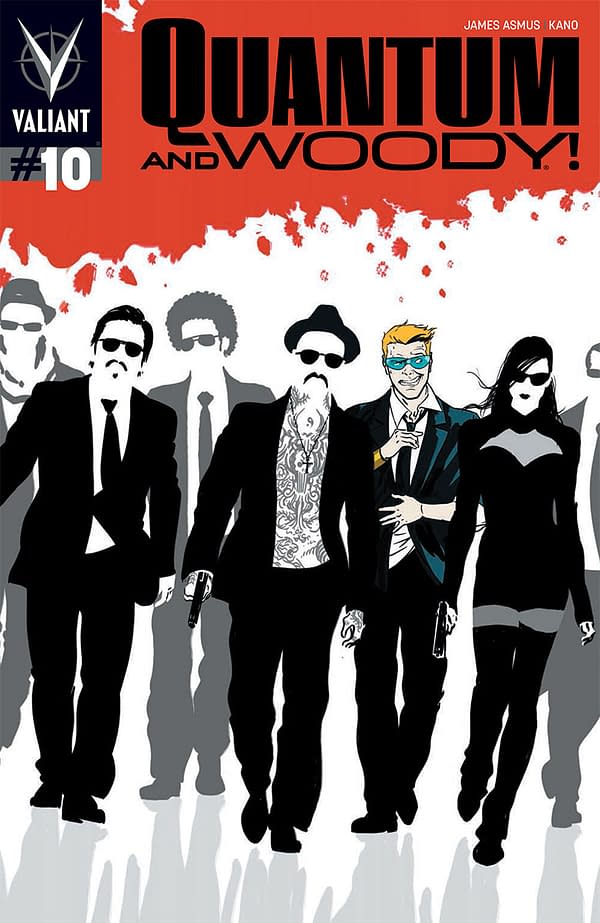 BLOODSHOT AND H.A.R.D. CORPS #22 (NEW ARC!)
Written by Duffy Boudreau & Christos Gage Art by Al Barrionuevo Covers by Lewis LaRosa, Roberto De La Torre and Riley Rossmo
ALL-NEW ARC! START READING HERE! Bloodshot VS. H.A.R.D. Corps! The one-man army known only as Bloodshot is forced to turn his guns on his own people! Project Rising Spirit, the private military organization that created Bloodshot, enlisted him to fight on their side – and Bloodshot, seeking his own secret justice, agreed. Now his agenda comes to light, and Bloodshot turns around to destroy Rising Spirit once and for all…but he has to go through Major Palmer and his own ragtag team of men and women to do it! Our hero versus our heroes in a bloody battle with life-or-death stakes to save or destroy an evil corporation…and whoever wins…everyone loses!
$3.99/T+/32 pgs. On Sale 5/14/14 (FOC – 4/21/14)
Enjoyed this article? Share it!