Bill Meeks, our Senior Dragon*Conrespondent writes;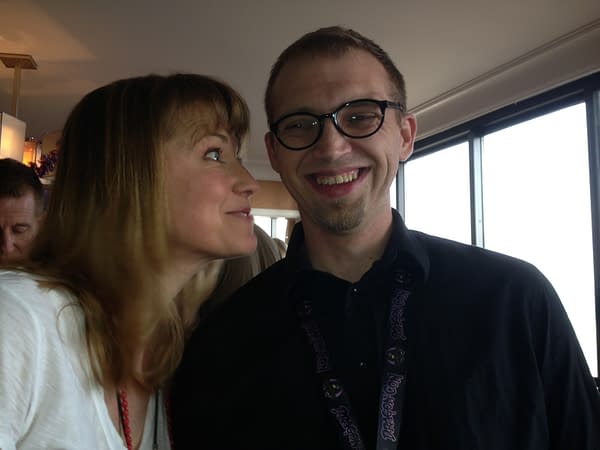 Another Dragon Con is complete! Overall the convention was very good, I got to hang out with Lucy Lawless, Michael Rooker (whose press conference I taped… I swear… but the footage got corrupted), and The Fraggles. I talked a bit about changes in my preview article a week ago and the changes seemed to work pretty well. The Walk of Fame and Vendor Area moves did a world of good making both area much more open. There were way too many people there Saturday, which is true every year, but this year was particularly overwhelming. The hotel staff and volunteers seemed particularly on-edge for a lot of the weekend as well. They were quick to raise their voices for little reason. I didn't get too much of that outside of an earbud incident when entering the Walk of Fame but I saw it a lot.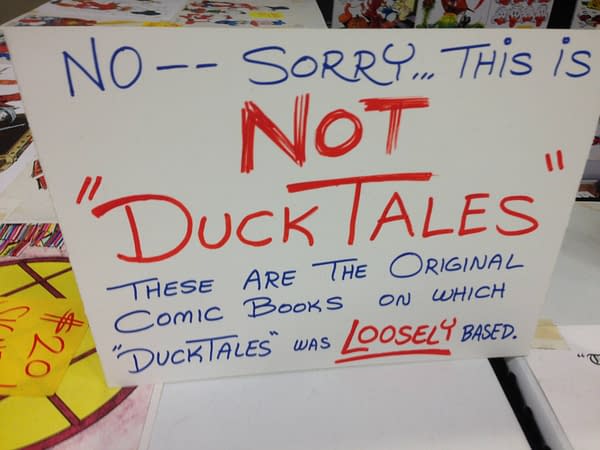 One of the best moments of the convention was when I was walking past Don Rosa's table and saw the sign above. I stopped to take a picture of it and he stopped and asked why I was taking the picture. I told him that I was a huge fan of the Duck comics universe so I understood the difference between that and the Duck Talks cartoon series and could picture the frustration as person after person saw his Uncle Scrooge sketches and thought he was some old guy riding a wave of 80's nostalgia. We talked for several minutes about the expansive and internally consistent nature of the Duckverse, He even liked my analogy where I said the people making the mistake were like people thinking Super Friends was all the DC Universe has to offer. Uncle Scrooge comics are some of my favorites and it made my weekend to get to talk to a master artist like Rosa.
If you missed any of the videos we've run over the weekend I've put together a playlist of all of them below with a couple of extra videos added on that didn't feel worth an individual post. I may add more as I sort through the rest of my cosplay footage.
Finally we have about 40 cosplay pictures from my friend and professional photographer Cory Beck. He did a heck of a job this year. Viva la Dragon Con!
Enjoyed this article? Share it!