Dynamite Heroes Build-A-Bundle Includes Adam Hughes Variant Cover
Dynamite Entertainment and Groupees are launching a new Dynamite Heroes "Build a Bundle" today which offers both digital comics and some special physical copies with the upper tier levels — including a limited number of copies of Action Comics #1000 signed by writer Dan Jurgens and an Adam Hughes variant cover of Red Sonja/Tarzan #1.
The collection features heroes of fantasy, science fiction, adventure, mystery, horror and the old west including Red Sonja, the Lone Ranger, the Green Hornet, John Carter, Vampirella, Project Superpowers, Sherlock Holmes, Adolescent Radioactive Blackbelt Hamsters, The Spirit, the Shadow, Tarzan, Captain Action and more. And there are digital previews for some of Dynamite's newest hit series including Red Sonja / Tarzan, Sherlock Holmes: The Vanishing Man and Swashbucklers: The Saga Continues. You can check them out at groupees.com/heroes.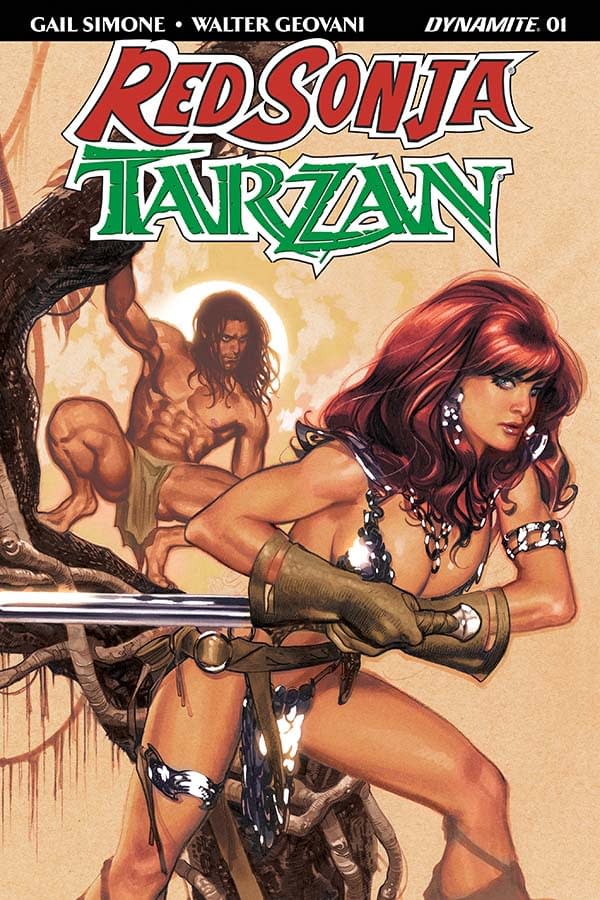 Titles offered in the bundle include:
Warlord of Mars
Project Superpowers: Herokillers
Will Eisner's The Spirit: The Corpse Makers
Red Sonja: Wrath of the Gods
Adolescent Radiotactive Blackbelt Hamsters
The Lone Ranger
Vampirella: Prelude to Shadows
Green Hornet: Year One
Flash Gordon
Lords of the Jungle
Codename Action
Miss Fury
The Spider
Zorro Rides Again
And when you get to higher tiers you can get physical copies of comics like Red Sonja / Tarzan #1 with the Adam Hughes cover, the Action Comics #1000 Decades set of 8 covers and signed copies of Action Comics #1000 by Superman writer and artist Dan Jurgens, the man who killed Superman.
In the announcement, Dynamite's CEO/Publisher Nick Barrucci talked about how these bundles help the industry:
Groupees share our love of comics and our desire to grow the industry and reach out to new readers and these bundles are a great way to do it. They create many different types of bundles, but I think the comic ones are the best… and yes I'm baised. We want them to create more comic bundles whether for Dynamite, or for other publishers, and the best way to do that is through success. With your help, that can happen. Put together a bundle of your favorite titles and then talk about it with your friends, share the link so they too can join in on the fun. Together we can make the comic industry bigger and better than ever!
This bundle will be available for a limited time and the physical comics have a limited number of issues available.