Ed Brisson and Kev Walker Launch Predator #1 From Marvel In June
With the release of the Marvel June 2021 solicitation, comes the launch of the new Predator comic book from Marvel, after they picked up the license from Disney-own ed Fox last year, pulled from Dark Horse Comics. You don't ho-ho-ho with the Mouse. The new series will be launching by Ed Brisson and Kev Walker, set in a sci-fi future with a twist – in this case, a young woman is hunting the Predator who killed her family. We also get a look for what Marvel is planning with their Alien comic book as well.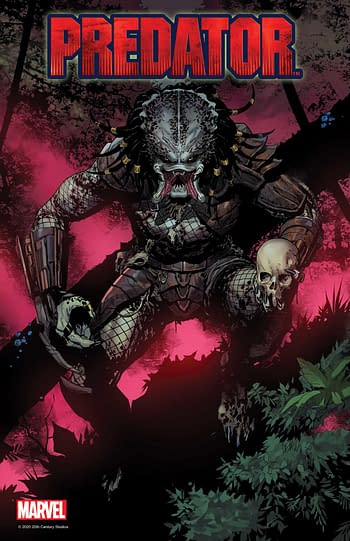 PREDATOR #1
ED BRISSON (W) • KEV WALKER (A)
Cover by LEINIL FRANCIS YU
Variant Cover by RYAN BROWN
Variant Cover by PHILIP TAN
Variant Cover by RAHZZAH
Variant Cover by PEACH MOMOKO
LAUNCH VARIANT COVER BY DAVID FINCH
PREMIERE VARIANT COVER BY LEINIL FRANCIS YU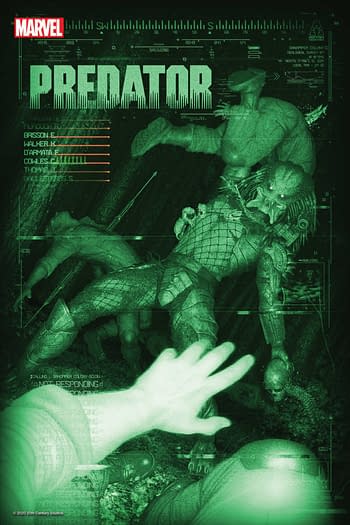 VARIANT COVER BY INHYUK LEE
VIRGIN VARIANT COVER BY INHYUK LEE
VARIANT COVER BY RON LIM
VARIANT COVER BY SKOTTIE YOUNG
WRAPAROUND CAMOUFLAGE VARIANT COVER ALSO AVAILABLE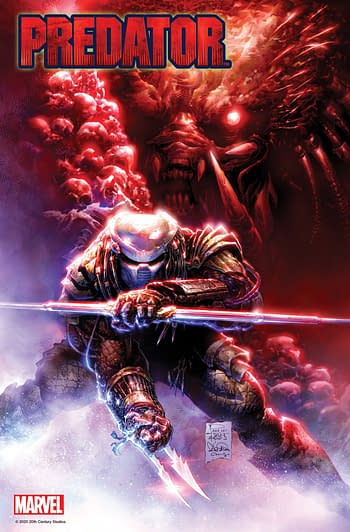 HUNT. KILL. REPEAT.
In the near future, a young girl sees her family slaughtered by the deadliest and most feared hunter in the universe: a PREDATOR. Years later, though her ship is barely holding together and food is running short, Theta won't stop stalking the spaceways until the Yautja monster who killed her family is dead…or she is. Ed Brisson (IRON FIST, GHOST RIDER) and Kev Walker (DR. STRANGE, DOCTOR APHRA) forge a violent, heartbreaking, unforgettable new chapter in the PREDATOR saga not to be missed!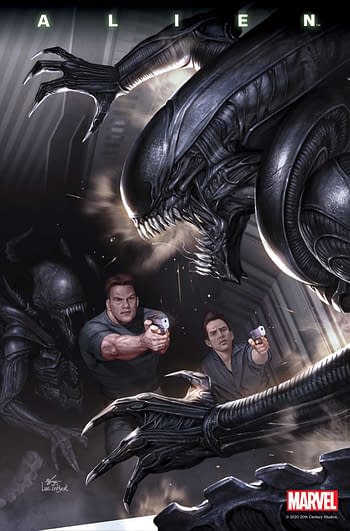 ALIEN #4
PHILLIP KENNEDY JOHNSON (W) • SALVADOR LARROCA (A)
Cover by INHYUK LEE
Variant Cover by OLIVIER COIPEL
Variant Cover by KEN LASHLEY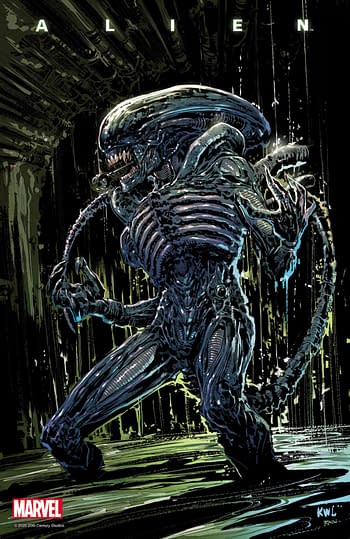 A BISHOP MAKES HIS MOVE.
• Will Gabe find his son? And if so…what will be left of him?
• The clock is ticking. The odds are long. The worst is coming.
32 PGS./Parental Advisory …$3.99
© 2021 20th Century Studios.