Elephantmen Is Consistently Amazing, and the Pentalion Arc is No Different
Elephantmen 2261 Season 2: The Pentalion Job #1 joins the ranks of Richard Starking's epic creation, touching on everything from war to social issues, and sits well in the hybrid-beast lineup. A series which originally began in 2006, the Elephantmen are the children of war; Africa's super soldiers created by impregnating human women with animal DNA resulting in the "transgenic" war machines who turned the tides in their continent's favor.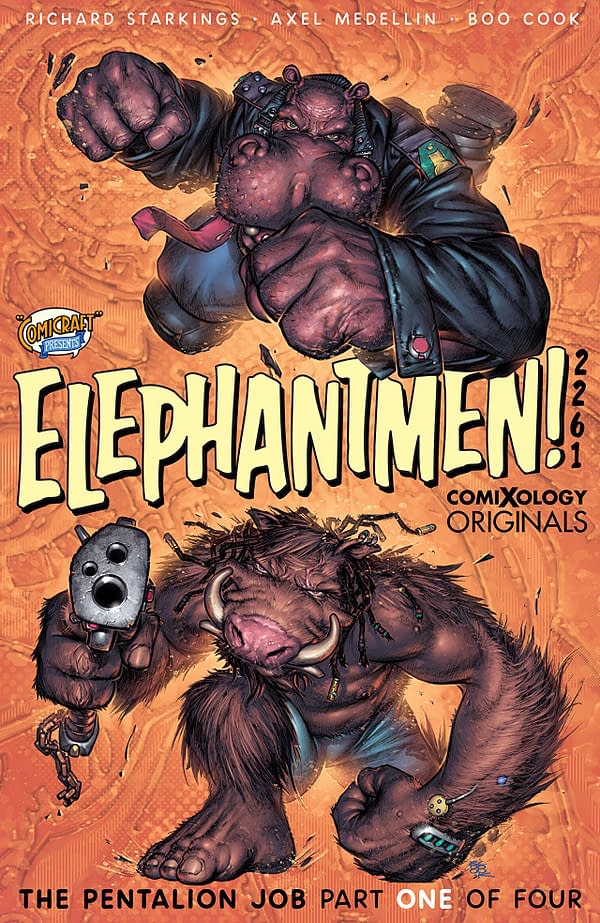 Now that the war between Africa and China has halted, over 15,000 Elephantmen are left without the umbrella of their creator, the MAPPO Corporation, and attempt to settle into society as citizens and not soldiers. Although the war was stopped by nuclear war, there are others behind the scenes who aren't quite finished with the longstanding tradition of exploitation on the Elephantmen, and continue to push their agenda by utilizing the misunderstood hybrids.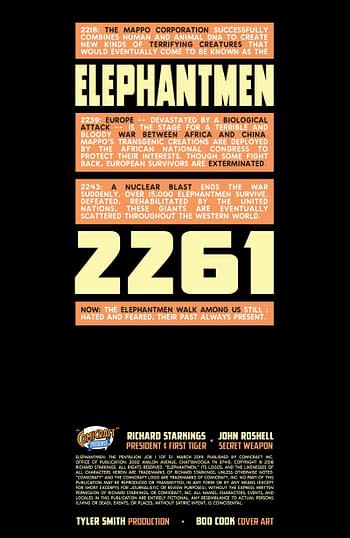 One such character is Burba, a warthog hybrid, who quickly gets pulled from his intentions of living life on the straight and narrow and manipulated into stealing China's robotic versions of the Elephantmen: the Pentalions. These massive machines were nearly successful in defeating Africa's soldiers and were only pushed back by enough nuclear force to turn most of Europe into a barren wasteland. On the opposite end of the political agenda, Obadiah, a rhinoceros hybrid, seeks to purchase these billion dollar machines to place them in a museum of tolerance as an homage to the terrors of war. In the middle is fan favorite Hip Flask, the hippopotamus hybrid, contracted to protect the Pentalions until they can be safely delivered to their destination.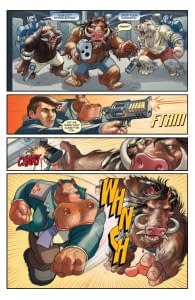 The first issue of this comiXology exclusive does make plenty of editor's footnotes about previous issues for reference, but still provides enough context that the story wouldn't be confusing to newer readers. Starking continues to be absolutely brilliant with his creation of this series, showing particularly poignant horrors of war with the museum's display of battle atrocities; specifically, the corpses of preserved hybrids who the government killed off so they wouldn't have to feed them. Axel Medellin's art is so consistently rendered that the long standing characters are immediately recognizable and creates a world that continues to show these war-hybrids still don't quite fit in. This story was engaging from cover to cover, and with only four issues to complete this mini arc, is set to be a fast-paced and worthwhile read.
Don't bother heading to your local comic shop for this however, as it will only be available on comiXology Unlimited, Kindle Unlimited, and Prime reading. Part two releases in June, and promises plenty of talent and storyline packed in at an easy $2.99 per issue.