We looked at a few Omnibus volumes Marvel Comics has lined up for 2020. But there are a number of other collections coming up from Marvel worthy of note, new one-offs, collections of surprising materials, new formats for old, along with the titles you may already anticipate. Here's a few worthy of checking out and making plans for in the next year.
Fantastic Four: Grand Design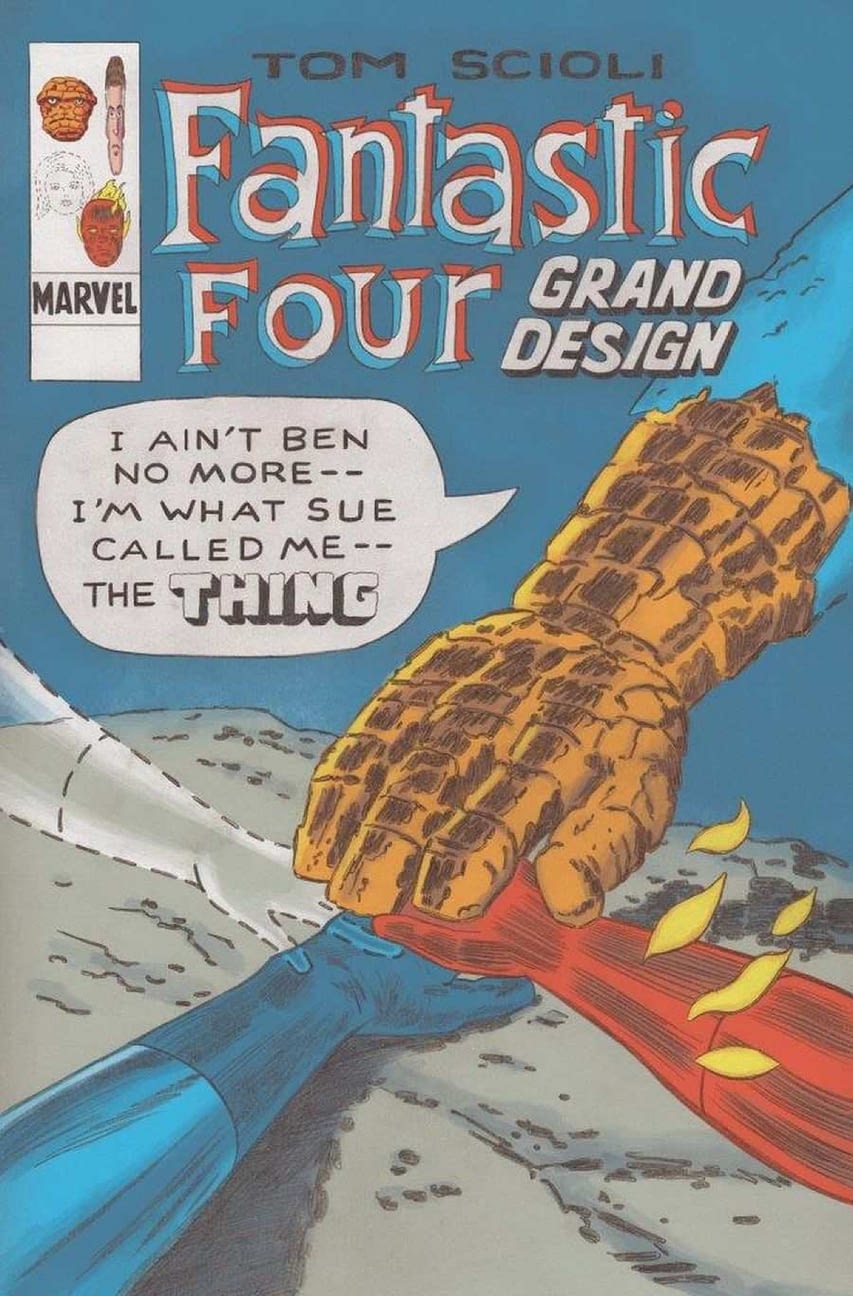 By Tom Scioli, Jan. 14, 2020, $29.99, Pages: 120. Because you demanded it! The bestselling GRAND DESIGN franchise continues with Marvel's First Family! Brought to you by critically-acclaimed cartoonist TOM SCIOLI (GØDLAND, TRANSFORMERS VS. G.I. JOE) in the sole-authorship tradition made famous by ED PISKOR'S X-MEN: GRAND DESIGN trilogy! Join the Watcher and witness how it all began…Plus appearances by your faves: Doctor Doom! Black Panther! Namor! Galactus! Mole Man! The Inhumans!
COLLECTING: FANTASTIC FOUR: GRAND DESIGN 1-2, FANTASTIC FOUR (1961) 1
Acts Of Vengeance: Avengers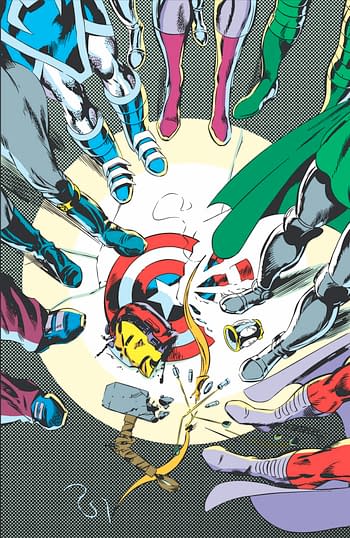 Feb. 11, 2020, $39.99, Pages: 504, An alliance of evil threatens the Avengers! Doctor Doom, the Red Skull, Kingpin, Magneto and more have banded together to pit Earth's Mightiest Heroes against totally unfamiliar foes! The Avengers take on Freedom Force, the Mole Man, the Wrecker, the Juggernaut, Controller, Absorbing Man and more -and suffer a devastating loss! Plus: Cloak and Dagger lend a hand, the New Warriors make their debut -and Magneto pursues a secret agenda all his own! But who is secretly pulling the vengeful cabal's strings? Can the Avengers take down the true mastermind before his hidden scheme succeeds?
COLLECTING: AVENGERS SPOTLIGHT (1989) 26-28, AVENGERS (1963) 311-313, QUASAR (1989) 5-7, IRON MAN (1968) 251-252, AVENGERS WEST COAST (1989) 53-55, MUTANT MISADVENTURES OF CLOAK AND DAGGER (1988) 9, MATERIAL FROM CAPTAIN AMERICA (1968) 365-367, THOR (1966) 41
Black Widow: Welcome To The Game
By: Richard Morgan, Bill Sienkiewicz, Goran Parlov, Sean Phillips, Jan. 21, 2020, $34.99, Pages: 288. The deadliest agent in the Marvel Universe has finally gotten out of the spy game! The Black Widow's not asking much – just a life of her own. But an assassination attempt provides a harsh reality check, kicking off a string of international killings that leads Natasha Romanoff back to a Russia she can barely recognize. Whoever said you can't go home again never reckoned with the Black Widow! People may say that she's a traitor, a murderer or worse. But one thing's for sure – the Black Widow is not to be crossed! The last man foolish enough to do so paid the highest price, but his powerful friends will ensure that Natasha doesn't get off easy…and not even Nick Fury can protect her this time!
COLLECTING: BLACK WIDOW (2004) 1-6, BLACK WIDOW: THE THINGS THEY SAY ABOUT HER (2005) 1-6
Star Wars: The Original Trilogy – The Movie Adaptations
Jan. 28, 2020, $34.99, Pages: 384
Marvel-Verse: Black Panther
By Jeff Parker, Ed Hannigan, Peter B Gillis, Nnedi Okorafor, Manuel Garcia, Jerry Bingham, Leonardo Romero.  Jan. 28, 2020 T'Challa, the Black Panther, is one of the most skilled fighters and brilliant minds in the Marvel-Verse…and these are some of his most thrilling adventures! When the Fantastic Four venture deep into the jungles of Africa, they find Wakanda – the world's most technologically advanced nation – hidden within! And just wait until they meet its warrior king! But when T'Challa reveals his country to the world, he must join the Avengers in battle with his old nemesis, Klaw! Plus, Iron Man helps the Panther protect his country's precious Vibranium from Erik Killmonger! And when T'Challa is lost in space, his sister Shuri must step up! All of Wakanda looks to Shuri to lead – but is she ready to take the mantle?
COLLECTING: MARVEL ADVENTURES FANTASTIC FOUR (2005) 10, BLACK PANTHER (1977) 14-15, IRON MAN ANNUAL (1970) 5, SHURI (2018) 1
EPIC COLLECTIONS: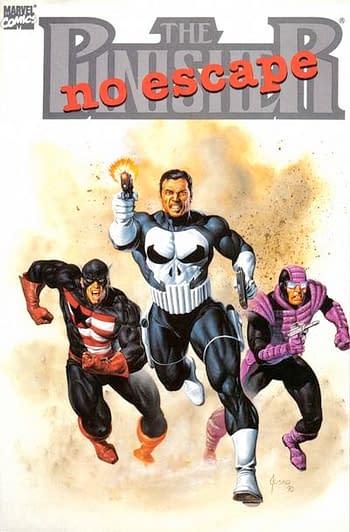 Punisher Epic Collection: Jigsaw Puzzle
Feb. 18, 2020, $39.99, Pages: 496, When Jigsaw strikes, the Punisher must pick up the pieces! Frank Castle's disfi gured archfoe returns -and this time, he's allied with the Reverend Sammy Smith! The preacher has history with Frank -but he's turned away from God in favor of something more diabolical. And he's out to heal America his way -whether the nation wants it or not! Then, the Punisher takes on arms dealers, drug traffi ckers and the mob- and goes undercover as a cabdriver on the hunt for a killer! And Frank Castle signs up for a brand-new war! Plus, the hired gun Paladin and the former Captain America, USAgent, target the Punisher! And Frank joins the hunt for one of the most prized weapons in the Marvel Universe!
COLLECTING: VOL. 5: PUNISHER (1987) 35-48, PUNISHER ANNUAL (1988) 4, PUNISHER: NO ESCAPE (1990) 1, PUNISHER: THE PRIZE (1990) 1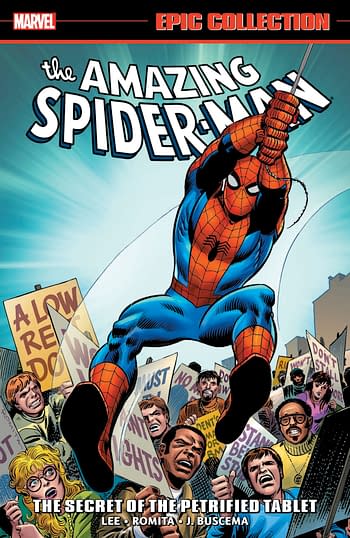 Amazing Spider-Man Epic Collection: The Secret of the Petrified Tablet
$39.99 Feb. 25, 2020 Pages: 456
Two of the fiercest crime lords in New York City are on a quest to decipher an ancient petrified tablet – whose secrets promise great power! It's an indisputable classic by two of Marvel's greatest creators, Stan Lee and John Romita Sr. -and that's not all they have in store! J. Jonah Jameson has the Daily Bugle working overtime to brand Spider-Man as Public Enemy Number One, the Prowler hits the scene, the Black Widow debuts her sultry new spy gear- and the origin of Peter's parents is revealed! Plus, the Kingpin comes back for more, and this time it's a family affair! Also featuring Gwen Stacy and the gang…whose heads are really going to turn when an ill Peter Parker strolls into a party in his Spider-Man costume!
COLLECTING: VOL. 5: AMAZING SPIDER-MAN(1963) 68-85, ANNUAL (1964) 5, 6 (COVER ONLY)
Excalibur Epic Collection: Curiouser and Curiouser TPB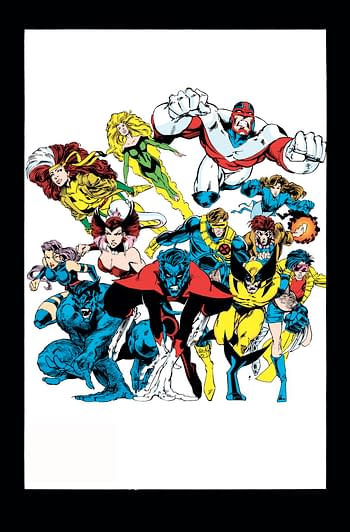 $39.99 Feb. 25, 2020 Pages: 472
Alan Davis returns to Excalibur! And the legendary artist takes over the writing chores to steer Shadowcat, Nightcrawler, Phoenix, Captain Britain and Meggan to new heights of greatness – and madness! The troublesome Technet returns to wreak havoc! The Captain Britain Corps puts Brian Braddock on trial! Meggan searches for her past! And Excalibur deals with the offbeat arrivals of Kylun and Cerise! But what is the fearsome threat of the Anti-Phoenix…and who has been pulling Excalibur's strings since the very beginning? Plus, secrets of the Phoenix Force revealed, the bizarre return of the Crazy Gang and Captain Britain's sister, Psylocke, stops by -to help battle their older brother, the insane Jamie Braddock! Guest-starring Spider-Man and the X-Men!
COLLECTING: VOL. 4: EXCALIBUR (1988) 42-58, EXCALIBUR: XX CROSSING (1992) 1, MATERIAL FROM MARVEL COMICS PRESENTS (1988) 110
Defenders Epic Collection: The End Of All Songs
Peter Gillis, J.M. DeMatteis, Don Perlin, Mark Badger, Luke McDonnell, Sal Buscema. Dec. 31, 2019  $39.99, Pages: 488 All things must come to an end, and the Defenders will fight their way to the finish in epic fashion. Moondragon seeks to master her arrogance, leading to a new outlook and a new uniform; however, despite outward appearances, her internal struggle continues. She succumbs to the power of the Dragon of the Moon, the cosmic entity that eradicated all life on Titan. Now, the remaining Defenders must battle their own teammate or Earth will suffer the same fate. It's a struggle that won't end without the death of a Defender. Also featuring Beast's fight for mutant rights, Cloud's identity conflict, the return of Manslaughter, the debut of Andromeda and Gargoyle's solo series adventure.
COLLECTING: VOL. 9: DEFENDERS (1972) 138-152, GARGOYLE (1985) 1-4
Conan Chronicles Epic Collection: The Battle Of Shamla Pass
By Tim Truman, Benjamin Truman, Tomas Giorello, Joe Kubert, Paul Lee, Jan. 14, 2020, $39.99 Pages: 472 Conan leaves his trials behind for a new life – as a mercenary! Presenting all-action adaptations of classic Robert E. Howard tales, plus original adventures of everyone's favorite barbarian! Howard's "Black Colossus" sees Conan face his bloodiest battle yet when the mercenaries of Amalric clash with the demonic hordes of Natohk! Then, Conan becomes the leader of Princess Yasmela's Khorajan army! But another princess wants Conan for herself – the immortal and vampiric Akivasha! The Cimmerian spends a tumultuous time fighting and looting with the Kozaki, a wild group of fellow mercenaries also known as the Free Companions! Plus, Conan faces pirate politics and a centuries-old mystery in an adaptation of Howard's "Iron Shadows in the Moon"!
COLLECTING: VOL. 4: CONAN THE CIMMERIAN (2008) 8-25
Amazing Spider-Man Epic Collection: Maximum Carnage
By David Michelinie, Terry Kavanagh, J.M. DeMatteis, Tom DeFalco, Mark Bagley, Alex Saviuk, Tom Lyle, Sal Buscema, Jan. 28, 2020 $39.99, Pages: 432, Symbiotes clash – with Spidey in the middle! Carnage, the spawn of Venom, has assembled an army of the web-slinger's criminally insane adversaries to spread his message of hostility, chaos and wholesale slaughter: Carrion, Demogoblin, Shriek and the Spider-Man Doppelganger! Outmanned and overpowered, the wall-crawler must recruit his own band of super-beings to combat the rising tide of evil: Black Cat, Cloak & Dagger, Firestar, Captain America, Iron Fist, Deathlok and…Venom?! Spider-Man's worst enemy becomes his uneasy ally in the battle to halt the pure evil of Carnage's mad rampage!
COLLECTING: VOL. 25: AMAZING SPIDERMAN (1963) 378-380, WEB OF SPIDER-MAN (1985) 101-103, SPIDER-MAN (1990) 35-37, SPECTACULAR SPIDER-MAN (1976) 201-203, SPIDER-MAN/PUNISHER/SABRETOOTH: DESIGNER GENES (1993) ONE-SHOT, MATERIAL FROM SPIDER-MAN UNLIMITED
(1993) 1-2
MARVEL MASTERWORKS
Marvel Masterworks: Daredevil Vol. 14
By Jim Shooter, Roger McKenzie, Gerry Conway, Jo Duffy, Gil Kane, Gene Colan, Carmine Infantino, Frank Miller. Jan. 28, 2020 $75 Pages: 320. Dangerous and desperate, the Owl is on the attack – and he's far from the Man Without Fear's only problem! Bullseye is back, while the Purple Man has employed his mind-control powers to torment Daredevil and his friends alike. It's a gritty, edge-of-your-seat saga that traps DD in Ryker's Island prison, forcing him to fight a gauntlet of his most violent enemies! The personal drama is no less captivating: After Heather Glenn discovers that Matt Murdock is Daredevil, she blames him for her father's death, sending Matt into a tailspin. And things won't get any easier when his old flame, the Black Widow, returns! This historic volume culminates with an epic final battle against Death-Stalker – and Frank Miller's Daredevil debut!
COLLECTING: DAREDEVIL (1964) 144-158; MARVEL PREMIERE (1972) 43
Marvel Masterworks: The Fantastic Four Vol. 21
By: John Byrne, Stan Lee, Ed Hannigan, Jack Kirby, Steve Ditko, Fred Hembeck
Dec. 24, 2019 $75.00 Pages: 352. The Fantastic Four are going back to basics, back to Byrne! The Marvel Masterworks is very proud to present the debut of John Byrne in his celebrated run as FF writer/artist. Byrne's deft balance, renewing the characters' core, revitalizing old foes and introducing new concepts, gave the FF a bold vitality. Marvel's First Family were back to the lofty heights of Stan Lee and Jack Kirby. In fact, the Lee/Kirby contribution to FF's 20th Anniversary is one of the many treats this volume has in store. Also included are an Annual by Steve Ditko, the FF Roast and a treasure trove of bonus material. Restored from extensive scans of original artwork, this is the definitive edition of one of Marvel's true classics.
COLLECTING: FANTASTIC FOUR (1961) 232-240, ANNUAL (1963) 16; FANTASTIC FOUR ROAST (1982) 1
Marvel Masterworks: Thor Vol. 19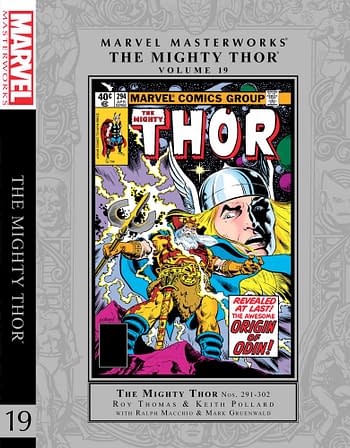 On Sale: Feb. 11, 2020, $75, Pages: 288 THE MIGHTY THOR celebrates its 300th issue as the amazing Celestial Saga reaches its epic conclusion! In these pages Thor will join forces with the Eternals, the secrets of Marvel's gods will be revealed, the true story of Odin's creation of the unstoppable Destroyer will be told -and gods young and old will die! Then, before us all, the Fourth Host of the Celestials will descend to lay down their judgment…and both man and god may be found wanting. Also featuring the warrior woman Valkyrie, a Marvel adaptation of Richard Wagner's classic Der Ring des Nibelungen and two rare Hercules tales from MARVEL TREASURY EDITION!
COLLECTING: THOR (1966) 291-302; MARVEL TREASURY EDITION (1974) 24, 26
MILESTONES
X-Men Milestones: Phalanx Covenant
By Scott Lobdell, Chris Cooper, Todd DeZago, Fabian Nicieza, Jan Duursema, John Romita Jr., Joe Madureira, John Royle Dec. 31, 2019 $39.99 Pages: 488. The biggest and best adventures of Marvel's mighty mutants – these are the X-Men Milestones! Powerful anti-mutant bigots have resurrected a techno-organic alien nightmare: the Phalanx, a cold, vicious and unstoppable foe that absorbs all in its path. But these creatures are far more than their creators bargained for – and they plan to summon their parent race to overtake Earth! When the Phalanx captures the X-Men, the remaining X-teams must split into three groups: to save young mutants from the Phalanx's clutches, to prevent their foes from contacting their homeworld and to rescue the X-Men! But even with the aid of the rogue Phalanx unit Douglock, can these ragtag groups succeed?
COLLECTING: UNCANNY X-MEN (1981) 305-306, 312-313, 316-317; EXCALIBUR (1988) 78-80, 82; X-MEN (1991) 36-37; X-FACTOR (1986) 106; X-FORCE (1991) 38; WOLVERINE (1988) 85; CABLE (1993) 16
X-Men Milestones: Onslaught
By Scott Lobdell, Mark Waid, Larry Hama, Tom DeFalco, Pasqual Ferry, Joe Madureira, Andy Kubert, Adam Kubert, Jan. 28, 2020, $39.99, Pages: 488. The biggest and best adventures of Marvel's mighty mutants – these are the X-Men Milestones! And this event rocked not only the X-titles, but the entire Marvel Universe! For months, the force of nature known only as Onslaught has struck from the shadows – but when the X-Men discover Onslaught's startling true identity, the villain's plan kicks into high gear! Determined to punish mankind for a litany of sins, Onslaught laid siege to the X-Men, Avengers, Fantastic Four and more – kicking off a cataclysmic conflict destined to deprive a world of its most revered icons! Earth's greatest heroes face their ultimate enemy in an explosive saga that transformed the Marvel Universe!
COLLECTING: UNCANNY X-MEN (1981) 333-337; X-MEN (1991) 53-57; ONSLAUGHT (1996): X-MEN, MARVEL UNIVERSE, EPILOGUE; AVENGERS (1963) 401; FANTASTIC FOUR (1961) 415; WOLVERINE (1988) 104; CABLE (1993) 35
X-Men Milestones: Operation Zero Tolerance
Feb. 25, 2020, $39.99, Pages: 448, The biggest and best adventures of Marvel's mighty mutants -these are the X-Men Milestones! A rogue government strike force, backed by powerful international forces and led by the mystery man known only as Bastion, has launched a massive strike against the X-Men. Jubilee and Professor X are already Bastion's captives, and now Operation: Zero Tolerance and its insidious new Prime Sentinels have overrun the X-Mansion and imprisoned half the X-Men -leaving Iceman to fend for himself on the streets of New York! Now, Cable and the X-Men must fight a war on many fronts -but it's a war they're losing. Can even the arrival of Marrow, Maggott and Cecilia Reyes turn the tide? Or will this be the X-Men's darkest hour?
COLLECTING: GENERATION X (1994) 27, X-MEN (1991) 65-70, UNCANNY X-MEN (1981) 346, WOLVERINE (1988) 115-118, CABLE (1993) 45-47
MARVEL VISIONARIES
Marvel Visionaries: John Romita Jr.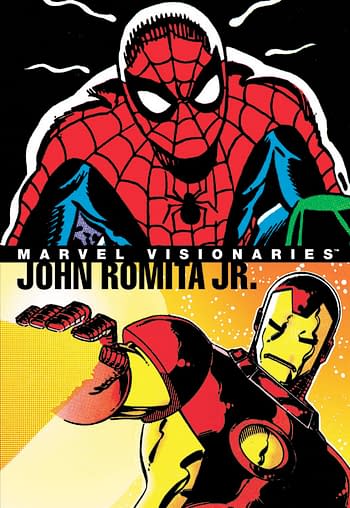 By John Romita Jr., Roger Stern, J Michael Straczynski, Scott Edelman, Bob Layton. Dec. 31, 2019  $34.99, Pages: 360. Celebrate the career of a true Marvel Visionary! John Romita Jr. followed in his famous father's footsteps – and soon became a legend in his own right! This volume collects some of JRjr's greatest hits, from his very first Marvel work to the creation of a New Universe and more! Tony Stark battles alcoholism! Spider-Man battles the Juggernaut though the streets of New York! Colossus and Kitty Pryde break up! Daredevil and Kingpin celebrate Christmas! The Punisher joins the mafi a! Professor X and Magneto's history is explored! And Hulk smashes the Abomination! Plus a masterful retelling of Daredevil's origin, the horrors of 9/11 and much more!
COLLECTING: AMAZING SPIDER-MAN 229-230, 36, ANNUAL 11; IRON MAN 128, 256; UNCANNY X-MEN 183, 309; STAR BRAND 1; DAREDEVIL 253; PUNISHER WAR ZONE 1; DAREDEVIL: MAN WITHOUT FEAR 1-2; HULK 25, 34
COMPLETE COLLECTION
X-Statix: The Complete Collection Vol. 1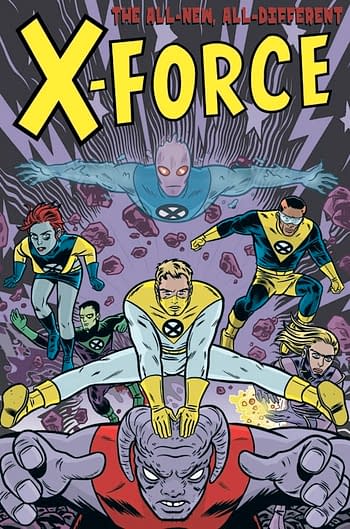 Feb. 4, 2020, $39.99, Pages: 504, Peter Milligan and Michael Allred reboot X-Force into the reality stars X-Statix in their bright and bold 21st-century deconstruction of the X-books! Sex. Money. Power. Fame. That's what drives these mutant heroes! But what really happens when an X-team becomes huge media stars? Find out in this wild examination of celebrity culture -with a far higher body count than any reality TV show! Fall in love with the Orphan, the Anarchist, Dead Girl, Phat, Vivisector, U-Go Girl, the incomparable Doop and more -but don't get too attached, as there's no guarantee that any of them will make it out of each battle alive! And when the team relaunches their brand as the X-Statix, will it propel them to even greater fame? Or will the interactive O-Force become the hot new thing?
COLLECTING: X-FORCE (1991) 116-129, BROTHERHOOD (2001) 9, X-STATIX (2002) 1-5
Loki: Agent Of Asgard – The Complete Collection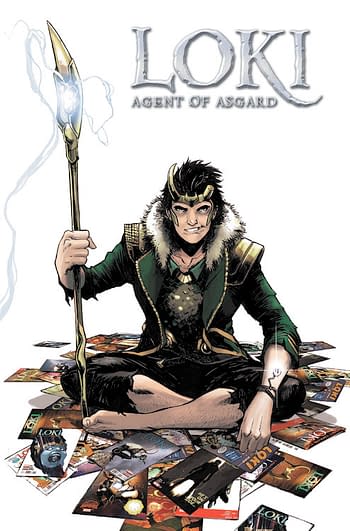 By Al Ewing, Lee Garbett, Jorge Coelho, Dec. 31, 2019 $39.99, Pages: 504. Kid Loki is all grown up – and the God of Mischief is stronger, smarter and sneakier than ever before! As Asgardia's one-man secret service, Loki is ready to lie, cheat and steal his way through the most treacherous missions the All-Mother can throw at him…starting with a heart-stopping heist at Avengers Tower! Loki takes on Lorelei in Monte Carlo's casinos, heads to the ancient past on a quest for a magical sword and puts together a crew to crack the deepest dungeons of Asgardia itself! Plus, the events of AXIS pit him against the brutish Thor, God of Evil! But who is King Loki? What vile scheme has he been brewing all this time? And what does this shadowy king's very existence mean for our Loki?
COLLECTING: LOKI: AGENT OF ASGARD 1-17, MATERIAL FROM ALL-NEW MARVEL NOW! POINT ONE
Captain America: Sam Wilson – The Complete Collection Vol. 1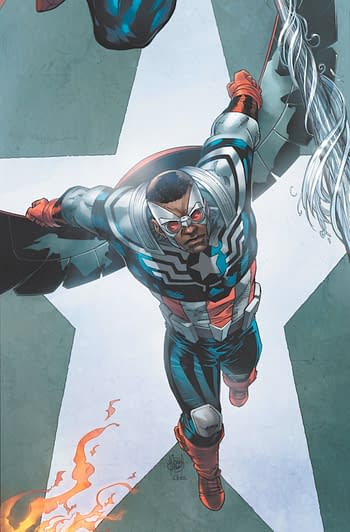 Feb. 4, 2020 $39.99, Pages: 488 Sam Wilson takes flight as the soaring Sentinel of Liberty – Captain America! Handed the shield by Steve Rogers himself, the former Falcon is joined by new partner Nomad to tackle threats including the fearsome Scarecrow, Batroc and Baron Zemo's newly ascendant Hydra! But stepping into Steve's boots isn't easy -and Sam soon finds himself on the outs with both his old friend and S.H.I.E.L.D.! Plus, the Sons of the Serpent, Doctor Malus -and the all-new Falcon! And a team-up with Spider-Man and the Inhumans! The headline-making Sam Wilson is a Captain America for today!
COLLECTING: CAPTAIN AMERICA (2012) 25, ALL-NEW CAPTAIN AMERICA: FEAR HIM (2015) 1-4, ALL-NEW CAPTAIN AMERICA (2014) 1-6, AMAZING SPIDERMAN SPECIAL (2015) 1, INHUMAN SPECIAL (2015) 1, ALL-NEW CAPTAIN AMERICA SPECIAL (2015) 1, CAPTAIN AMERICA: SAM WILSON (2015) 1-6
Oz: The Complete Collection – Wonderful Wizard/Marvelous Land
Eric Shanower, Skottie Young, Jan. 28, 2020, $12.99, Pages: 416. The premiere American fantasy adventure gets the Merry Marvel treatment! Eric Shanower and Skottie Young's Eisner Award-winning adaptations of L. Frank Baum's Oz books begin with the beloved tale of Kansas farm girl Dorothy, blown by a hurricane to the magical Land of Oz. Dorothy fatally flattens a Wicked Witch, liberates a living Scarecrow, and is hailed by the Munchkin people as a great sorceress…but all she really wants is to get home! Then, join the young boy named Tip as he escapes the servitude of mean old witch Mombi and runs away with his newly created magical companion, Jack Pumpkinhead. Along the way, they meet Sawhorse – and follow the legendary Yellow Brick Road to the Emerald City!
COLLECTING: THE WONDERFUL WIZARD OF OZ (2008) 1-8, THE MARVELOUS LAND OF OZ (2009) 1-8, THE WONDERFUL WIZARD OF OZ SKETCHBOOK (2008)
LEGENDS
Legends Of Marvel: Spider-Man
By Peter David, Randy Schueller, Tom DeFalco, Erik Larsen, Rick Leonardi, Ron Frenz, Mark Bagley, June Brigman Jan. 14, 2020 $15.99 Pages: 224 Uncover the hidden gems of the Marvel Universe! From the untold tales of the Sensational Spider-Man in his black suit to the killer spider-stories that will keep you guessing and the beloved Power Pack jumps back into action when the Brood attacks, these action-packed stories reunite some of Marvel's greatest creators with their most beloved characters!
COLLECTING: SENSATIONAL SPIDER-MAN: SELF-IMPROVEMENT 1, AMAZING SPIDER-MAN: GOING BIG 1, POWER PACK: GROW UP 1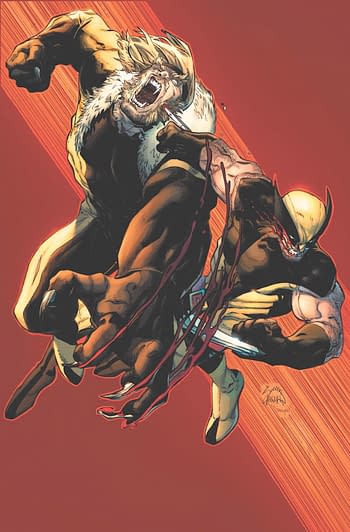 Legends Of Marvel: X-Men
Feb. 25, 2020, $15.99, Pages: 112, Legendary storytellers come together to tell new tales featuring classic Marvel heroes from the world of the X-Men! He goes by many names – Logan, Weapon X, Patch – but most just call him the Wolverine! Three savage sagas show exactly why Wolverine is the world's most dangerous mutant -and the best there is! Brace yourself for blood, blades and brutality…you asked for it, bub! Then, the greatest creators the Great White North has to offer unearth the secret history of Alpha Flight, with tales spotlighting the Canadian team's most iconic lineup! Finally, Chris Claremont and Bill Sienkiewicz reunite with the New Mutants for an untold tale from the past! Can the teen team cope with a haywire Warlock -and the growing threat of Magik's inner demon?
COLLECTING: WOLVERINE: EXIT WOUNDS (2019) 1, ALPHA FLIGHT: TRUE NORTH (2019) 1, NEW MUTANTS: WAR CHILDREN (2019)
MARVEL SELECT EDITIONS
New Avengers: Breakout Marvel Select Edition
By Brian Michael Bendis, David Finch, Jan. 21, 2020, $24.99 Pages: 160, In the wake of the systematic destruction of the original Avengers, just what sort of threat to the world could persuade Captain America to assemble an all-new team? And following the events of Avengers Disassembled, who could possibly be on this team? How do Cap, Iron Man, Spider-Man and Wolverine sound? Fate has brought them together, and now Captain America wants to make it permanent! Who will take his hand and join the new Avengers? And will they be strong enough to fight the mysterious forces at play around them?
COLLECTING: NEW AVENGERS (2004) 1-6
Oz: The Complete Collection Wonderful Wizard/Marvelous Land
Black Widow: Welcome to the Game
Enjoyed this article? Share it!