We have an exclusive first look at the solicitations and covers for Dynamite's Legendery comics, Legenderry: Green Hornet #3, Legenderry: Red Sonja #3 and Legenderry: Vampirella #3.
LEGENDERRY: GREEN HORNET #3 (OF 5)
Cover: Sergio Fernandez Davila Writer: Daryl Gregory Art: Brent Peeples
ON SALE DATE: April 22
Will our heroes escape from Tik-Tok's clockwork deathtrap? (Probably. It's only issue 3.) They should hurry, though, because waiting in the wings is the mastermind behind the gang war… The Brass Hornet! Catch an issue full of hot Hornet on Hornet action. LEGENDERRY: RED SONJA #3 (OF 5)
Cover: Sergio Fernandez Davila Writer: Marc Andreyko Art: Aneke
ON SALE DATE: April 15
Sonja always fancied herself a pirate extraordinaire… until now! As she and her newest ally sail the high seas in pursuit of a madman bent on defying death, Red comes face to face with one of the most, ahem, legendary pirates of all time! The question is: whose side is he on? The adventure exploring the outer reaches of the LEGENDERRY world continues! LEGENDERRY: VAMPIRELLA #3 (OF 5)
Cover: Sergio Fernandez Davila Writer: David Avallone Art: David Cabrera
ON SALE DATE: April 8
Alliterative action, as Vampirella faces and fights corruption with Kurtz, romance with Rassendyll and violence with Van Helsing. Hentzau's plot is in motion, Vampirella's secrets are revealed and the moral of the story is never let Dr. Moreau give you a haircut.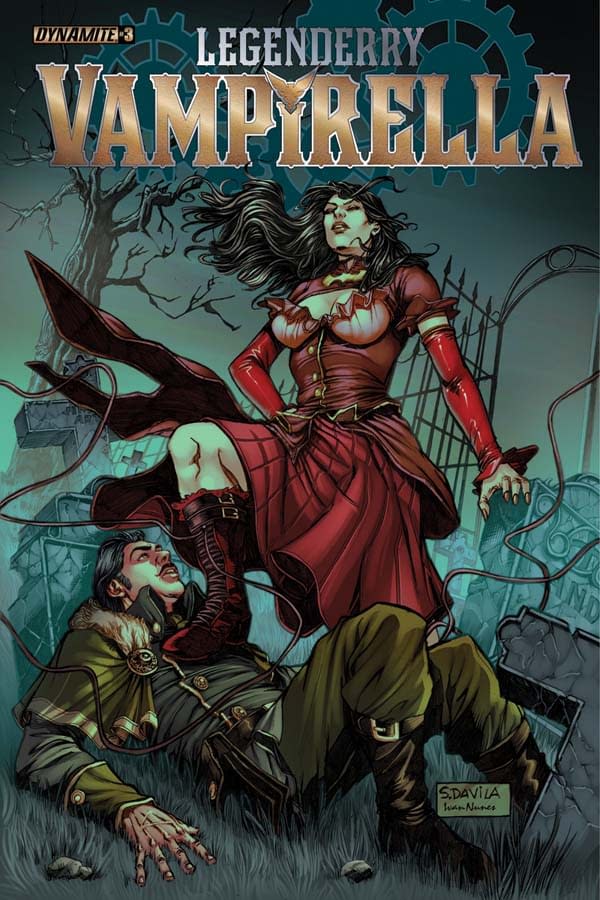 Enjoyed this article? Share it!