Stan Lee's POW! Entertainment is releasing the second book from the new online comic book series Stan Lee's Work Force.
After the launch from the Chinese-owned LA-based intellectual property producer last month, with chapter one, the story continues chapter two, with Stan as the boss of a superhero staff and all new adventures in their daily office life.
New chapters will be released every Tuesday and Thursday through their website The Real Stan Lee, starting on August 21st. And here's a Bleeding Cool exclusive look at the trailer for chapter two…
The story revolves around superheroes managed by Lee, working in a typical office setting, dealing with atypical problems ranging from a sentient copy machine to monster attacks.
"Work Force is comedic in nature, and in typical Stan style, the characters are humanized and relatable to those in the working world," stated Shane Duffy, CEO, Stan Lee's POW! Entertainment. "This project provides an opportunity to create an original and ongoing story for multiple platforms in different languages appealing across all cultural markets. Following the release in the U.S. and China markets, we look to expand to additional territories. Work Force allows us to depict Stan and the individual characters in a light and fun way, all while growing the brand's universal appeal."
The stories were specifically created for a global market with Lee working with artists from the USA, China, and Japan, including Japanese artist Ryusuke Hamamoto, known for the parody series Petit Eva: Evangelion@School.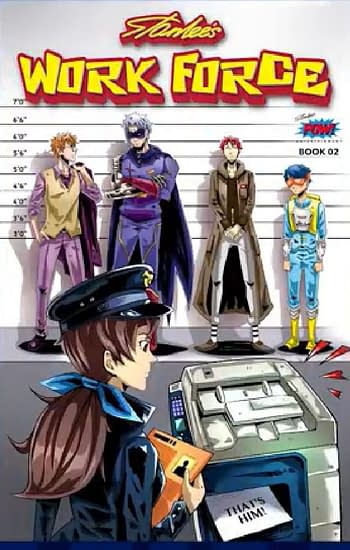 Enjoyed this article? Share it!