Exiles #5 Review: A Glorious Conclusion to the First Arc
The Exiles have tracked down the Time-Eater at last, and he is Kang the Conqueror. He is using the remains of Galactus from across the Multiverse to give himself the power to consume all realities. It's down to Blink, Khan, Valkyrie, Wolvie, Iron Lad, and Nick Fury to beat the odds and save every universe from being consumed.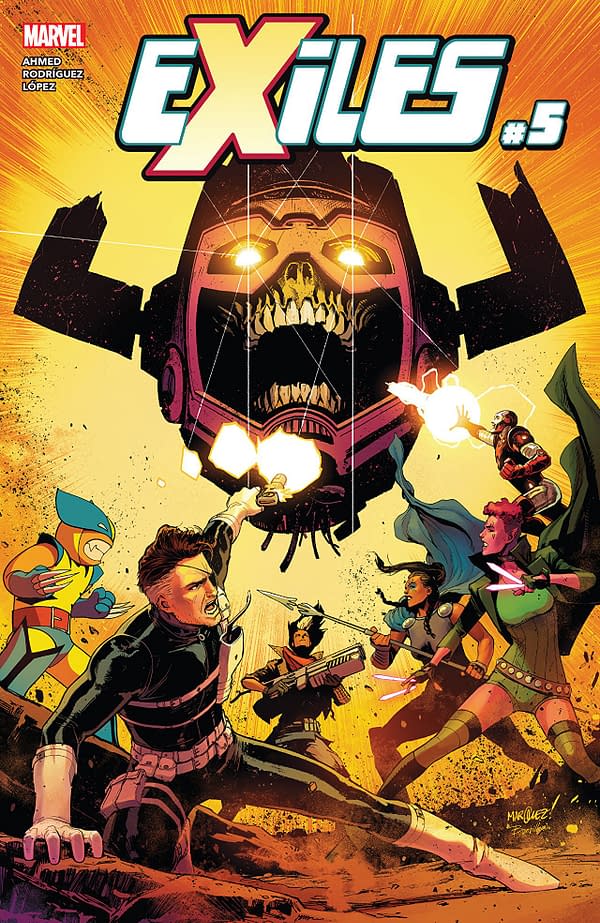 This is the bombastic finale to the first Exiles arc under Saladin Ahmed and Javier Rodriguez, and it is a hell of a showing.
The issue is almost entirely made up of the fight against Kang the Conqueror, and Kang is in his true form here. He is making Shakespearean proclamations about how he's already won, and there's nothing that the Exiles can do to stop him. He talks about how becoming all reality is far more impressive than simply conquering it.
On that note, this comic can be a bit verbose. A few pages are plastered with text that hampers the pacing and are a bit of a slog to traverse. Thankfully, this is only a few pages, and the book maintains its sincerity, energy, and theatrics despite the text dumps.
There is a loss in this comic, and it is telegraphed a little too hard. The comic tries to do a sendoff for the character in the end, and that works well enough.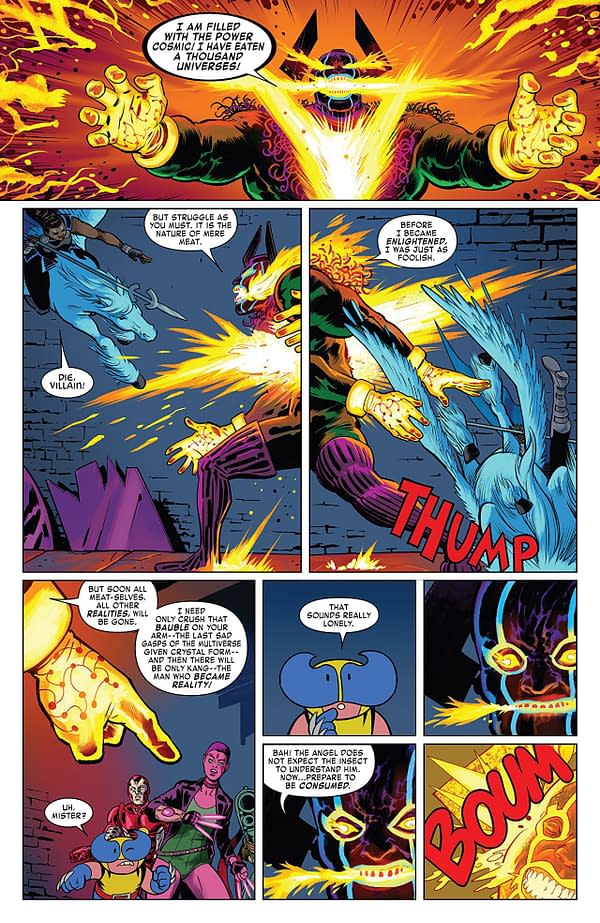 Javier Rodriguez pulls out all the stops for this issue. He does some of the best work of his impressive career here. The visuals are creative, the sequencing is clever and punchy, and the splash pages are glorious and well-justified. He contributes the color work to this one too, and that is similarly brilliant, gorgeous, and impeccably balanced.
Exiles #5 closes out its first arc with excitement and style which few comics can achieve. It is hurt by some liberal use of exposition and underwhelming plot beats, but the final product still shines in part thanks to the incredible work of Javier Rodriguez. This one earns a recommendation. Give it a read.