'Firefly' #6: Nice, Sketchy Visit with Great Old Friends
[rwp_box_recap id="0"]
I'm usually a little hesitant to get behind a comic adaptation of a television show, movie, or game franchise. These kind of adaptations are critically hard to get right, since the voice of the characters not only has to echo the writing from which they hail, the mannerisms of the actors portraying them has to be just right as well.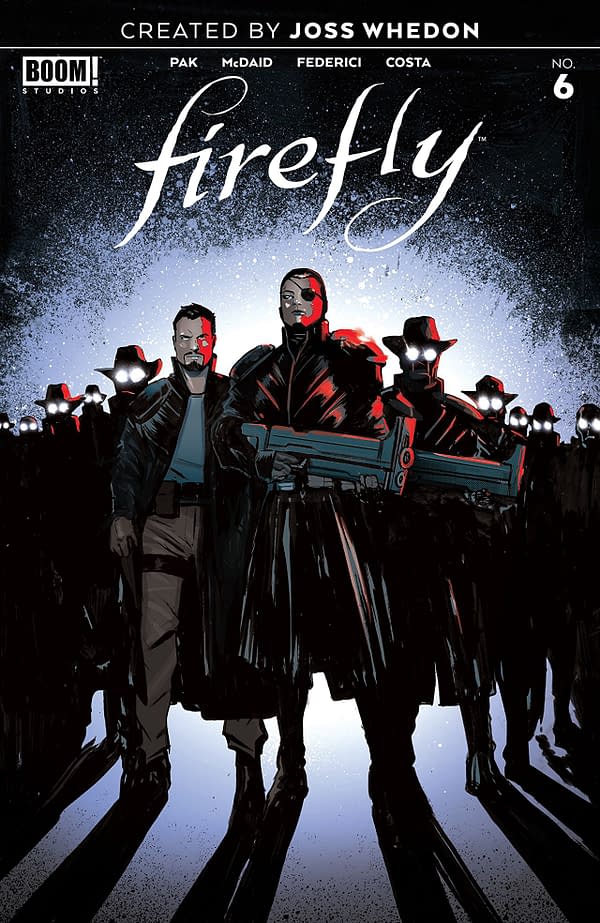 I'm happy to say that Greg Pak more than earns his keep with Boom! Studios new Firefly adaptation, with each and every character feeling spot on and dead to rights. You can feel it when these things are done right, and I found myself smiling throughout the book, happy to see these old friends of mine back in action again.
Malcolm Reynolds has been captured by the Unificators, a group of Alliance loyalists who've decided to put an end to Mal's career. He manages to crash land the shuttle he and the leader of the Unificators are on, and a desperate race for survival breaks out between Reynolds, Boss Moon, and the incredibly dangerous planet they're stuck on.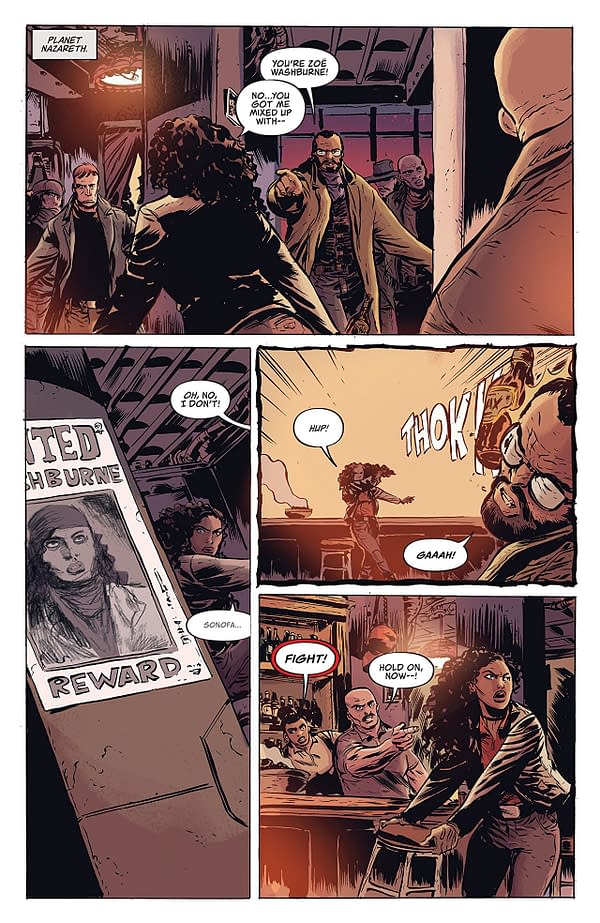 Zoe meets up with a group of old Browncoats, and they take off to rescue Mal on their own, leaving the crew of Serenity under the watchful eye of the Bandit.
Dialogue wise, there is so much quippy sass going on that you can't help but hear it in the voices of the actors playing them. This whole story would make an excellent episode of Firefly, which I guess is the whole point, right?
Pak delivers again and again, whether it's Book's veiled threats to Jayne, or the Tam siblings arguing. The whole affair hums along beautifully.
Unfortunately, the art doesn't quite live up to the script. Dan McDaid has a really sketchy, blocky style that he's used throughout the book, which works just fine with some stories, I'm just not completely sold on it for something as iconic as Firefly.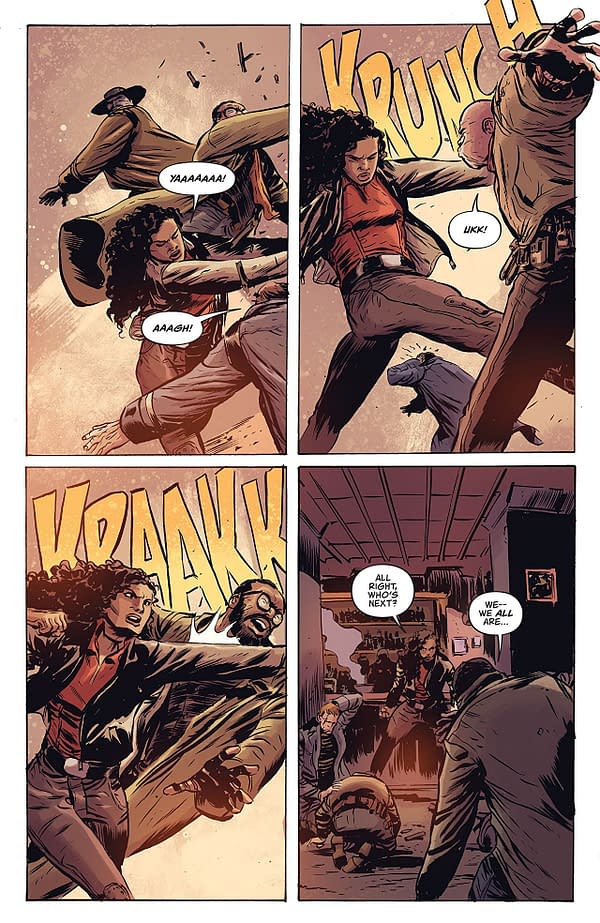 This is one of those iconic franchises that I think deserves those big, bold art choices, and I'm not entirely inspired by the art here.
But seriously, that's usually a deal-breaker for me, and here it's just a quibble. McDaid's art also does a great job of carrying the story through its beats, and doesn't get in the way of the plot in any way.
With fun, punchy dialogue that feels like it walked off the show, Firefly #6 is recommended for fans of the original show, especially if you forgot how much you missed the crew of Serenity. Thanks for bringing these old friends back!
SUMMARY: Script: Greg Pak; Art: Dan McDaid; Colors: Marcelo Costa; Letters: Jim Campbell; Editor: Chris Ross; Published By: Boom! Studios; Release Date: May 15, 2019; Cover Price: $3.99; 28 pages.
[rwp-review-ratings id="0"]
[rwp-review-form id="0"]