Well, that is a very welcome sight indeed. Fred Hembeck, the cartoonist who started sending letters in cartoon form, found work for Marvel, DC and Comics Buyers Guide drawing gag strips, drew an issue of Amazing Spider-Man for Assistant Editors Week and wrote/drew the Fantastic Four Roast, is returning to the Four, writing and drawing new material for the upcoming Fantastic Four Wedding Special #1.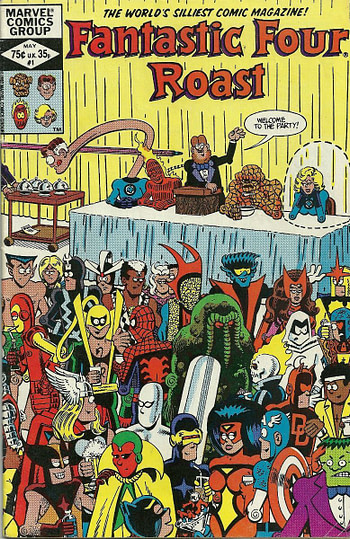 I managed to commission Fred Hembeck to work on my Civil Wardrobe parody, then to draw covers to my Avengefuls comics, for Boom Studios a few years ago. He has fallen on hard times occasionally, so I am so glad he has been able to return to Marvel in a more official capacity.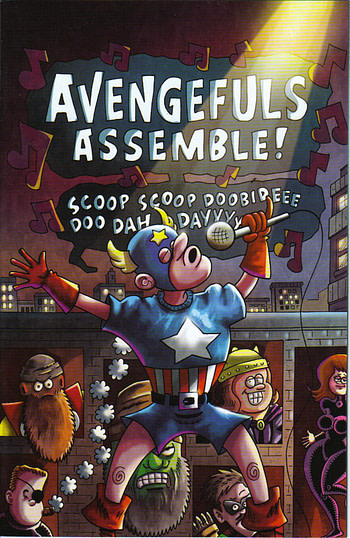 He is joined by Mark Buckingham, who recently surprise-drew half of an issue of Tom King and Tony S Daniel's Batman when he should have been drawing Miracleman. And he will be joining Fred Hembeck as an additional artist on this keepsake – when he should really be drawing Miracleman. Here is the new solicitation.
FANTASTIC FOUR WEDDING SPECIAL #1
(W) Gail Simone, Dan Slott, Fred Hembeck (A) Laura Braga, Mark Buckingham, Fred Hembeck (CA) Carlos Pacheco
Come and celebrate the impending nuptials of the Thing and Alicia Masters with a Ladies Night Out as only the First Family of Comics can do it! Guest-starring She-Hulk, Medusa, Crystal and more, it's the bachelorette party Alicia never expected-and one whose ribaldry will be interrupted by the arrival of a Surprise Super Villain! (And no, we don't mean Johnny Storm!)  Meanwhile, the Thing has an unexpected meeting with his future father-in-law, the Puppet Master! Plus, Hembeck! The Fantastic Four family tree! And more! R.S.V.P. at your local comics retailer this December, and don't forget to kiss the bride!
Rated T In Shops: Dec 12, 2018
SRP: $4.99
And in other Fantastic Four ch-ch-changes news, we mentioned Sara Pichelli was off Fantastic Four #4 – and all subsequent issues, – but it seems she won't be drawing all of Fantastic Four #3 either as Nico Klein will be contributing a number of pages too.
And while we are at it, X-Men Exterminated #1 will have interior art pages by Ramon Rosanas in addition to the previously solicited Neil Edwards.
It's all go…