Free Hallowe'en Comics On October 25th – Secret Wars, Angry Birds, Afterlife With Archie, Batman, Rachel Rising, Princeless, Extinction Parade, Resident Evil, Fathom And More
Hallowe'en Comic Fest is the Diamond Comic Distribution owned-and-organised event in Hallowe'en to act as a counterbalance to Free Comic Book Day in the spring.
With a bunch of comics to be ordered to be given away for free, over the Hallowe'en period. With less of an emphasis on new comics, or the promotion of new work, these are intended to get customers to explore backlist as well.
October 25th is the date… wit a mix of full size and mini-comics to give away.
Full Sized Comics:
ABSTRACT STUDIO
RACHEL RISING #1—HCF 2014 EDITION
(W/A/CA) Terry Moore
Halloween marks the return of a modern classic, Rachel Rising #1! Rachel wakes up dead in a shallow grave and climbs out to hunt for her killer. Seeking the help of Aunt Johnny and BFF Jet, Rachel encounters a mysterious woman and the scariest little girl in comics! This special reprint is just for Halloween Comicfest 2014 and features a unique cover variation to mark the occasion!
32pgs, B&W
ACTION LAB COMICS
HERO CATS / PRINCELESS—HCF 2014 EDITION
(W) Kyle Puttkammer, Jeremy Whitley (A/CA) Marcus Williams
A Hero Cat's life is exciting enough, but what happens when imaginations run wild after a scary movie marathon at the local drive-in?! Ace, Midnight, Cassie, Rocket, Rocco, and Belle will win your heart in this frightfully fun-filled tale! Plus, an exclusive preview of the highly anticipated new Princeless series!
32pgs, FC
ARCHIE COMICS
AFTERLIFE WITH ARCHIE #1—HCF 2014 EDITION
(W) Roberto Aguirre Sacasa (A/CA) Francesco Francavilla
Celebrate the most frightening day of the year with the most horrifying tale Archie has ever told! "Escape From Riverdale": This is how the end of the world begins… Harvey Award-winning writer Roberto Aguirre-Sacasa (Carrie, Archie meets Glee) and Eisner-winning artist Francesco Francavilla (Batman, Black Beetle) take Archie and the gang where they've never been before — to the grave and back! A horrific accident sets off a series of grim events and Sabrina the Teenage Witch must try to repair the unspeakable evil her spell has unleashed. Gasp in horror as Riverdale faces an impending zombie Arch-pocalypse in this reprint of the award-winning, sold-out first issue! But be warned, kiddies, this one's not for the faint of heart! For TEEN+ readers.
32pgs, B&W
ASPEN MLT
MICHAEL TURNER'S FATHOM: THE ADVENTURES OF ERNIE—HCF 2014 EDITION
(W) Vince Hernandez (A/CA) Agnes Garbowska
A completely brand new and unexpected Fathom tale for fans of all ages! Join none other than Fathom's Ernie the Seahorse as the playful ocean dweller finds himself wrapped up in a magical Aspen-universes-spanning adventure that will test his limits! For the first time ever, Aspen Comics' is excited to offer fans and readers a unique comic and coloring book that includes a crafted full length story geared for children to color, plus added puzzles, mazes and other fun-filled activities for kids of all ages! It's the perfect treat for the Halloween holiday!
32pgs, B&W
AVATAR PRESS
MAX BROOOKS' EXTINCTION PARADE #1—HCF 2014 EDITION
(W) Max Brooks (A/CA) Raulo Caceres
Best-selling author Max Brooks (The Zombie Survival Guide, World War Z) takes the zombie genre to a whole new level with Extinction Parade, featuring the art of superstar Raulo Caceres (Crossed). As humans wage a losing fight against the hordes of the subdead, a frightening realization sets in with the secretive Vampire race: their "food" is dying off. This is the story of the Vampires' decent into all-out war with the mindless hungry hordes of the zombie outbreak, with humanity caught in the middle. Extinction Parade introduces the "Vampires vs. Zombies" sub-genre with three species in mortal conflict. This is how a species dies…
MATURE THEMES
32pgs, FC
DC COMICS
SCOOBY DOO TEAM-UP #1 FEATURING BATMAN—HCF 2014 EDITION
(W) Sholly Fisch (A/CA) Dario Brizuela
Just in time for Halloween, fans of all ages can get this FREE special edition of the first issue of the fan-favorite, all-ages series that features teams-up with the Scooby-Doo gang and the greatest heroes of the DC Comics Universe! Rumors of a giant bat-creature bring Scooby and the gang on the run — but Batman and Robin are already on the trail of their old foe, the monstrous Man-Bat. Before long, the crooks behind a fake bat-creature will come face-to-face with the real thing… with the good guys caught in the middle!
32pgs, FC
BATMAN: LEGENDS OF THE DARK KNIGHT HALLOWEEN SPECIAL—HCF 2014 EDITION
(W) Jeph Loeb (A/CA) Tim Sale
Just in time for Halloween, fans can get this FREE excerpt from the first chapter of the critically acclaimed graphic novel, Batman: Haunted Knight, which features dark tales of horror and intrigue featuring Batman facing off against his most demented and wicked foes. Taking place on the most evil of holidays, Halloween, the Dark Knight Detective confronts his deepest fears as he tries to stop the madness and horror created by Scarecrow, the Mad Hatter, the Penguin, Poison Ivy and the Joker.
32pgs, FC
GRAPHIX / SCHOLASTIC, INC.
GRAPHIX SPOTLIGHT: GOOSEBUMPS—HCF 2014 EDITION
(W) R.L. Stine (W/A) Jill Thompson
Jill Thompson, the award-winning creator of the Scary Godmother series, brings her quirky humor and madcap illustrations to "One Day at Horrorland," where a family lost in an amusement park finds the rides a little too creepy, and a little too real!
32pgs, B&W
IDW PUBLISHING
MY LITTLE PONY: FRIENDSHIP IS MAGIC—HCF 2014 EDITION
(W) Jeremy Whitley (A) Tony Fleecs (CA) Amy Mebberson
The Cutie Mark Crusaders go to the one creature that might just be crazy enough to help them get their cutie marks… Discord! Is he up to the task? Find out in this madcap adventure, perfect for all ages!
32pgs, FC
MARVEL COMICS
MARVEL COMICS #1 (1939)—HCF 2014 EDITION
Action! Mystery! Adventure! Reprinting the tale that started it all and sparked 75 years of storytelling in the Mighty Marvel Manner! Celebrate Marvel's 75th Anniversary with the very first appearance of two titanic Marvel mainstays — android hero the original Human Torch, and aquatic anti-hero Namor, the Sub-Mariner! Reprinting material from Marvel Comics #1 (1939)!
32pgs, FC
MARVEL SUPER HEROES SECRET WARS #1—HCF 2014 EDITION
Experience the ground-breaking 1984 classic again — or for the very first time! Under the watchful eye of an all-powerful being, the Marvel Universe's greatest heroes and vilest villains are transported away to a mysterious planet known only as "Battleworld". The only way to escape? Destroy their enemies! Now, Spider-Man, Captain America, Thor, Wolverine and more must battle to the death against Ultron, Galactus, Kang, Doctor Doom and many more! Don't miss the first issue in the genre-defining crossover that changed the Marvel Universe forever!
32pgs, FC
VIZ MEDIA
RESIDENT EVIL: THE MARHAWA DESIRE—HCF 2014 EDITION
(W/A/CA) Naoki Serizawa
The highly virulent C-virus became a global disaster, but where did the outbreak start? In this prequel to the hit Resident Evil 6 game, the terrifying origins are revealed! At the prestigious and elite Marhawa High School in Singapore, a female student suffers a horrifying transformation. Called in to investigate, Professor Doug Wright and his nephew Ricky find themselves caught up in a deadly and growing tragedy. As things get rapidly out of hand, Chris Redfield and his team from the Bioterrorism Security Assessment Alliance arrive on the scene, while behind it all a mysterious figure looms…
32pgs, B&W
ZENESCOPE ENTERTAINMENT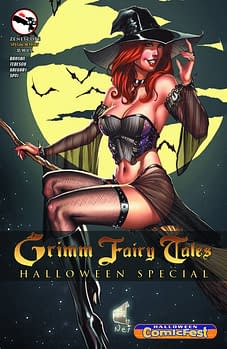 GRIMM FAIRY TALES HALLOWEEN SPECIAL—HCF 2014 EDITION
(W) Joe Brusha, Ralph Tedesco (A) Jean-Paul Deshong & Various (CA) Mike Debalfo
A special reprint of the first ever Grimm Halloween Special! A couple is granted one wish for their dreams to finally come true only to have that wish turn into a complete nightmare! Now Sela must try to stop Belinda's act of evil before more lives are destroyed. From the original writers and creators of Grimm Fairy Tales, Joe Brusha and Ralph Tedesco, comes this re-telling of the classic story "The Monkey's Paw", retold with a terrifying Zenescope twist that readers have come to love!
7×10, 48pgs, FC
Mini-Comics:
ACTION LAB COMICS
VAMPLETS: THE UNDEAD PET SOCIETY—HCF 2014 MINI-COMIC
(W) Gayle Middleton, Dave Dwonch
(A) Amanda Coronado, Bill Blankenship (CA) Gayle Middleton, Bill Blankenship
Beware the Bitemares! Vampyres have always been obsessed with their pets, but now a new threat has arisen! Someone is releasing Bitemares all over Gloomvania, causing chaos in their wake. Who will be able to stop them, and what secret connection do they have to Cinder the Vampyre Kitten? The next chapter in the Vamplets saga starts HERE!
Mini-Comic, 6×9, 12pgs, FC
ARCHIE COMICS
BETTY & VERONICA—HCF 2014 MINI COMIC
(W) Dan Parent (A) Dan Parent, Rich Koslowski (CA) Jeff Schultz, Tito Pena
It's a dark and stormy night — a fitting night for Betty and Veronica to stay inside and have a scary movie festival! But things go from "reel" to real when Archie, Jughead and Reggie try to crash the girls' private party — and come face-to-face with an axe-wielding maniac! Is everything as it seems, or is it just a case of the boys' imaginations running wild? Find out in "An Axe to Grind!"
Mini-Comic, 6×9, 12pgs, FC
BOOM! STUDIOS / KaBOOM!
BOOM! STUDIOS HALLOWEEN SPOOOKTACULAR—HCF 2014 MINI-COMIC
(W) Bryce Carlson, Various (A) Nichol Ashworth, Various
No tricks here, just treats as BOOM! Studios imprints KaBOOM! and Archaia offer up spooky tales from Adventure Time, Peanuts, and Jim Henson's Fraggle Rock in this mini-comic collection arriving in time for Halloween!
Mini-Comic, 6×9, 12pgs, FC
DARK HORSE COMICS
PLANTS VS. ZOMBIES: TIMEPOCALYPSE—HCF 2014 MINI-COMIC
(W) Paul Tobin (A/CA) Ron Chan
Crazy Dave-the babbling-yet-brilliant inventor and top-notch neighborhood defender-helps his niece, Patrice, and young adventurer Nate Timely fend off Zomboss's latest global attack in Plants vs. Zombies: Timepocalypse! This new, standalone tale will tickle your funny bones and thrill . . . your brains! The hit video game continues its comic-book invasion!
Mini-Comic, 6×9, 12pgs, FC
IDW PUBLISHING
ANGRY BIRD COMICS—HCF 2014 MINI-COMIC
(W) Nathan Crosby (A) Ivan Portier (CA) David Baldeon
When Professor Pig mistakenly electrifies all the pigs in the graveyard, he unwittingly creates Zigs… zombie pigs with only one need — Eggs! Can Red and the rest of the Angry Birds stop this ghoulish grab at their precious unborn flock? An all-new, all-ages Angry Birds Comics tale just in time for Halloween!
Mini-Comic, 6×9, 12pgs,
ONI PRESS
MERMIN—HCF 2014 MINI-COMIC
(W/A/CA) Joey Weiser
Mermin, the Mer-Man from Mer, returns! In this special Halloween-themed one-shot, Mermin and his human friends introduce Halloween customs to Mer. How will the undersea inhabitants embrace the dry land holiday? What kind of treats will they exchange in place of tricks? And, most importantly, what costumes will everyone wear?
Mini-Comic, 6×9, 12pgs, FC
VIZ MEDIA
LBX: LITTLE BATTLERS EXPERIENCE—HCF 2014 MINI-COMIC
(W/A/CA) Nase Yamato
Welcome to the world of Little Battlers eXperience! In the near future, a boy named Van Yamano owns Achilles, a miniaturized robot made of a new super-strong industrial cardboard. But Achilles is no ordinary LBX. Hidden inside him is secret data that Van must keep out of the hands of evil at all costs!
Mini-Comic, 6×9, 16pgs, FC
And… Adventure Time buttons!
So.. what will you be hankering for?