Gabriel Hardman Talks the Terrifying Heart of 'Aliens: Dust to Dust'
Gabriel Hardman is the writer and artist and the Dark Horse series Aliens: Dust to Dust. I had a chance to talk with him about the new series, his history with the franchise, and how he writes scripts for himself.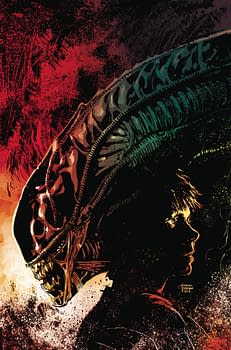 DAN WICKLINE: How familiar were you with the Aliens franchise prior to getting this project? What are your thoughts on the different films we've gotten so far, both regular series, versus and prequels, and the comics that have been published up until now?
GABRIEL HARDMAN: I'm a huge fan of the first two movies. Ridley Scott's Alien and James Cameron's Aliens are not only beautifully crafted in their own unique ways, they're two of the most re-watchable movies of all time. The films that followed are in many ways a mixed bag, but that's not exactly news. They often struggle to subvert the central concept of the first film, and that's usually misguided. On the other hand, I think the comics have more room to play with the format and still stay true to what makes Aliens great.
DW: What do you think it is about the series and the Xenomorphs that makes them so popular? What elements from the films did you feel were essential to having in your new series?
GH: The xenomorphs are terrifying. It's that simple. But the catch is, you can't explain them. You can't demystify them. They need to be an unrelenting, eyeless monster or their power goes away. I want them to be a horrifying force of nature in my book — that's how they're effective.
DW: What can you tell us about Dust to Dust? Where would it fit into the franchise? And what history of the series do readers need to know to jump into the new series?
GH: Readers don't need to know anything going in. It's a very human story of a 12-year-old boy and his mother trying to escape a colony town on a semi-terraformed planet overrun by xenomorphs. It's a visceral story of horror, loss and survival. And be warned, it's going to be intense.
DW: The story seems to be a mother-son story at heart. What lead you to this idea and theme? Does having a child in the story change the horror aspect of the series?
GH: The story is from the point of view of the 12-year-old, not the parent. We all have the experience growing up not being a little kid anymore but also not having the power or agency to make real decisions. I wanted to tell a story that tests this boy, forcing him to grow up fast in the midst of a very horrific situation.
DW: Aliens is a licensed property and most of the time there are some folks higher up that want to approve the story along the way. How does that work with you doing both writing and artists on the project? Are you doing full scripts and getting them approved before drawing? Is this different than how you normally work?
GH: I write full scripts and submit them for approval. It's no different than any other freelance job. Since 2012, I've only drawn books that I also write (or co-write with my wife Corinna Bechko). My editor Randy Stradley and the licensors at Fox have been very supportive of this project, and it's been a great experience so far. There's an idea out there that working on licensed comics involves less creative control than freelance superhero comics, but I haven't found that to be true. Corinna and I have written Planet of the Apes and Star Wars comics and always been allowed to tell the stories we set out to tell. I even wrote and drew a Star Trek story for IDW last year, and it was nothing but a positive experience.
In-continuity superhero comics, on the other hand, can come with crippling story constraints that can be difficult to reconcile. That's why when I work on freelance projects, I prefer books like Aliens and Green Lantern: Earth One where I can tell stories not beholden to that kind of deep continuity.
DW: I'm curious, back in November of last year, Ridley Scott said that the Alien franchise needs to move forward without the Xenomorphs. What are your thoughts about the future of the series and if changing the central aliens would be a good idea to you?
GH: I have nothing but admiration for Mr. Scott, but I respectfully disagree. I think the Xenomorphs are the single element necessary for an Aliens story. Everything around them could theoretically be different but that monster is the inspired element – that's the reason we still love this franchise.
DW: What do you think are the biggest selling points to the new series? If you were pitching it to a group of Aliens fans, why should they pick it up?
GH: I'm using the comics medium the best I know how to tell a scary, intense, visceral story that you won't be able to put down. How does that sound?