Tim Hanley writes for Bleeding Cool;
DC had a big dip in June but remained in double digits, while Marvel rose slightly but continued to languish in a rather paltry total. It wasn't the worst month for either company, but both were far from their best.
Before we get to the numbers, though, I'd like to point out the impressive success of the Kickstarter page for Womanthology, an anthology book featuring all-female creators coming from IDW later this year. When I first heard about their Kickstarter page, I thought "I should link to that in Gendercrunching next week", but then I checked back the next day and they had reached their $25,000 goal in less than 24 hours. They currently sit at over $55,000, five days in. This means that people have shelled out tens of thousands of dollars just to be able to buy a book by female creators… while a copy of the book was an available prize at certain donation levels, most donors are going to have to have to then buy a copy of the book when it comes out ON TOP of their donation. That people have given so much money just for this book to exist is an encouraging sign for women in comics.
DC COMICS
It was a rollercoaster of a month for DC, and ultimately they are down a fair amount from May. In June 2011, DC released 89 new comic books featuring 739 credited creators, 659 male and 80 female. Here are their overall stats:
DC fell 1.7% from May, down to 10.8%, for the second worst month they've had so far this year. The sea of Flashpoint books that came out didn't help at all, which is no surprise given that there were next to no female creators in the solicits. Apart from a colorist or assistant editor here and there, the Flashpoint books have been remarkably ladyless. Let's break down the numbers by category:
Category
Male
Female
#
%
#
%
Cover
148
93.7
10
6.3
Writer
110
95.7
5
4.3
Penciller
120
97.6
3
2.4
Inker
122
97.6
3
2.4
Colors
87
82.9
18
17.1
Letterer
93
98.9
1
1.1
Editor
79
81.4
18
18.6
Asst. Editor
42
59.2
29
40.8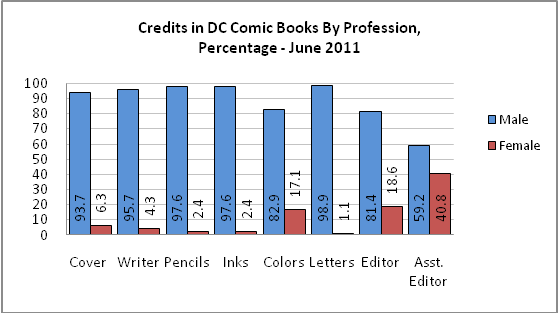 What Went Up: A lot actually, though mostly by small amounts. Co>ver artists gained 0.4%, pencillers were up 0.1%, inkers rose 0.4%, and assistant editors jumped 1.7%. The only decent gain was colorists, who went up 2.8%.
What Went Down: Writers and letterers saw minor drops, but the big fall was editors, who were down 11.7%. This is a substantial drop, and I think a lot of that is the fault of Flashpoint…. there were 25 editor credits on the Flashpoint titles, and they were all men.
Overall, it was slight variations plus or minus across the board for DC in June, except for the big drop in editors. With two more months of Flashpoint and the majority of the rest of DC's titles remaining the same as storylines get finished up before the relaunch, I doubt there's going to be much change at DC until September, so expect middling numbers for a little while.
MARVEL COMICS
I was hoping for a big rebound after last month's new low for Marvel, but they rose only slightly. In June 2011, Marvel released a whopping 100 new comics with 843 credited creators, 770 male and 73 female. The percentages look like this:
So they went up 0.3%, but that's not terribly exciting. An 8.7% is still really low, especially when they put out ONE HUNDRED comics. You'd think that they could have found some ladies for all those extra gigs, but nope. Plus Marvel doesn't have a Flashpoint to blame… the Fear Itself tie-ins aren't doing too terribly for female creators. It's just bad all around. Here is the table and chart for the categories:
Category
Male
Female
#
%
#
%
Cover
187
92.1
16
7.9
Writer
115
94.3
7
5.7
Penciller
127
96.9
4
3.1
Inker
137
96.5
5
3.5
Colors
107
87
16
13
Letterer
102
100
0
0
Editor
94
87
14
13
Asst. Editor
39
63.9
22
36.1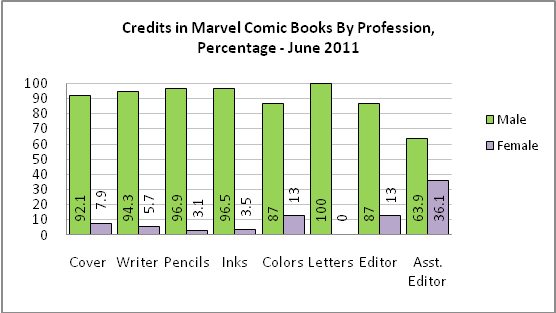 What Went Up: Almost everything, but nothing huge. Cover artists, writers, and inkers all rose 1% or less, while colorists, editors, and assistant editors increased between 1.1% and 1.8%.
What Went Down: Letterers remained constant with their usual zero, which is as flummoxing as ever. Pencillers dropped 1.5%, a decline of nearly a third from May.
These are some impressively consistent numbers… 1.8% is the biggest differ>ence, and that's almost negligible. The slight increases across the board helped Marvel's overall total, but it remains very low. They were on the cusp of double digits just two months ago, and while I hope that July will be a return to those kind of numbers, I'm not terribly optimistic.
DARK HORSE
Continuing our tour of smaller publishers, this month we're visiting Dark Horse. They actually did well, which was a pleasant surprise after Image's dismal showing last month. In June 2011, Dark Horse put out 17 new comics featuring 166 credited creators, 150 men and 16 women. Here are their Hellboy inspired totals:
They beat Marvel! Putting up a 9.6% strikes me as very respectable for a smaller publisher. It's certainly squarely in the range of what we've seen from the Big Two. Their numbers are even more impressive when broken down:
Category
Male
Female
#
%
#
%
Cover
29
90.6
3
9.4
Writer
35
92.1
3
7.9
Penciller
33
94.3
2
5.7
Inker
31
91.2
3
8.8
Colors
26
83.9
5
16.1
Letterer
19
100
0
0
Editor
18
85.7
3
14.3
Asst. Editor
18
63.9
22
36.1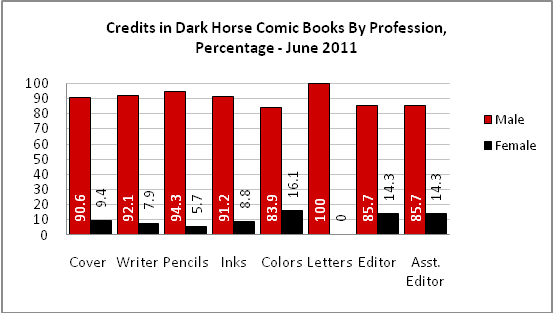 Dark Horse KILLED DC and Marvel in all of the big name categories that get you featured in the solicits and on the cover… their percentages for cover artists, writers, pencillers and inkers were considerably higher than the Big Two. DC beat them in the last four categories (though just by a percentage point or so for colorists and letterers), but Dark Horse had higher or equal totals to Marvel for colorists, letterers, and editors! Assistant editor was the only category where Dark Horse was off the mark. Good work, Dark Horse… that's a damn fine showing.
NOTES
The busiest book of the week at DC was the JSA 80-Page Giant 2011 with 25 creators, though only 1 was a woman. At Marvel it was Thunderbolts #159 with 16 creators, 2 of them ladies.
It was the usual two for the book with the highest percentage of female creators, with Emma #4 (3 of 4) at Marvel and Birds of Prey #13 (4 of 7) at DC. In second place, X-23 #11 was an impressive 3 of 6 for Marvel, while iZombie #14 was 2 of 6 for DC.
Please contact me if you'd like to see the full stats spreadsheets. You can visit me at Straitened Circumstances; to learn more about this statistics project and its methodology click here, and to see the previous stats click here.
Enjoyed this article? Share it!