The epic follow-up to the Harvey Award-nominated miniseries Hit: 1955, is releasing from BOOM! Studios this March. Hit: 1957 is the next chapter in Los Angeles' violent past, written by Bryce Carlson, with art by Vanesa R. Del Rey. The story will take readers later in the violent decade of change for Los Angeles with familiar faces, new threats, and more sharp and smart noir.
The story follows Mickey Cohen, who has laid low since his release from prison, but Det. Harvey Slater has bigger plans. The real fight for Los Angeles rages on in an intense new story. Slater's being hounded by Internal Affairs, Bonnie Brae is missing, and everything is falling apart at the seams.
BOOM! Studios Editor-in-Chief Matt Gagnon spoke about the book by saying,
Hit: 1955 took us deep into the gritty past of the City of Angels, and we couldn't wait for Bryce and Vanesa to continue the story of their clandestine LAPD hit squad. Vanesa's artwork is stunning, Bryce's noir-infused writing is sharp, and the stakes are even higher as we find Harvey Slater and company in 1957. We can't wait for you to join us for another Hit!
Though this is my first time hearing about Hit: 1955 in general, it certainly seems like an action packed story. The cover alone screams, "read me" with the uniquely designed characters intensely glaring at you. Hit: 1957 #1 arrives in comic shops on March 25th with a main cover by series artist Vanesa R. Del Rey.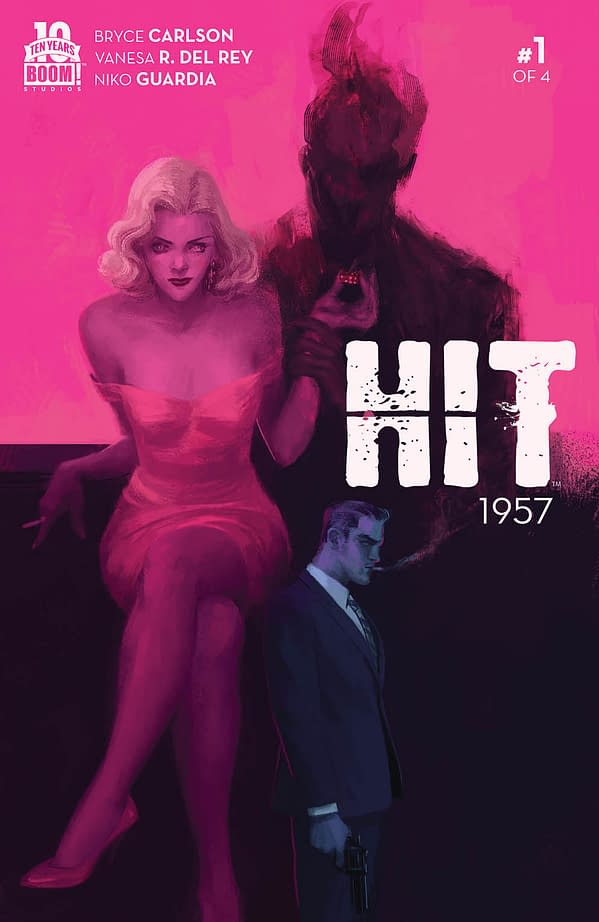 Christine Marie is a Staff Writer at Bleeding Cool, and bibliomaniac with a love for all things creative. She hopes to one day be a Superhero/Disney Princess/Novelist. You can find her on Twitter and Instagram @AWritersWay or on her blog writerchristinemarie.wordpress.com.
Enjoyed this article? Share it!