Ghost Rider & Wolverine In Fall Of X Event, Weapons Of Vengeance
Ghost Rider/Wolverine: Weapons Of Vengeance is a new event comic from Marvel that will follow the Fall Of X event, from Benjamin Percy and Geoff Shaw.
---
Ghost Rider/Wolverine: Weapons Of Vengeance is a new event comic launching from Marvel Comics in August that will spin out of the upcoming Fall Of X event, written by Benjamin Percy who writes both the Wolverine and the Ghost Rider books right now, and drawn by Geoff Shaw of Thanos, Guardians Of The Galaxy, God Country and Crossover.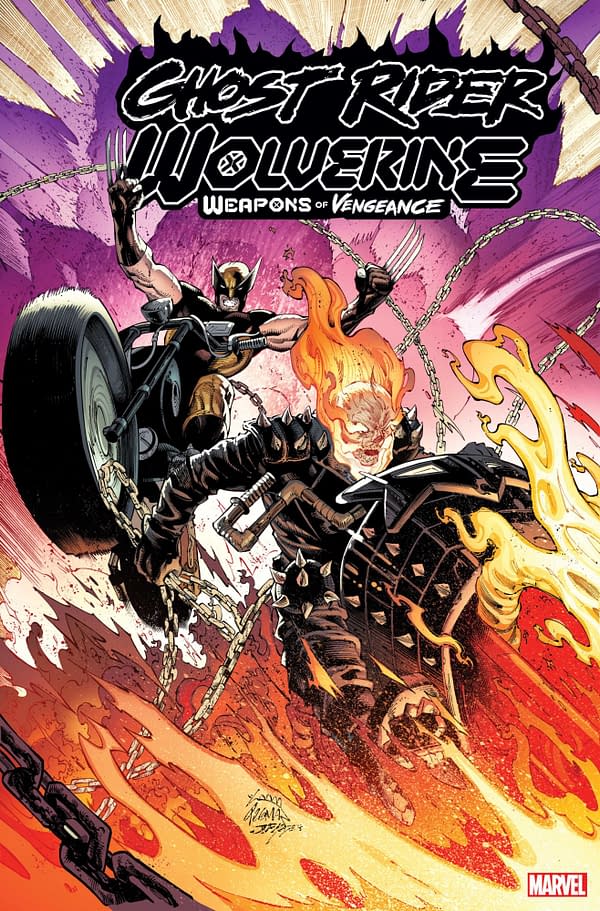 The story will kick off in August's GHOST RIDER/WOLVERINE: WEAPONS OF VENGEANCE ALPHA where Percy will team up with acclaimed artist Geoff Shaw (Thanos, Guardians of the Galaxy) to reveal Wolverine and Johnny Blaze's first encounter! Back when Logan was still learning what it meant to be an X-Man and Johnny was still reeling from his demonic transformation, the pair fought side by side against a terrifying supernatural threat. Now in the present, Wolverine is on the run after the shocking events of FALL OF X while Johnny is following a path of destruction. Their paths will collide again when their past enemy resurfaces deadlier than ever! Do Ghost Rider and Wolverine have what it takes to put them down once more? And what secrets will they uncover when their hunt leads them to an ultra-secret and hellish branch of the infamous Weapon Plus program?! After GHOST RIDER/WOLVERINE: WEAPONS OF VENGEANCE ALPHA, the story will unfold in the pages of GHOST RIDER #17 and WOLVERINE #36 before coming to a fiery end in GHOST RIDER/WOLVERINE: WEAPONS OF VENGEANCE OMEGA.

"Wolverine is metal. Ghost Rider is metal. Together their adamantium and chrome weigh in as HEAVY METAL!" Percy explained. "You know how Metallica and Iron Maiden have toured together, shredded out songs, wailed on music videos? This is a little like that. I write the sheet music that Geoff Shaw brings to pyrotechnic, guitar-smashing life. You're in for a head-banging good time, I promise. This story – WEAPONS OF VENGEANCE — not only unites Logan and Johnny in the present, but also tells the story of their first (never before seen!) first meeting. Here are the quick and dirty liner notes: When Wolverine investigates the possibility of a new Weapons Plus program—one that experiments and specializes in the arsenal of Hell—he finds himself conscripted as a weapon of vengeance. And the only one capable of stopping him is Johnny @#$%& Blaze. Rev your engines, pop your claws."
Every event needs an Alpha and an Omega of one sort or another these days…