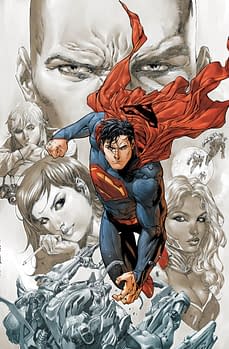 Although Andy Diggle and Tony S Daniel are lined up to start their Action Comics run with issue 18, I understand that Grant Morrison and Rags Morales will need one more issue to finish their story. Which means Diggle and Daniel's debut will be delayed to April and issue 19.
So expect some kind of retro solicitation to come down the pipe. Once they've worked out exactly what Grant and Rags are doing.
Here is the current solicitation. Looks it will be one more month before Andy Diggle will be the first person to write the US's biggest sci-fi icon and the UK's biggest sci-fi icon* simultaneously. And no one has done that before…
ACTION COMICS #18
Written by ANDY DIGGLE
Art by TONY S. DANIEL and BATT
Cover by TONY S. DANIEL
1:25 B&W Variant cover by TONY S. DANIEL
"We Can Be Heroes" blank variant cover available
On sale MARCH 6 • 40 pg, FC, $3.99 US • RATED T
Combo pack edition: $4.99 US
Retailers: This issue will ship with four covers. Please see the order form for more information.
• Welcome the new creative team of writer Andy Diggle and artist Tony S. Daniel!
• Inside the nefarious mind of Lex Luthor, who bares his scars—but how did he get them?
• Luthor's plan to eradicate Superman may make Kal an alien pariah!
• The Oracle awaits at the edge of the Solar System to pass judgment on Superman—and he is not alone.
• You won't believe who comes calling on the final page!
This issue is also offered as a combo pack edition with a redemption code for a digital download of this issue.

*Diddly dum, didly dum, diddly dum, diddly dum…
Enjoyed this article? Share it!