Grayson Panders Like He's Never Pandered Before – And It's Exquisite (SPOILERS)
Grayson is definitely one of the Batgirled titles at DC Comics, a creative vision transforming a character for a specific demographic, with style, elegance and panache.
And also very entertainingly pandering scenes. Such as this one.
And these ones.
Or this one.
Absolutely exquisite. Well the shameless pandering gets turned up a notch in today's Grayson, from Tim Seeley, Tom King and Mikel Janin. And it really is quite exceptional. It starts with this.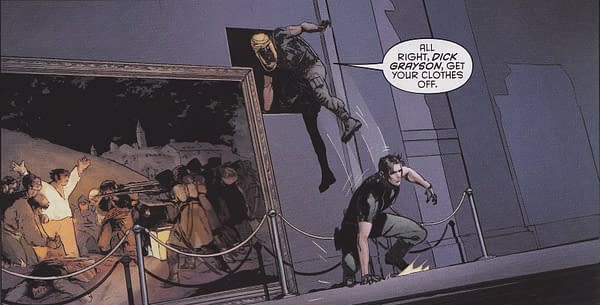 Follows through with this. And then, quite spectacularly, gives you this. I have not the words. Thankfully, that's their job. Quite, quite brilliant. Meme artists, start your engines, I think we've just had a replacement for…
Comics courtesy of Orbital Comics, London. Who will be hosting a signing with Si Spurrier of his new Boom! comic The Spire next Wednesday from 6pm.