It appears that publisher Yen Press is to retranslate the title of their upcoming light novel series, previously known as The Greatest Mao is Reborn to Get Friends by Myojin Katou and Sao Mizuno.
Both the solicited first volume published in a week's time and the second, scheduled for the New Year, will be retitled The Greatest Demon Lord is Reborn as a Typical Nobody.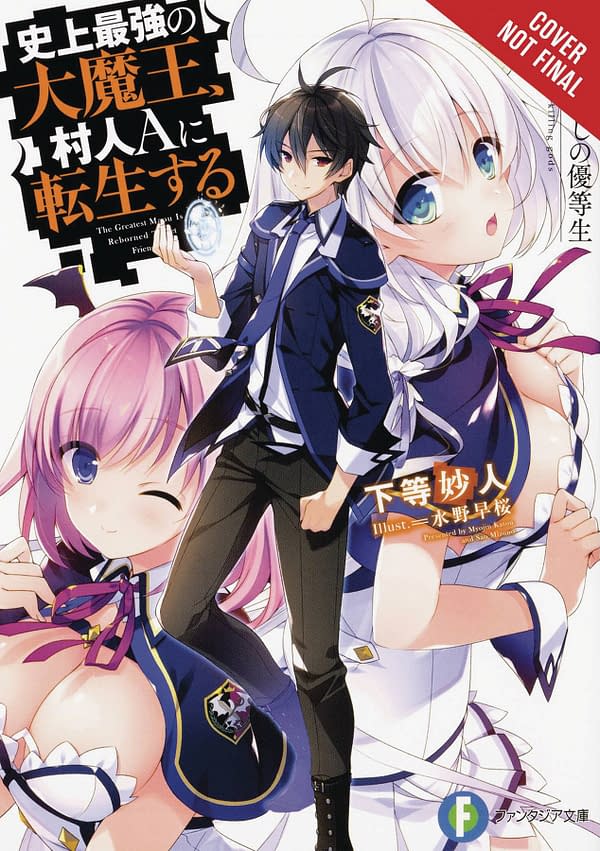 Well, they did say this cover was not final. Here are the new solicitations:
GREATEST DEMON LORD REBORN TYPICAL NOBODY NOVEL SC VOL 01
(W) Myojin Katou (A/CA) Sao Mizuno
The greatest demon lord in all of history, Varvatos, has reigned for several millennia as an absolute ruler. Now, there's only one thing left for him to do…enjoy the life of an average commoner! When he's reincarnated as a villager in a non-descript town, everything seems to be going as he hoped but there's just one slight problem-even when he holds back, Varvatos is still too strong! Soon, rumors about him spread and he's approached by all sorts of men, women, and assailants! The quiet life he's always dreamed of seems far away indeed… Ages 13 And Up, Grades 8 to 17 In Shops: Oct 16, 2019 SRP: $15.00

GREATEST DEMON LORD IS REBORN TYPICAL NOBODY NOVEL SC VOL 02
(W) Myojin Katou (CA) Sao Mizuno
As one of the former leading members in Lydia's troops, Sylphy Marchen begins to suspect that this "Ard" character might just be the reincarnated form of the Demon Lord. When rumors of this dragon slayer reach her ears, Sylphy transfers to his academy, dead-set on telling every last person about Ard's true identity! And as if his hands weren't full enough already, Ard has to come up with a plan to deal with his newest challenge of…being blackmailed for something that happened at the school festival?!

For readers ages 13 and up.In Shops: Jan 08, 2020 Final Orders Due: Dec 31, 2039 SRP: $15.00
Enjoyed this article? Share it!