Green Lanterns #47 Review: A Satisfying End to a Fine Arc
[rwp-review-recap id="0"]
Jessica Cruz has gone full Power Ring, and Simon Baz hopes that he can save his partner from the demon within. She is close to killing the Green World's recreation of the men who killed her friends, and, should this happen, Jesse will be lost to the machinations of Power Ring and Singularity Jain forever. Outside, things seem to be getting worse, and it will be up to John Constantine and Jessica's sister, Sara, to save our heroic Green Lanterns.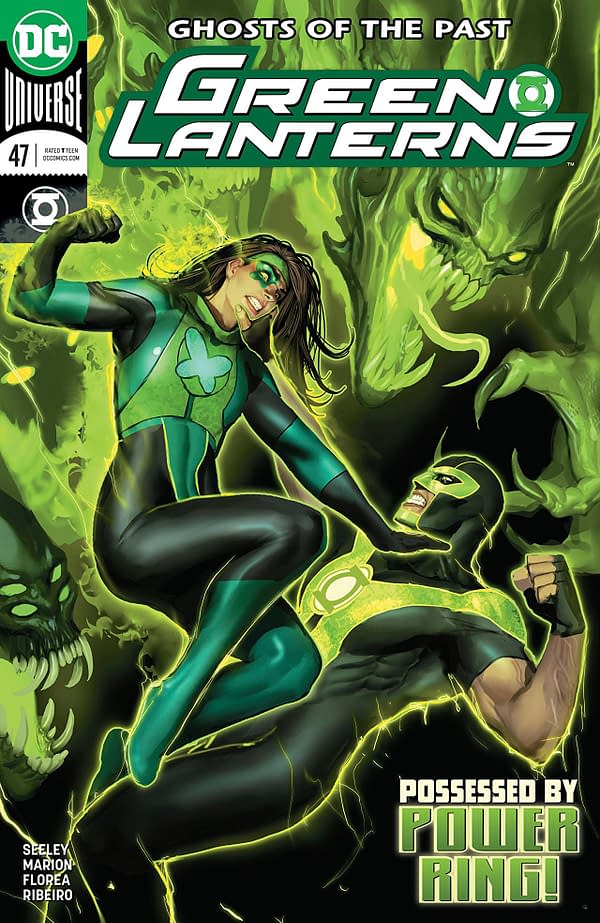 Green Lanterns #47 lands a solidly good finale to this 'Ghosts of the Past' storyline, focusing on the painful tragedy that turned an anxious young woman into a years-long shut-in enslaved to the horror of her memories.
In doing this, it smartly focused on the power of Jessica and Simon's friendship and the strength that comes from this bond. John Constantine, while not playing that big a role in the narrative beyond sending Simon into the Green World, is the snarky levity to this otherwise dark story.
The Justice League is oddly reduced to vague moral support over the course of the tale, but this isn't that big of a niggle. They aren't the focus, so it makes sense. The comic focuses on the bond between Jesse and Simon, and its ending is strong by continuing to do so.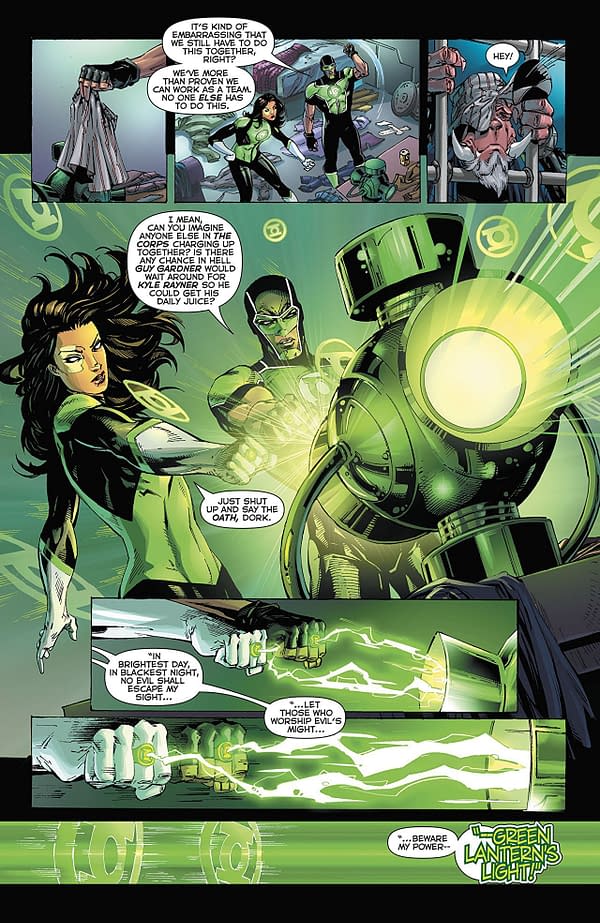 V. Ken Marion's artwork sees this story through to its ending, and it continues to look good in a Jim Lee-esque/the better part of comics' 1990s aesthetic way. While Jesse is drawn rail-thin at times, the line detailing in the characters' faces and the detail given to the Green World more than makes up for any visual shortcomings. Sandu Florea supports this well with good inkwork, and Dinei Ribeiro makes the comic dazzlingly colorful, both making the comic look even better.
Green Lanterns #47 brings a warm and satisfying ending to 'Ghosts of the Past.' The Green Lanterns partnership is strengthened, John Constantine is afforded some good lines, and the ending stinger promises another interesting story ahead. This one gets a recommendation. Give it a read.
[rwp-review-ratings id="0"]
[rwp-review-form id="0"]