Green Lanterns #52 Review: A Corps Divided Against Itself
[rwp-review-recap id="0"]
The Green Lanterns are battling the Ravagers over the aquatic world of Penelo. Guy Gardner, Kyle Rayner, Simon Baz, Jessica Cruz, and Kilowog are surrounded and outgunned by the criminal organization, which is incongruous with what Hal Jordan reported about the Ravagers years ago. Guy Gardner has a plan, but Simon Baz bizarrely runs counter to it and dives into the Ravager capital ship.
Back on Oa, the Guardians of the Universe have discovered something wrong with the Green Lantern Power Battery. Thankfully, Hal Jordan has picked up that something is wrong with the Corps and moves to where Guy, Simon, Jess, Kyle, and Kilowog are fighting the Ravagers.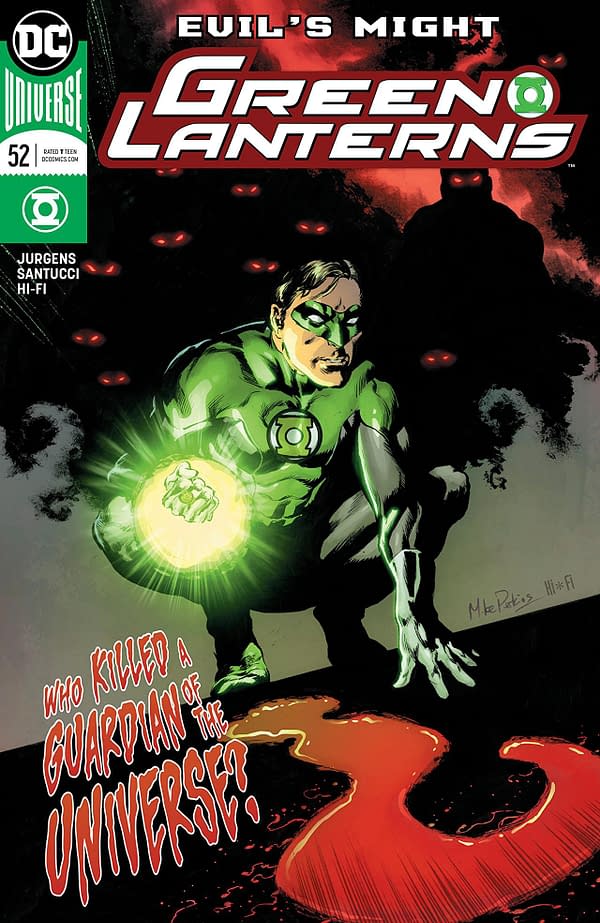 Green Lanterns #52 has the eponymous space cops backed into a corner and at risk of being annihilated altogether. There is something infecting their rings and the power battery. The reader is kept in the dark about the nature of this infection, which also has the Green Lanterns distrusting one another.
There are hints as to the nature of the infection, such as the energy being that keeps manifesting to attack members of the Corps, but even that feels a bit like a red herring.
This is a well-constructed story without a doubt. I'm left engaged and curious. It does seem odd that neither Jess or Simon will tell the other about what their ring is saying, but even that is more or less explained.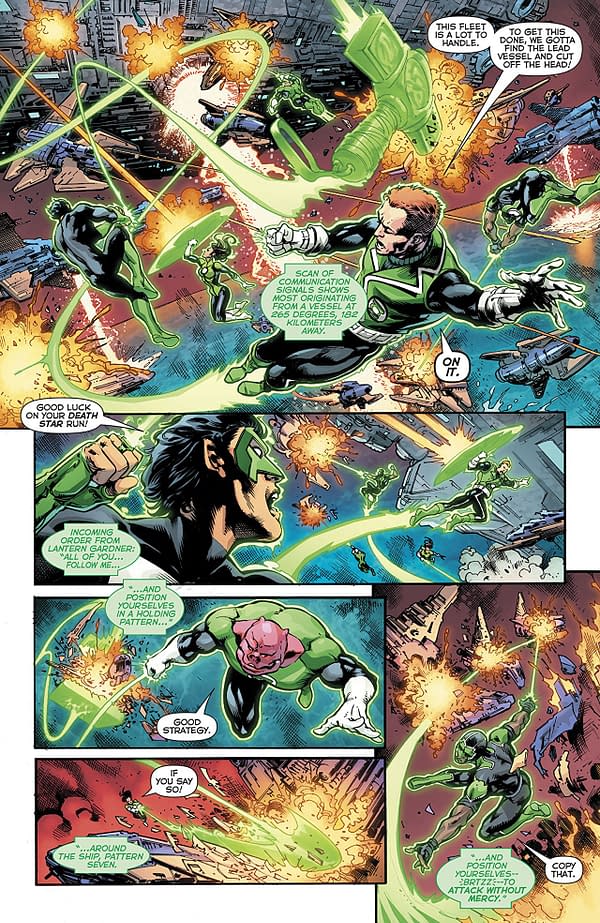 Marco Santucci contributes great artwork to the comic, utilizing his detailed and weighty style to great effect. Some panels are left feeling too busy and almost distracting in the amount of action. That's almost a good problem to have, though, as it shows how much effort was put into the page. Hi-Fi darkens their own color work to a compliment the shadowed and line-heavy style of Santucci, and it works well.
Green Lanterns #52 is another solid showing from Dan Jurgens. The story is interesting, the conflict is tense, and the art looks good. It's an all-around solid comic and earns a recommendation. Check it out.
[rwp-review-ratings id="0"]
[rwp-review-form id="0"]