Confirmed: Gwenpool Latest to Wield Thor's Hammer Mjolnir But You Will Never Guess How
Okay, this is looks like a clickbait title, but I maintain that a clickbait title is one that doesn't deliver on all the enticing possibilities that the headline suggest but honestly, that is not the case. In today's Gwenpool Strikes Back #4, Gwenpool does indeed get to wield Thor's hammer as promised….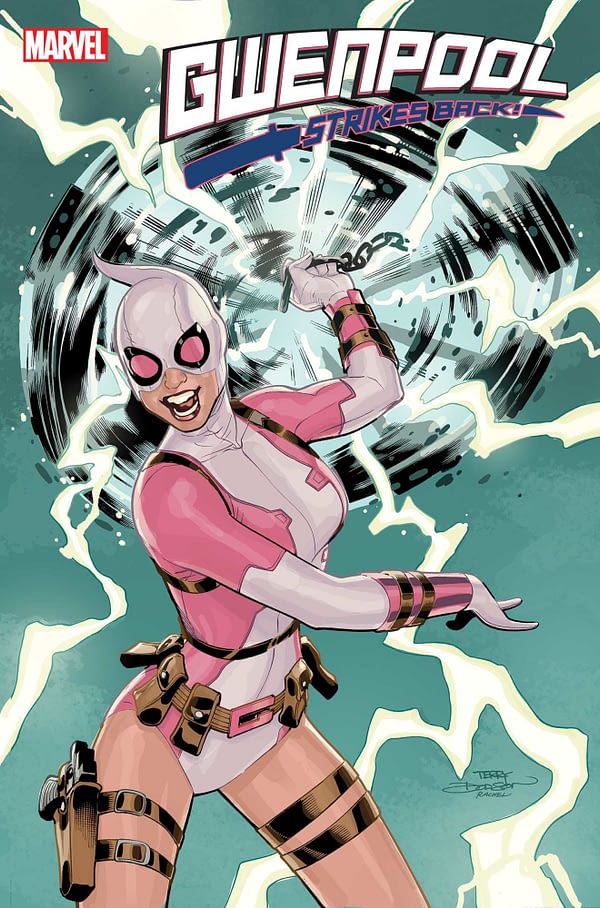 but unless you have read the comic, you will not guess how. Go ahead, go read it and come back.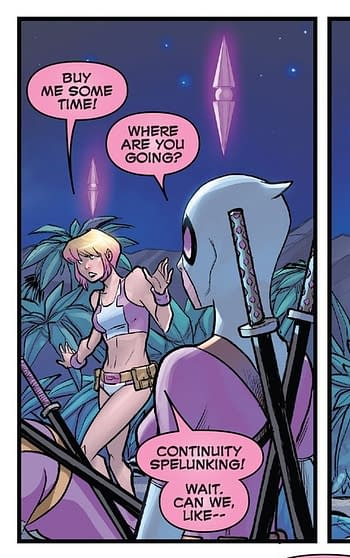 See? Toldja. I mean there's a lot more in there, as we get a League Of Extraordinary Gwenpools, a genuine guest appearance of Chris Hastings, and a visit to that original cover by Chris Bachalo all those years ago. And, yes, a way for Gwenpool to wield Mjolnir, Thor's hammer, in a battle with the Hulk.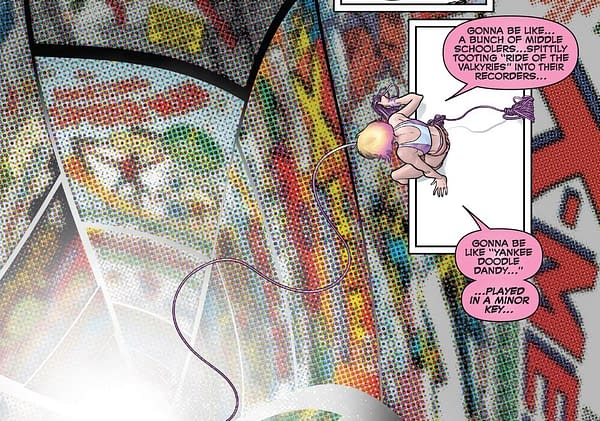 First she has to go spelunking into continuity, while all the other Gwenpools buy her time… Then she has to find Malekith after he had defeated Thor. Remember that? When Malekith went at Thor with a certain blade?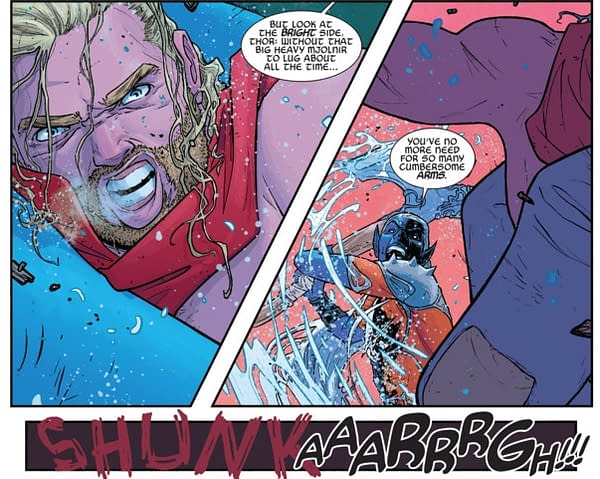 Yeah we all remember.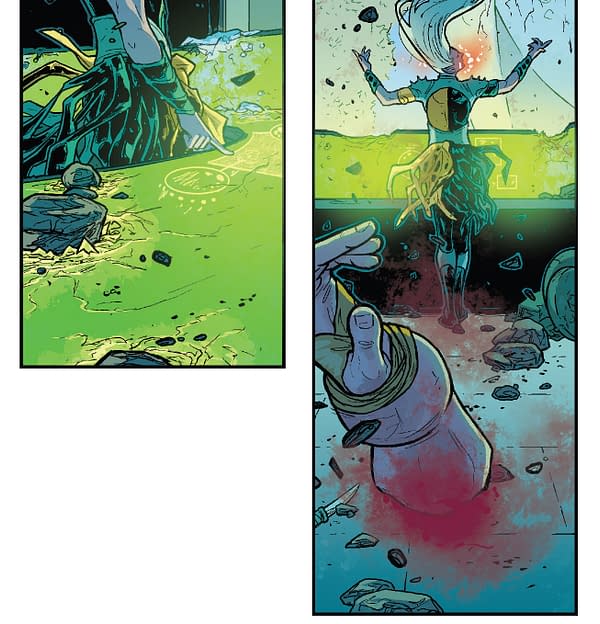 And how Malekith was oh so proud of his trophy.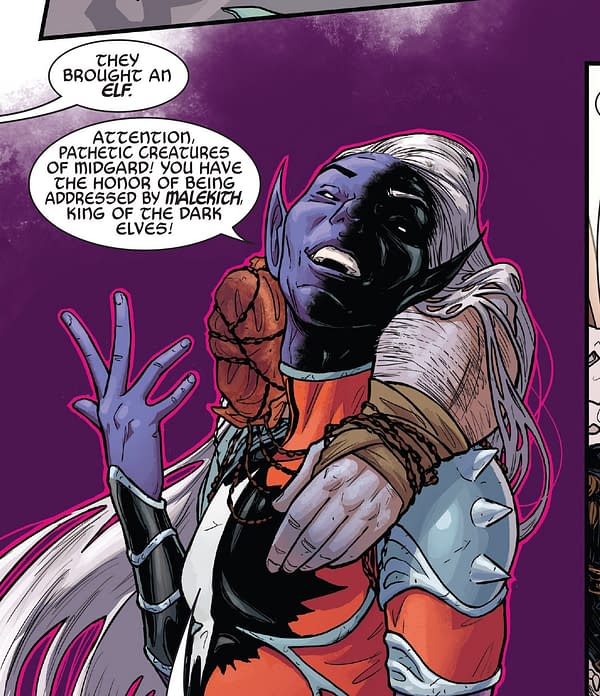 So Gwenpool makes her journey all the way back five years or so…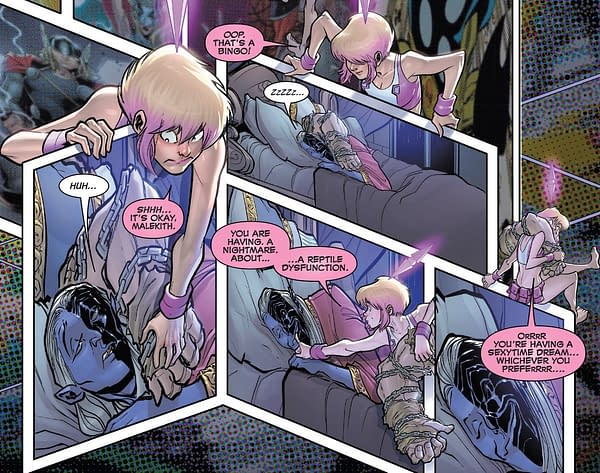 And yes, by now, you know what she did next.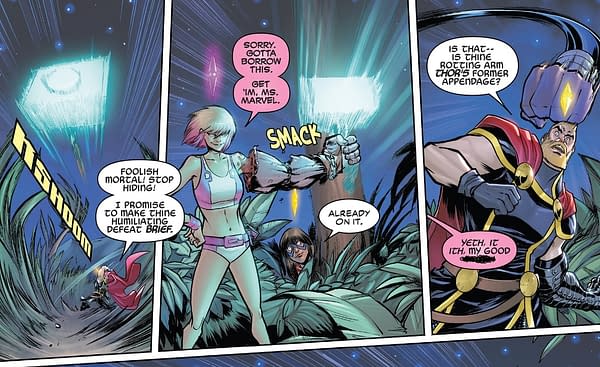 Because that is now a very worthy, albeit rotting arm indeed. Now all she has to do is get it back in time for Malekith to burn it…
GWENPOOL STRIKES BACK #4 (of 5)
LEAH WILLIAMS (W) • DAVID BALDEÓN (A)
Cover by TERRY DODSON
Whosoever holds this hammer, if she be awesome, shall possess the power of GWENPOOL! That's right—Gwen's got her mitts on Mjolnir and she's got a list of heads that need hammering! Her mission to make herself known in the Marvel Universe at all costs gallops past all reason!
32 PGS./Rated T+ …$3.99