Hal Jordan and the Green Lantern Corps #43 Review: He's Right Behind Me, Isn't He?
John Stewart and petitions the Guardians to respond to the new Darkstar threat, and the Guardians of the Universe grant John a retinue of Green Lanterns to take to the Controllers and shut down their operation. This contingent of Lanterns includes Hal Jordan, Guy Gardner, and Kyle Rayner. However, on the way to the Controller's world, the Darkstars exhibit their phase jumping ability and begin teleporting away with Green Lanterns. They take all back to Mogo except one: Hal Jordan.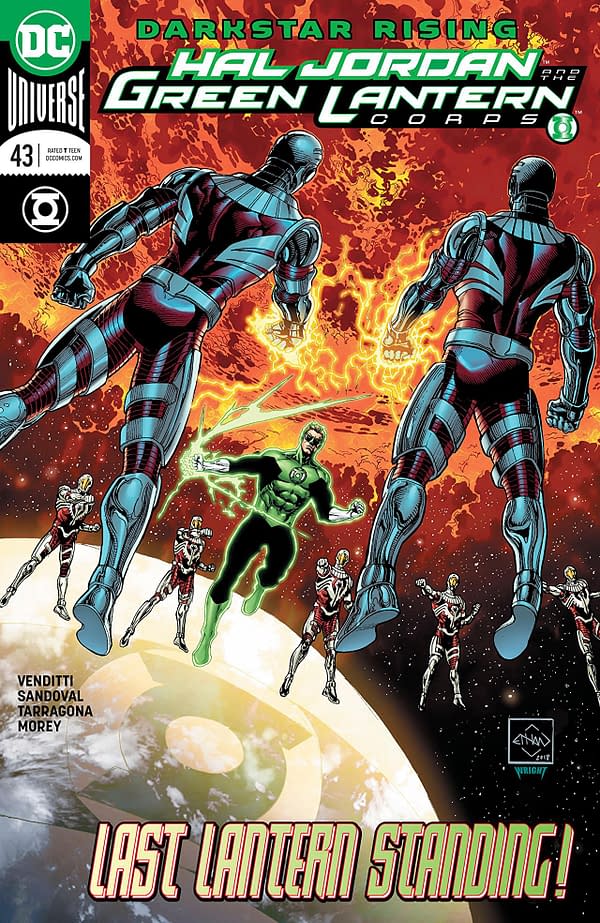 This issue brings the Green Lantern Corps into direct contact with these new Darkstars almost immediately—and then it shows just how outclassed the Green Lanterns may be in the face of this new threat.
Worse yet, Hal Jordan sees how many Darkstars there are, and there are a lot of the new Darkstars. Plus, the active members are making more Darkstar mantles all the time.
The issue becomes personal too, as Tomar-Tu is the Darkstar which confronts Hal Jordan. Tomar is in no hurry to attack Hal, instead wanting to show him and the other Green Lanterns what motivates this new self-proclaimed law enforcement organization.
As such, this issue raises the stakes both physically and emotionally. That covers the basics of how best to handle an issue such as this. Even if the issue was a little light on plot advancement, the development was quite good.
Rafa Sandoval, Jordi Tarragona, and Tomeu Morey return to this issue to ply their gorgeous work to this book. As always, the world is highly detailed, textured well, and have this epic and otherworldly style to them. Admittedly, the occasional side profile looks a little weird, but that's rare. The color work of Morey is bright and cosmic in its own right. This artistic team is among my favorite working comics right now.
Hal Jordan and the Green Lantern Corps #43 is another impressive issue from one of DC's best currently-running titles. The threat is interesting, the stakes are high, and the leads are as compelling as always. This one gets another recommendation. Give it a read.