The world seems like a terrible and strange place sometimes, but at Bleeding Cool you can still read all about comics, television shows and movies. We have also been covering multiple accusations by many people in and around comic books of sexual harassment, grooming and worse. Bleeding Cool EIC Kaitlyn Booth has held the firm line that we don't repeat accusations on Bleeding Cool without the agreement of those making the claims. Sometimes that means we run stories that others do not, sometimes we don't run stories that others do, sometimes we run stories later. The Daily Lying In The Gutters, remains a long-running run around the day before and the day ahead. Yesterday, dominated by comics chat over Harkey Quinn, Alan Scott and Marvel planning. You can sign up to receive it as an e-mail here.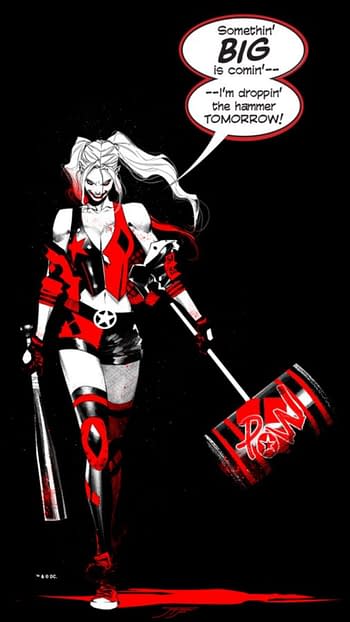 Harley Quinn, Alan Scott, More Marvel Gossip and the ten most-read stories yesterday
Comics chatter dominating traffic yesterday, with a new Harley Quinn announcement getting folk all of a twitter.
One year ago today
Comic Book Events happening today
There would also have been signings, appearances, symposia, all manner of comic book-related events. But a few have gone online, and here are some still happening today, on the Daily LITG.
Comic Book birthdays today
There may not be much of a party atmosphere right now. All depends on which state you are living in. But comic folk are still getting older and still celebrating that special date. With eleven years for us as well.
Tom DeFalco, comics writer, former EIC of Marvel.
Abigail Brady, writer of Transrealities.
Ryan Browne, of Curse Words, God Hates Astronauts.
Lisa Y. Wu of A Wave Blue World.
Joe Harris, writer of Great Pacific and The X-Files: Season 10.
Adam McGovern, writer of Nightworld.
Olly Cunningham, writer/artist of Black Lines.
Jim Pascoe, writer of Cottons: The Secret of the Wind.
Gerry Giovinco, former publisher of Comicon, current publisher of CO2 Comics.
Subscribe to our LitG Daily Mailing List
Interested in more discussion about Harley Quinn, Alan Scott, comic book pledges, and what this all means? Subscribe to our LitG Daily Mailing List. And we'll see you here tomorrow.
Enjoyed this article? Share it!