Get A Harley Quinn Fortnite Skin From Batman/Fortnite Comic (VIDEO)
It was my now-thirteen-year-old daughter Alice who got me playing Fortnite Battle Royale. Every week we'll still play together, though tonight Daddy will look a little different. As a freemium game, I have resolutely not paid a single cent to play the game, but today I did – because I bought the first issue of the Batman/Fortnite comic book from DC Comics, from my local comic book store, Piranha Comics in Kingston-Upon-Thames, cycled back and popped in the code. I even made a very poor video below to demonstrate the process.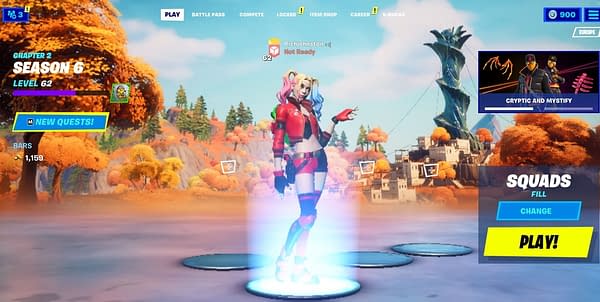 And this is the version of the Harley Quinn character you get to play as. Subsequent issues will provide weapons, tags, costumes and other skins no doubt.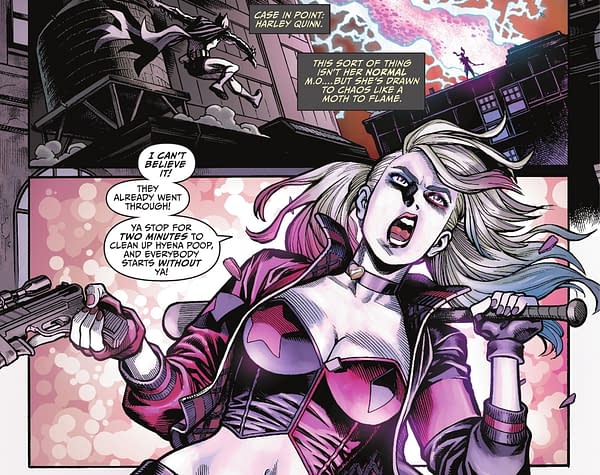 As for the comic itself, an entertaining action-packed mystery written by Christos Gage, as one might expect, and a mystery that it seems Harley Quinn may be at the bottom of. Or at least she knows something.
And while we are to expect Catwoman, Deathstroke and even Snake Eyes to join them all in the world of Fortnite, could the IP stretch far enough to include Spider-Man? Surely not.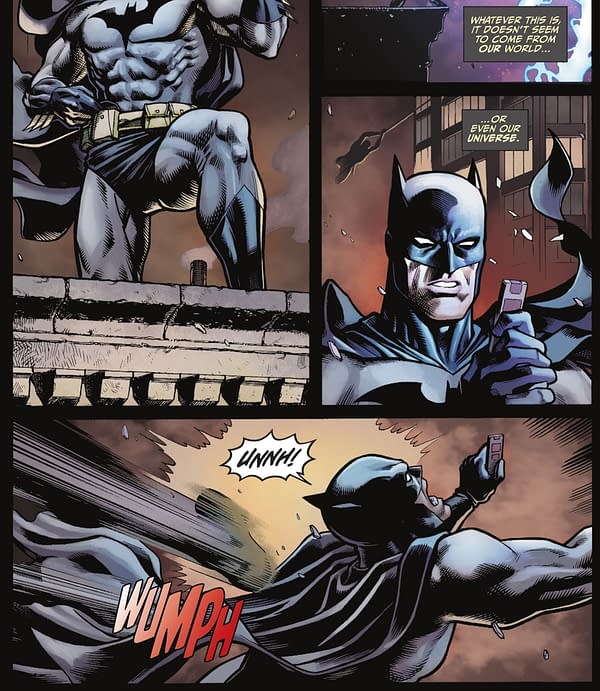 It's the Omniverse Batman. But who was that web-slinger? Batman soon gets the lie of the land though.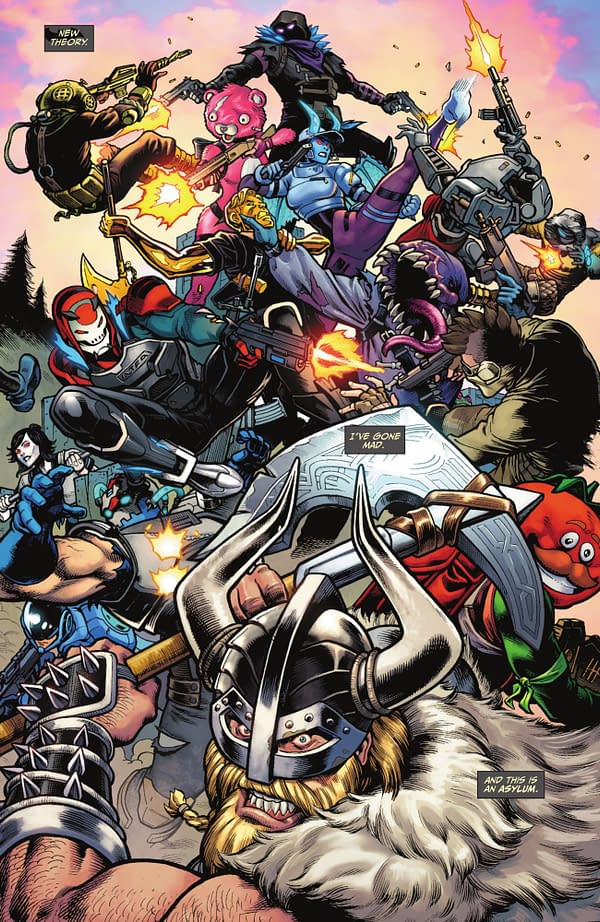 But in the world of Fortnite, you cannot speak. And you cannot remember… at least initially.
And DC Comics and Epic Games are promising many Fortnite secrets and lore to be revealed in issues to come. Batman/Fortnite: Zero Point #1 is published today by DC Comics in comic book shops. Here's the video and the solicitation…
BATMAN FORTNITE ZERO POINT #1 (OF 6) CVR A MIKEL JANÌN
(W) Christos Gage, Donald Mustard (A) Reilly Brown (CA) Mikel Janín
A crack splits the sky above Gotham City… a tear in reality itself. This rift pulls the Dark Knight into a bizarre and unfamiliar world, with no memory of who he is or where he came from…Batman has been drawn into Fortnite! As our hero fights to recall his past and escape an endless loop of chaos and struggle, he'll come face-to-face with the likes of Renegade Raider, Fishstick, Bandolier, and more. While the world's greatest detective strives to make sense of this strange new world, he'll uncover the shocking truth about the Island, what lies beyond the Loop, and how everything is connected to the mysterious Zero Point. Uncover secrets never before revealed in game or anywhere else! Every fan of Batman, Fortnite, stunning art and edge-of-your-seat excitement won't want to miss the Caped Crusader facing off against Fortnite champions on the Island, in a desperate attempt to save not only himself, but other familiar faces from the DCU…and perhaps the Multiverse itself! This will be a bi-weekly miniseries. Each print issue of Batman/Fortnite: Zero Point will include a redeemable code for bonus DC-themed Fortnite digital items, inspired by the events in the comic, starting with the new Rebirth Harley Quinn Outfit. Fans who redeem all six codes will also unlock a new Armored Batman Zero Outfit for their Fortnite character. Retail: $4.99
I bought my copy from Piranha Comics in Kingston-Upon-Thames. Piranha Comics is a small south London comic store chain with a small south-east store in Kingston-Upon Thames's market centre, and a larger south-west store in Bromley, with an extensive back issue collection and online store. With a new store planned for Watford, if you are in the neighbourhood, check them out.