Posted in: Comic Pros, Comics, Comics Publishers | Tagged: Andre Owens, Bic Distro, black comics, black comix, distribution, indie Comics, jason reeves, milton davis
---
Here Comes A New Challenger: BIC Distro Brings Black Comics To Retail
With the onset of pandemic and social unrest on a national scale, the time-honored banners of Diamond Comic Distributors became vulnerable for the first time in decades. First
DC Comics set up their own distribution network
with two large retailers as sweetheart deals, and now a collective of like-minded indie publishers have hung up their own shingle.
Milton Davis
,
Jason Reeves
, and
Andre Owens
have made their own marks in independent publishing. Davis has generated a small content empire of multi-era speculative fiction, coining terms like "steamfunk," "cyber-funk," and more to give these normally homogenous genres with a distinctively more African-descended tint. After establishing himself as a superstar artist, Reeves has become a darling of the indie crowd by filling his garage with printing and fulfillment equipment and creating an option for short runs and new publishers. They may find the industry's standard choices prohibitive. Owens has spent years making his science fiction and humor comics (
Bovine League, Force Galaxia
) and making small independent films before
signing a deal with Screen Gems
for his heist script,
Reparations.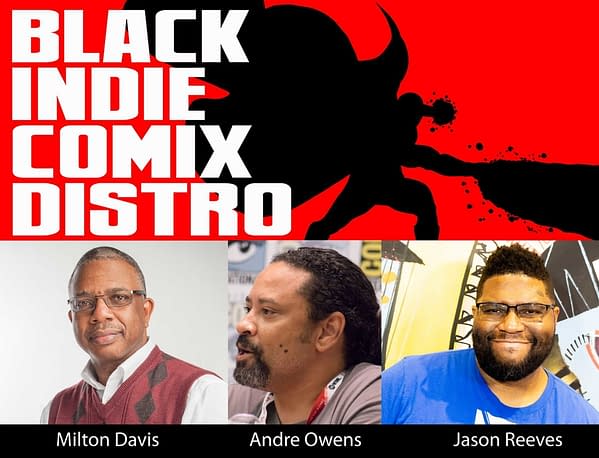 BC: What sorts of challenges with the comic book industry-led you all to say, "it's time to begin our own distribution network?"
MD: Lack of access to retailers and bookstores for one.
JR: I think Diamond shutting down [for the pandemic] was a wake-up call for all of us.
AO: Well, for me, this specifically started out of an idea I had for an Infomercial which would cater to Black folks who didn't have an awareness of Black comics outside of Black Panther, and as talks progress, it evolved into BIC. The downfall of Diamond was just a catalyst.
JR: Seeing a lot of retailers reaching out for alternatives, many expressing the desire to try new product spoke to me. I thought: "This is probably a good time for it."
AO: Jason and I had been talking about my infomercial idea for a while, but when those retailers started reaching out, I knew it was time.
BC: Infomercial idea?
AO: Well, like I was saying, I had this idea for an Infomercial for Black indie comics. The basic idea was to have a Time-Life style setting with a host and a sidekick, but instead of music, we'd sell bundles of comics for a set price. I thought it was a good idea, so one day talking to Jason about a bunch of ideas that slipped in. He thought it was great too. So we started formulating a plan but got discouraged by the costs associated with producing and paying to get an infomercial on the air. Jason then suggested that we be our own distributor of books to reach out to stores and beyond the general public. Although, I still think the bundle idea could work …
BC: What led the three of you specifically to each other?
MD:
I was having a conversation with Jason when the topic came up. It was something that had been on my mind for some time, but I didn't think seriously about it until we began working on
Changa
.
He told me what he and Andre were working on, and I was like, "Cool! Give me some of that."
JR: I think all of us understood the need for wider promotion and distribution in the Black indie comic space. We're approaching a wall, where the idea of being a niche within a niche isn't benefiting any of us. We need to grow. Andre had this idea to promote through infomercials (or the internet equivalent), and I thought it was a wild but dope idea! I was already building a partnership with Milton with Changa, and we always talked about creating a distribution outlet.
I thought we all should talk. When the pandemic shut the world down, and it seemed like it was all going crazy. Naturally, I wanted to start a new business.
MD: I've always admired what Jason was doing from a production standpoint, and I felt like I could help from a sales and marketing standpoint.
AO: I think any of us who have been in the indie game for a while understands that distribution is where we all suffer.
I also wanted to ride on the coattails of Jason!

BC: Please tell us about the structure of BIC Distro and the services it offers. What would you say are the reasons publishers and retailers should choose you and not, say, Diamond?
AO: I think Black indie comics publishers will be thrilled to choose us over a traditional distributor like Diamond because we are catering to them. We are all indie publishers of our own, so we know the needs and pratfalls of the game. We are tied more directly to the zeitgeist of the moment. Stores should buy from us because of the access to a myriad of comics that other distributors do not service. There are hundreds of Black indie creators out there doing their thing to varying degrees of success. If we can build a relationship with multiple publishers and dozens of indie-friendly stores, we can get new fresh comic books into the market.
MD: I think our advantage is our focus. By specializing in Black indie creators, we give retailers a better selection of titles for a growing market.
JR: We're specifically dedicated to expanding the reach of Black and POC creators. Our goal is to serve the indies that Diamond hasn't done an excellent job of catering to; the polished and proficient publishers/creators the for whatever reason Diamond hasn't serviced. The polish and proficient publishers/creators the for whatever reason Diamond hasn't serviced. Our network is being built to put their product into the hands of interested stores and consumers.
AO: Having Jason as a printer gives us a huge advantage in print-on-demand. For some titles, we can be a one-stop-shop.
JR: As far as structure: We each pitch in with everything. Each of us is wearing the hats in sales, acquisitions, and fulfillment.
AO: I still think my bundle idea would still be viable to service the general retail market.
BC: What kind of turnaround times do you have for when an order shows up until it arrives at a retailer?
JR: Within a two week period. Just because we're still a smaller operation and some of our stock will be printed on-demand.
BC: Are you doing "retail" distribution directly to consumers as well?
JR: Not as of yet. Direct consumers can contact us through the website for inquiries. We also have our respective websites where our individual products/comics are available for purchase.
BC: What would you say are your goals for the company in your first calendar year?
AO: I'd love to have an established relationship with dozens of retail stores selling multiple copies of our catalog each month. I'd like to see our catalog vastly expand, but with quality books.
JR: We'd like to expand our network by 50-100 retail shops, book stores, etc. We already have several new publishers and titles onboard for our next rollout and would like to show them off in our next catalog.
MD: In addition to what Jason and Andre said, I'd also like to see us establish strong relationships with Black bookstores and Black-owned comic shops.
BC: How has the work as a distributor affected your own creative efforts, as all of you have many irons in the fire?
MD: As an indie, I'm used to multi-tasking. I don't see it as a problem in the near future, but we'll have to see as we grow.
JR: It's so similar to what I do on a daily basis with 133art Publishing that I've just folded it into my workload. We're printing, fulfilling Kickstarters, and promoting Black comix all the while anyway, so why not bring in more?
AO: It's funny, I've been super inspired to create. Well, I've felt that way the entire lockdown. Knowing that there will be a distribution system set up, it's really made me work hard. I tend to write multiple things at once; I jump back and forth between screenplays, comics scripts, and columns.
MD: It gives me more incentive on my comic book projects because I know I have a solid path to sales besides direct sales.
AO: The most exciting thing happening for me currently is my deal with Screen Gems for my feature film script Reparations. Shooting soon.
JR: It's gonna be dope!
AO: Yessir!
BC: Will you offer a regular catalog, like Previews, for retailers to browse through, or have that accessible online?
JR:
Yes. Our inaugural June 2020 issue is out now and available for free download at
bicdistro.com
. As we roll out more Black indie titles, we'll be doing more catalogs.
BC: What do you want retailers and customers to walk away knowing about BIC Distro?
AO: That BIC Distro is your new, super reliable partner in bringing you the latest, coolest Black Indie Comics at lightning speed.
JR: BIC Distro is representative of the wave of the Black content that has spilled into all popular media. We're bringing that energy to interested parties from here on out. We represent the quality content from the future stars of the industry, and it's in their best interest to check us out.
MD: What they said.
---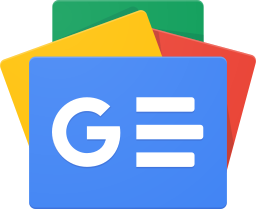 Stay up-to-date and support the site by following Bleeding Cool on Google News today!