Changa and the Jade Obelisk #1 Review: It Draws The Reader In
With a relentless sense of urgency, lushly appointed artwork, and an engaging cast, this new fantasy work,
Changa and the Jade Obelisk #1
, makes a bold statement that gives the bigger publishers a run for their money. Here's the gag: in the 1400s, a prince escapes captives who have claimed his family heirloom as part of a magical engine intended to cause mass calamity. Along the prince's path is the crew of a merchant vessel calling the east coast of Africa home including of a saucy Ifa sorceress called Panya, a silent warrior with a hero complex called Tuareg and their captain Changa Diop, a hugely powerful warrior whose wit is as fast as his fists.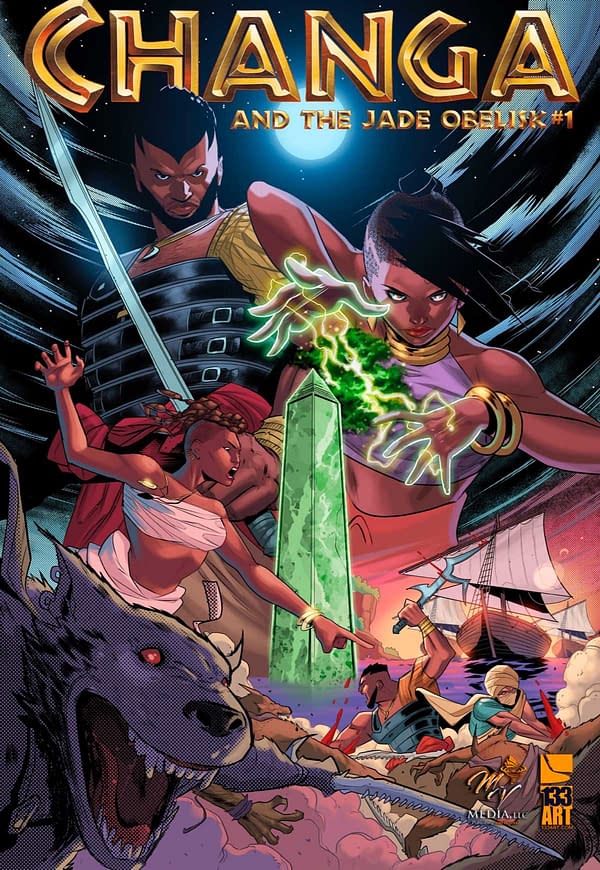 From a pure pulp and fantasy perspective, this work is solid freaking gold with absolutely riveting visuals courtesy of Matteo Illuminati and Loris Ravina. Jeffrey, a graduate of DC Comics Development Workshop, turns in a script that'd get Tom Cruise's pulse pumping with all the running and well-executed action scenes. Swords swing, spells are cast and the easy banter between people who have worked together meshes well with the prim proclamations of a prince who's a long way from home.
This work is an adaptation of a prose novel by writer Milton Davis, who has churned out a lot of quality ideas creating vastly different but equally and sometimes more entertaining visions of genre entertainment than many people are used to. You'll hardly be able to stop yourself from turning the pages as this single issue draws the reader in by focusing on action and character, even though it has yet to make its shadowy antagonist Bahati clear. That's not an easy trick to pull, but despite some teensy lettering issues on a splash page, the creative team here gets it done with style. RATING: BUY.
CHANGA AND THE JADE OBELISK #1

Written by: Robert Jeffrey 2
Line Art by: Matteo Illuminati
Color Art by: Loris Ravina

Letter Art by: Loris Ravina
Fresh off a successful Kickstarter campaign comes MV Media and 133art's first collaboration and next sword/soul epic!

In the 15th century on the East Coast of Africa begin the amazing exploits of merchant/adventurer Changa Diop. From the Swahili merchant cities of Mombasa, to the secretive kingdoms of Madagascar, Changa, the sorcerer Panya and the mysterious swordsman The Tuareg experience adventures beyond the imagination when they pursue the malicious Bahati, keeper of the Jade Obelisk!