It's X-Men Monday, the most important weekly holiday in the X-Men tradition, but another famous holiday is taking place all week long, true believers! We're talking about Hanukkah, of course, and what better way to celebrate Hanukkah than with Wolverine's "hot claws," which have burned for three issues so far despite Marvel's readership only having enough patience for exactly zero issues of that nonsense.
In any case, the traditional celebration of X-Men Monday is for the Marvel X-Editor to post previews of upcoming X-Books, but Marvel's Jordan White has been shirking his duties lately, sometimes skipping the holiday completely, and sometimes posting other things, like a costume contest last week. Is White is waging some kind of one-man "War on X-Mas" or something?
In any case, White spent most of this X-Men Monday revealing the winners of last week's contest, though he did provide a preview of this week's Merry X-Men Holiday Special, featuring Charles Soule, Ryan Browne, and Jordan Boyd's story: #HotClaws for Hanukkah."
For today's #XMenMonday, let's look at the results of last week's polls about character costumes, and I will show a little preview of each character we discuss. Cool?

Oh, and here's a random #InboxPreview to kick things off. pic.twitter.com/YfWq9keKND

— Jordan D. White (@cracksh0t) December 3, 2018
Hmm, where could that second panel be from? And is nobody going to talk about how Wolverine is taking honest work away from snowplow drivers and driveway shovelers? Wolverine's dickishness knows no bounds!
And here's the results of White's costume contest from last week:
Next: Angel! #XMenMondayhttps://t.co/754PU0qyuK

Original Archangel THWOMPED all the Angel-based costumes. Not sure how the X-Force Black Archangel would have faired against the original, though. I could only pick 4 costumes. pic.twitter.com/iF6YhL1fQo

— Jordan D. White (@cracksh0t) December 3, 2018
Iceman! #XMenMondayhttps://t.co/VkMUPmtWzp

This one was pretty close, between his clothes all being made of ice and his costume when he returned to the X-Men in the 90s. But they hadn't seen leather pants and suspenders Iceman yet. pic.twitter.com/iHlpBcpUrO

— Jordan D. White (@cracksh0t) December 3, 2018
BAMF–it's Nightcrawler! #XMenMondayhttps://t.co/6zr9ekC95P

Yeah–no shock here. Classic Nightcrawler is one of those costumes that cannot be beat. Even Kurt loves looking at himself in it. pic.twitter.com/e9kbqEZmK5

— Jordan D. White (@cracksh0t) December 3, 2018
Kitty Pryde! #XMenMondayhttps://t.co/lHL9Any5hF

I only put Kitty in here as a joke. The Shadowcat costume is pretty much the only one that has been her OWN costume. She's spent way too long in a "generic" costume, I think. Of course, as a revolutionary, she doesn't have one… pic.twitter.com/Eg8E4xJz7G

— Jordan D. White (@cracksh0t) December 3, 2018
And finally, Wolverine! #XMenMondayhttps://t.co/xPNH4OxXxZ

I am happy to say you all voted correctly on this one. The Brown costume IS the best one. Well done! As a reward, here's FOUR Logan preview pics! pic.twitter.com/o4KRD4n6WK

— Jordan D. White (@cracksh0t) December 3, 2018
You can view a few more stories from the Merry X-Men Holiday Special in the preview released over the weekend. And as always, read our recap of last week's X-books in our latest X-ual Healing column.
Happy X-Men Monday, people! And Happy Hanukkah too!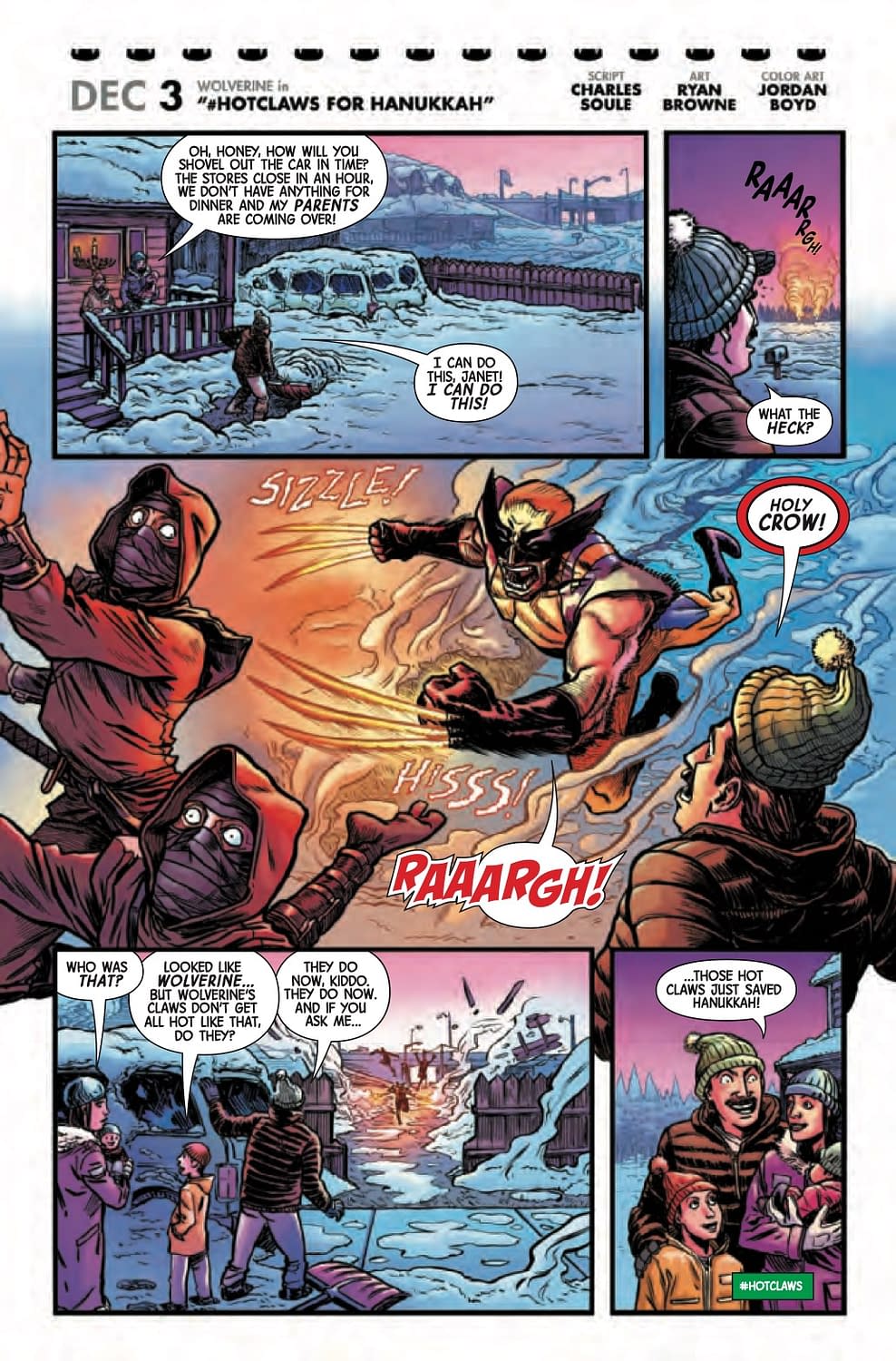 Enjoyed this article? Share it!