Mutant Powers of Positivity: WWE's The New Day Cosplay as the X-Men at Big Easy Con
WWE superstar Xavier Woods may be out of action for a year after getting surgery to repair a torn Achilles tendon, but he seems to be making the most of it. Woods and his New Day partners Kofi Kingston and Big E are at Big Easy Con this weekend in New Orleans, and they're cosplaying the best comic book characters: the X-Men!
Since Woods needs a wheelchair to get around the convention, it makes sense that he would cosplay as Professor Xavier. Big E dressed up as the master of magnetism, Magneto, while Kofi Kingston donned some yellow spandex and claws as Wolverine.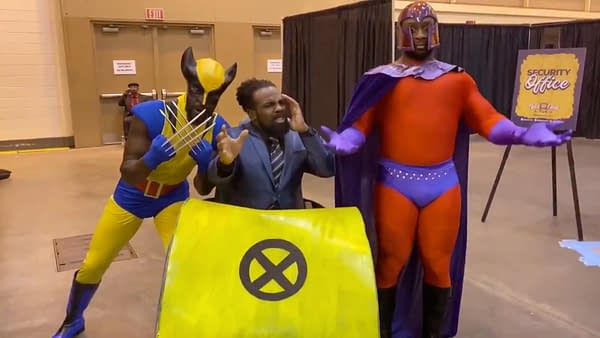 They ran into some fellow X-Men cosplayers to fill out their ranks as well with a Rogue and a Storm.
And you can watch the trio hamming it up in this video.
Dressing up as a band of mutants isn't the only comic book connection The New Day's got going on. They're also starring in their own original graphic novel set to hit stores from BOOM! Studios in 2020 by Evan Narcisse, Austin Walker, and Daniel Bayliss.